We are Niagara Health is a series of stories that celebrates the incredible people working and volunteering in our organization and how they make a difference in the lives of patients and coworkers every day.
<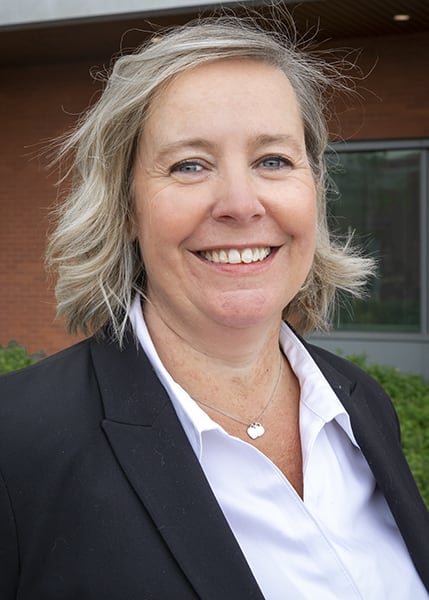 Tracy Gilbert
Tracy Gilbert grew up with a clear understanding of what it means to be compassionate, warm-hearted and nurturing.
Growing up in Southport, England she discovered a passion for helping others watching and learning from her Mum, who was a dedicated community nurse.
Now director of the project to build Niagara Health's new hospital information system, Tracy has made a career with her mum's legacy in mind. She's helping people, making things better for patients, and doing her part to improve healthcare in our community.  
While you won't find Tracy at a patient's bedside or caring for sick people, she's working hard to build the new technology that will benefit patient care and improve experiences for clinicians, patients and families.
"Doing what I can to help patients achieve better outcomes and have better experiences with our health system is my number one goal," Tracy says. "Most people don't want to be at the hospital, but our new technology is going to make visits here simple and seamless, helping to reduce stress and anxiety, and improving the experience for everyone."
Before joining Niagara Health, Tracy worked with both Trillium Health Partners and the University Health Network to design and build their new hospital information systems – both with great success.
Patients at hospitals with new systems like these can register online before they arrive, view test results from their mobile device, receive reminders via text message, and much more. When these patients visit the hospital, all of their important health information is available to their care team and no time is spent searching for paper charts or asking questions they've already answered.
"Technology has the power to change the experience our patients have when accessing health services with us," Tracy says. "A modern system will not only make the experience safer for patients by providing easy access to things like drug allergies, it will also improve communication and allow patients to have easy access to their own health records and resources. The new system will truly make things better for patients."  
Tracy's interest in helping others doesn't end at her day job. During the early days of the pandemic, she volunteered at long-term care homes to support the staff who were exhausted and overloaded. She joined a 'COVID supper club' and helped out by feeding and assisting residents with their meal times.
"It felt really important to be involved in the pandemic response, even in a small way," she says. "Especially being in a hospital environment and seeing how much the pandemic impacted our healthcare teams; I felt like I needed to do my part and pitch in."
Across the pond, mum was extra proud.
Working in a long-term care home wasn't all that unfamiliar to Tracy. As a teenager, she worked part-time as a care aide at a nursing home in England.
"My mum set me up with the job and it was definitely not easy," says Tracy. "But it's where I first learned about helping patients and wanting to do my part to make sure they were having as good an experience as they could. 
"I remember watching my mum and seeing how compassionate she was. She was such a hard worker and would roll up her sleeves to do whatever needed to get done. I think watching and learning from her really influenced the way I work and why I gravitated to a career in healthcare."
Tracy is focused on how Niagara Health's new hospital information system can help improve experiences for patients, families and for clinicians, too.
"We should always remember that we're all here doing what we do for patients and their families," she says. "We are going to work closely together with Niagara Health staff and physicians to create a system that provides immense benefits to our patients and to our organization."
Niagara Health's new hospital information system is set to launch in spring 2024.