We are Niagara Health is a series of stories that celebrates the incredible people working and volunteering in our organization and how they make a difference in the lives of patients and coworkers every day.
Families with a baby in the Neonatal Intensive Care Unit (NICU) are some of the toughest people Thalia Kramer has ever met.
As a registered nurse in Niagara Health's NICU, Thalia says that in addition to being concerned about their babies' health, families also face other challenges, from not being able to be with their baby 24/7 to travelling back and forth to the hospital and, for some, managing other children at home.
But even amidst those challenges, there are many positives to be found.
"NICU life can be so hard, but so beautiful," Thalia says. "Every little milestone that a baby achieves, every drop of milk they drink, is celebrated. As a nurse, once someone is my patient, they become an extension of my family, which I know is true for so many other NICU nurses as well. We celebrate every single victory and are just as happy as the parents' are."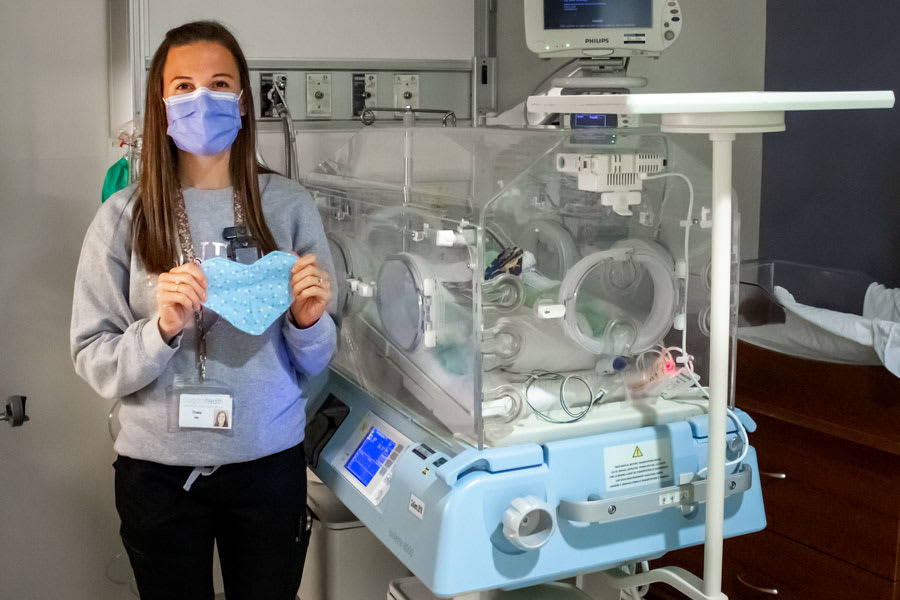 She says that NICUs are similar to intensive care units (ICUs), just with tinier patients.
Niagara Health's NICU has 17 beds and each year cares for approximately 700 newborns 30 weeks of age and under.
"We do so much more than cuddle and feed babies," she says. "It's much more complex than people realize."
Thalia joined Niagara Health's Pediatrics unit in 2014 and moved to the NICU in 2019.
"It's amazing what women's bodies can do and how resilient babies are," she says. "We don't give babies enough credit for what little fighters they are."
Thalia understood what it meant to be a fighter long before working in the NICU. She was just nine years old when her mother was diagnosed with cancer for the first time – the first of three separate cancer diagnoses over the course of 16 years. That healthcare journey set Thalia on her career path.
"Going with my mom to her appointments and experiencing the level of care from the nurses – not just for my mom, but our whole family – was why I became a nurse," she says. "It has stuck with me and been a constant reminder to care not just for the babies in the NICU, but for their parents and siblings as well."
At home, Thalia uses her sewing machine to create scent hearts to help babies in the NICU bond with their parents when they are separated. She first learned to sew when she was just four years old thanks to her nona (Italian for grandmother). Together, they sewed tiny, stylish ensembles for a beloved doll.
The scent hearts are made using double-sided pieces of flannel and have kid-friendly prints such as smiling safari animals, pastel polka dots and dogs peacefully flying old-fashioned airplanes.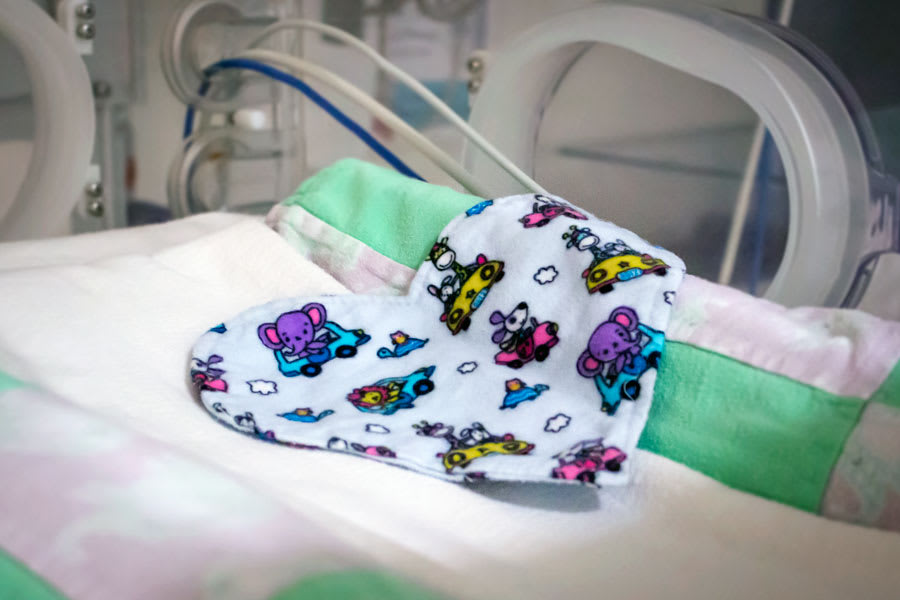 "Most of the time, the babies we receive in the NICU come right from birth and don't get skin-to-skin with their parents right away," says Thalia. "Once they get to the NICU, we set up their beds with the scent heart and as soon as the parent is able to see their baby, we encourage them to hold the scent heart close to their chest for 20 to 30 minutes to get their scent on it. When the scent heart goes back to the baby, they can smell their parents."
In addition to bonding, Thalia says that the scent hearts – which the families are eventually sent home with – help give babies a sense of security and safety.
Since Thalia started sewing the scent hearts this spring, she has made and distributed approximately 200 of them. She says it's part of a trend across NICUs as healthcare workers are constantly looking for ways to improve the extraordinary care they provide patients and their loved ones.
Thalia says her favourite part of her job is being able to discharge babies home – "especially the babies who have been there for a long time, but even the babies that are with us for a few days."
"It's an overwhelming feeling of accomplishment for us and the families. Going home means they get to experience their first graduation. It's amazing to watch the parents walk out of here with their babies in their car seats, ready to go home."