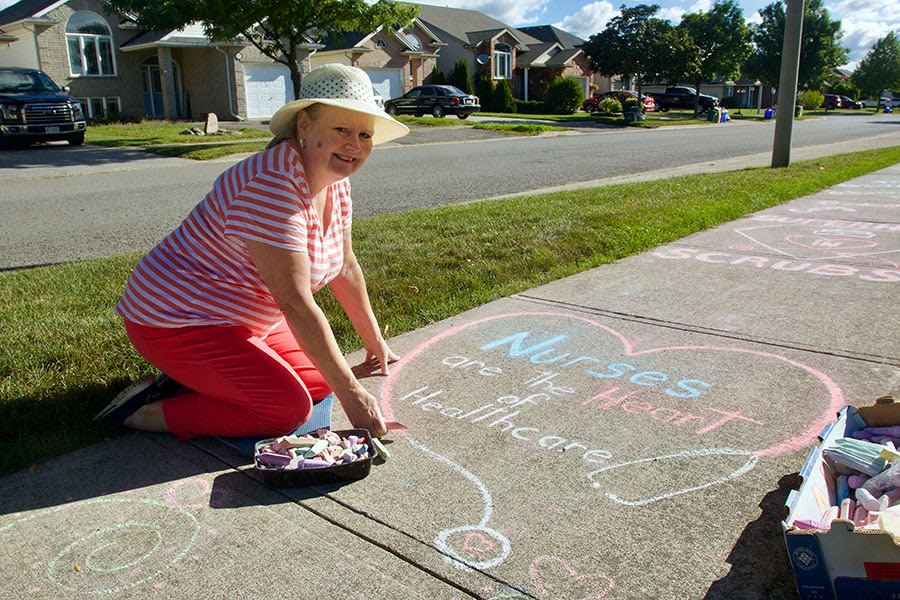 Welland resident Norma Lizotte became a sidewalk chalk artist to help pass the time during the pandemic. She often writes messages of support for healthcare workers. 
Norma Lizotte leaves more than a trail of colourful dust behind with every stroke of her sidewalk chalk on the pathway beside her Welland home.
She also spreads joy with her creations, many of which have included messages of support and gratitude for local healthcare workers.
"I just know that doctors, nurses, essential workers, they're tired," Norma says. "They're working so hard. They're there to save lives and make us all well. I think we can't say thank you enough."
Norma's messages are more than a show of support. They're personal. Her daughter Carolyn Moore is a Registered Practical Nurse (RPN) at Niagara Health's Welland Site.
"She works really hard. For her, it's not just a job. It's a vocation," Norma says. "She goes to work with such compassion and purpose. I'm so proud of her, not just for her career but for helping people."
Still, when Norma first broke out her sidewalk chalk, it was to break the doldrums of pandemic living. It was Easter 2021 and Niagara was in the midst of another lockdown. Norma hadn't been able to see her children or grandchildren until a break in the weather that weekend made an outdoor, physically distanced visit possible.
Norma bought sidewalk chalk to help them pass the time together. She started doodling with her two granddaughters, Leah, 11, and Mae, 15, when the rest of the family joined in soon after.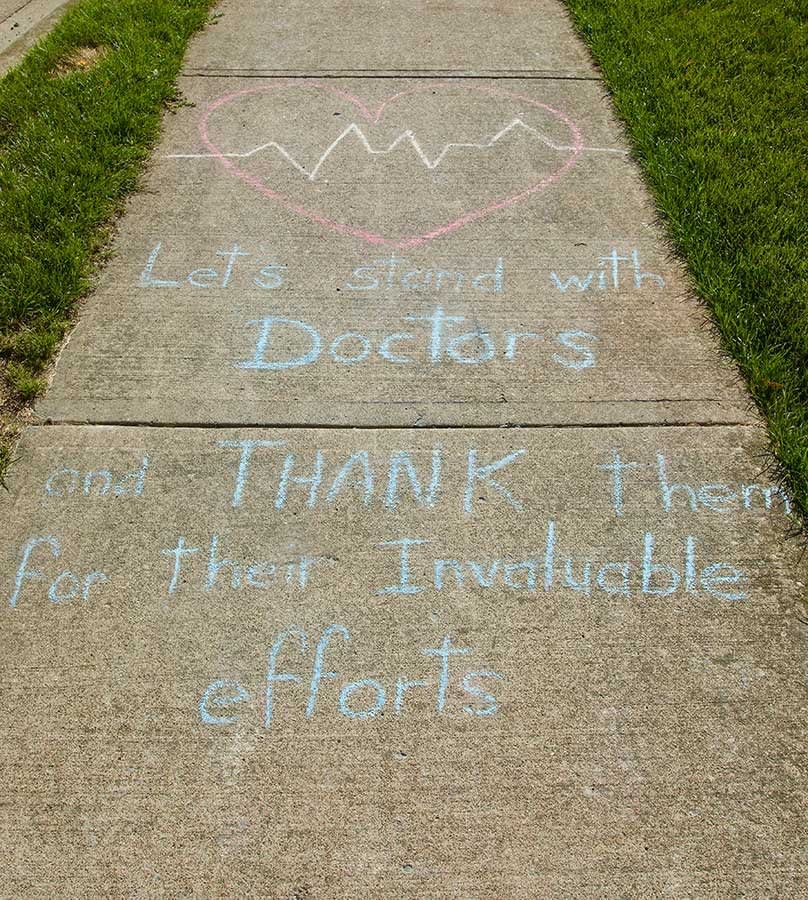 Some of Norma Lizotte's sidewalk chalk art in support of healthcare workers. 
Making the most of the opportunity, her grandson Christian, 16, wrote 'Thank you, essential workers' and Norma's muse was born.
Since that weekend, Norma – sometimes joined by family when they visit – has written encouraging messages for others. She chalked to thank teachers, and she recognized the Canadian Military on Remembrance Day. She doodles to mark the changing of the seasons, encourages students to have a good school year, sends well wishes during holidays, and invites people to have a game of hopscotch while out for their daily walk.
"People loved it because during the pandemic when we couldn't go anywhere, this gave them something to look forward to."
And when people pass by her messages of support for healthcare workers, they always let her know how grateful they are, as well.
"Every single person, they all took the time to say how much they value healthcare workers," Norma says. "We can't say enough how much we appreciate you."