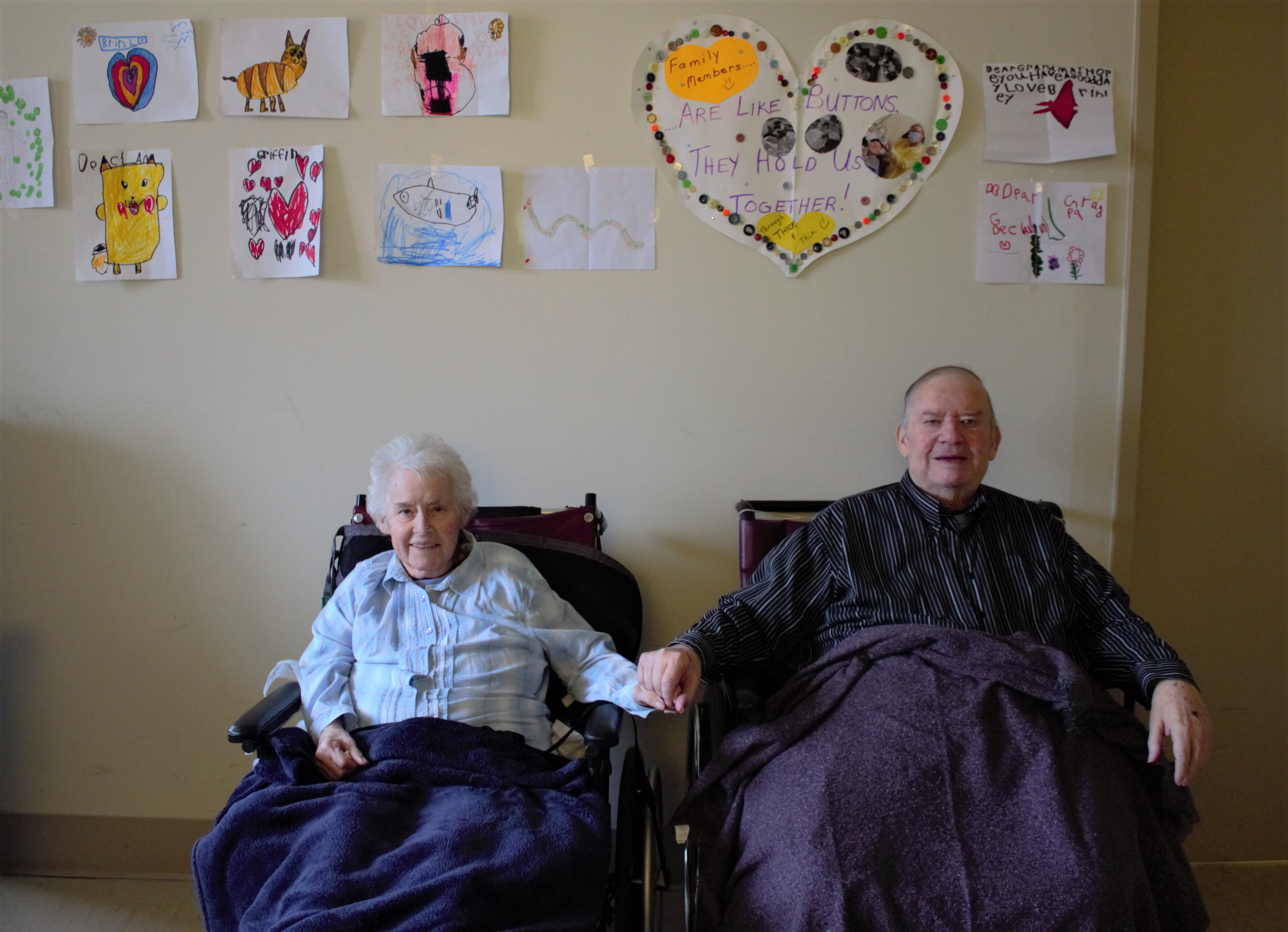 Marilyn and Larry Lanigan hold hands in the room they shared at the Welland Site. Their wish to be together was made possible by their healthcare team.
For Marilyn and Larry Lanigan, their most desired bucket list item was simple – spending their 55th wedding anniversary together. The couple, both 77 years old, had been apart since Marilyn's admission to the Welland Site in mid-September.
Just a few days later, Larry was admitted as well, but on a different floor. The day before their anniversary, Larry was transferred to the same unit as Marilyn; however, they were still apart.
The couple, who celebrated more than half a decade together on Oct. 28, saw their wish granted by their healthcare team at Niagara Health's Welland Site. They likened their preparation and excitement to that of their first date more than 55 years ago.
"Our first date was at the Welland Fair in the fall of 1966," says Marilyn. "I remember a ride called The Scrambler, which we were frightened of. It didn't seem to want to stop."
It wasn't long after their first date that Larry knew he had found The One.
"Marilyn was loving, kind, intelligent and great to have a conversation with," says Larry. "She was a beautiful person to me. She still is."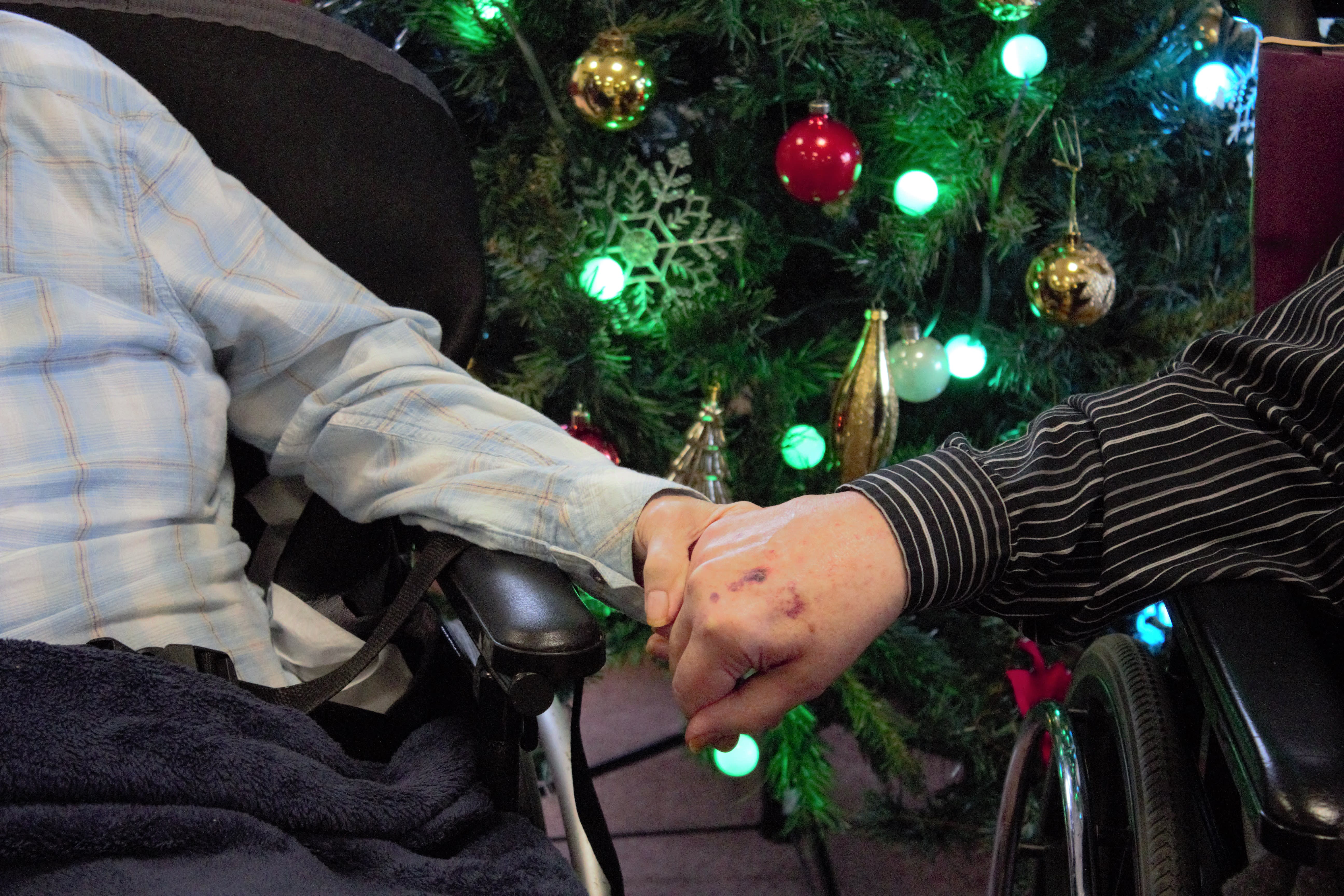 For their anniversary this year, they donned full personal protection equipment (PPE), which Marilyn says was one of the most unique date outfits she's ever worn, calling her hospital gown "a special dress."
"I didn't take her out, but we got to be together," says Larry.
Their daughter April Schlieck, who is one of their three children, co-ordinated picking up a flower bouquet for each of her parents who secretly asked her to get one for the other.
"Larry got me a bouquet of carnations, lilies and orchids," says Marilyn. "It was glorious. Carnations are my favourite flower, which of course, Larry knows."
Woolcott and Allied Health Manager (Interim) Melinda Stacey says Marilyn and Larry's eyes "twinkled with joy, as did ours" upon reuniting.
"We likely got just as much out of the experience from giving as much as they did from receiving," she says.
While a variety of Niagara Health staff helped make fulfilling their wish possible, the dream date was made possible through the advocacy of Recreation Therapist Michelle Szabo and Registered Nurse Biyas Sajitha Badarudeen. Thanks to their continued efforts, in mid-November, Marilyn and Larry had their second bucket list wish fulfilled – sharing the same room for the three remaining weeks they had together during their time at the hospital.
"We've been very pleased with Niagara Health and feel well taken care of," says Larry. "Overall, it's been a positive experience, especially being able to share a room together. It's like driving in the car and not saying anything and you know what each other's thinking – or at least, you think you know what each other's thinking."
"It's lovely to wake up and have Larry in the bed beside me," says Marilyn. "He'll tell me what's going on, or just whisper, 'I love you.'"
They say the secret to a happy, lifelong marriage is to enjoy spending time together, whether going out for a meal, a drive, playing a board game or going on a vacation. Larry adds that it doesn't hurt to sit in front of the fireplace over some wine and snacks.
"The older you get, the less the little things matter," says Larry. "Let things go and don't hold grudges. Keep lines of communication open. Most importantly, get yourself a forgiving wife."
Marilyn agrees, offering the advice to "get yourself a forgiving husband."
On Tuesday, Dec. 13, Marilyn left the Welland Site to live in a long-term care home in the region. Larry is looking forward to visiting her soon and reuniting once again, and hopefully rekindling a favourite tradition they were able to carry on during their time together at the Welland Site – competing with each other over Jeopardy in the evenings.
"We don't keep score, but you can tell Marilyn is always winning," says Larry.