A cheerful drawing highlighting Niagara Health's commitment to extraordinary caring will be the face of the organization's 2022 Holiday Greeting Card. 
Lily Parkinson, the 11-year-old granddaughter of Niagara Health Mental Health and Addictions Clerk, Angela Parkinson, is the talented artist behind the grand prize-winning entry for the Annual Holiday Card Contest for Kids.
As the grand prize-winner, Lily's drawing will be featured on the 2022 Niagara Health holiday card. We received more than 60 entries for the contest and more than 1,000 votes for the Staff Favourite category this year.
Niagara Health President and CEO Lynn Guerriero, Chair of Niagara Health's Board of Directors Bunny Alexander along with other senior executives had the challenging task of selecting winners. "We received so many thoughtful and talented submissions," says Guerriero, "Lily's drawing illustrates the dedication and passion of our healthcare teams to providing extraordinary care to patients and their families."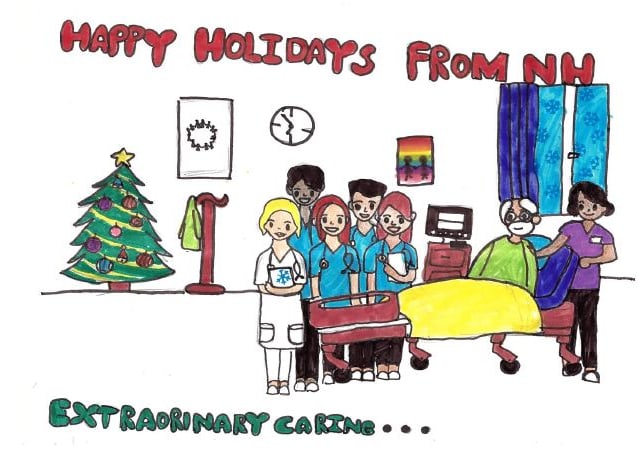 Niagara Health is also recognizing winners in the following categories: 
Staff Favourite: Isabel Carile, 10, daughter of Christina Carile, Discharge Planner (as voted by Niagara Health staff, physicians and volunteers)
Age 3 to 5: Emma Wang, 5, daughter of Bing Wang, Registered Technologist
Age 6 to 8: Lilly Szabo-Kode, 8, daughter of Pamela Szabo-Kode, Dietitian at the Walker Family Cancer Centre. 
Age 9 to 12: Shriya Vallathery, 12, daughter of Mishamol Krishnan, Registered Nurse