We are Niagara Health is a series of stories that celebrates the incredible people working and volunteering in our organization and how they make a difference in the lives of patients and coworkers every day.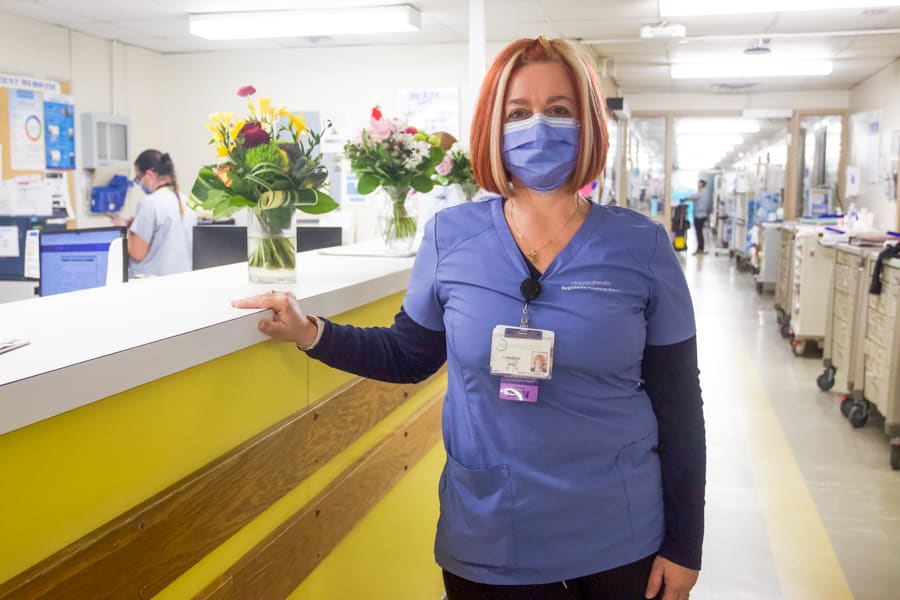 Cathy Case, Registered Practical Nurse at the Niagara Falls Site, won the Registered Practical Nurses Association of Ontario Preceptor Award of Excellence for 2022.
Legend isn't a word Cathy Case would use to describe herself.
But ask a former nursing student mentored by the registered practical nurse (RPN) at the Niagara Falls Site and she'll beg to differ – so much so that she told the Registered Practical Nurses Association of Ontario just how legendary she thinks Cathy is when she nominated her for the association's Preceptor Award of Excellence.
Cathy is "a legend, going above and beyond, demonstrating outstanding competence in the practice setting," the nomination reads.  "(She is) committed to her role and supports students to learn, thrive and grow, even when her department is short-staffed. (She is) a role model, demonstrating professionalism and compassion, always putting her patients first, treating them with respect and dignity."
That, among many other reasons mentioned in a video presentation last month, is why Cathy won the honour that annually recognizes an exemplary RPN who creates a positive learning environment for practical nursing students to expand their skills and integrate nursing theory into practice.
"I don't see myself as a legend," Cathy says about the kudos. "I see myself as Cathy. When I see that broadcast on TV, it feels pretty good."
So does helping future RPNs put their classroom training to the test.
Cathy thinks as much about the future as the present when helping students consolidate their skills during a clinical placement.
"I'm going to be a patient one day or my mother is going to be in here one day," she says. "So I'm training them how I would want to be taken care of or how I would want my mother to be taken care of. I'm not teaching them to get the task done. I'm teaching them because that could be me."
Watch the video presentation of the Preceptor Award of Excellence
Nursing was a calling for Cathy, although she had to take her time answering it.
As a child, Cathy loved going to her family doctor. Where others might turn away or cover their eyes, like when getting a needle or blood drawn, Cathy would watch, transfixed.
The inner workings of the body fascinated her. She would even watch, rapt, during visits to her aunt's farm when animals received veterinary care.
"The human body is amazing. I love how it can heal itself but when it's time to let go, it lets go," she says. "I find medical science fascinating and even what the mind can do. I view medicine holistically."
Cathy enrolled in the Registered Nursing program at Niagara College in 1989, completing two years before marrying, having two children and devoting herself to family life.
She worked other jobs for the next 19 years, waiting for the chance to pick up where she left off in her training. When the college launched an RPN program with a part-time studies option, she knew opportunity was knocking.
Cathy juggled work, school and home life for four years to become an RPN. She started her career with Niagara Health in 2013, working at the Fort Erie Site before Niagara Falls.
Soon after being hired, she was asked to fill in for a colleague who had been mentoring students. Cathy hasn't looked back, taking on one or two students every year for 2.5 months at a time, helping them to meet a mandatory graduation requirement.
Her dream is to one day teach nursing or be a clinical supervisor. It's a thrill to see students grasp and implement nursing concepts, she explains.
"That's the ultimate for me. It's seeing the 'A-ha' moment with students. They're so excited they get it," Cathy says.
And so is she.
"To watch her grow into a competent nurse is fulfilling," Cathy says about the student who nominated her for the Preceptor Award of Excellence. "It's ensuring they know how to do the skills and knowing they're doing it correctly without having to refer to a book. It's putting all the pieces of the puzzle together to get the picture."