Overcoming is a series of stories about our patients and their remarkable healthcare journeys.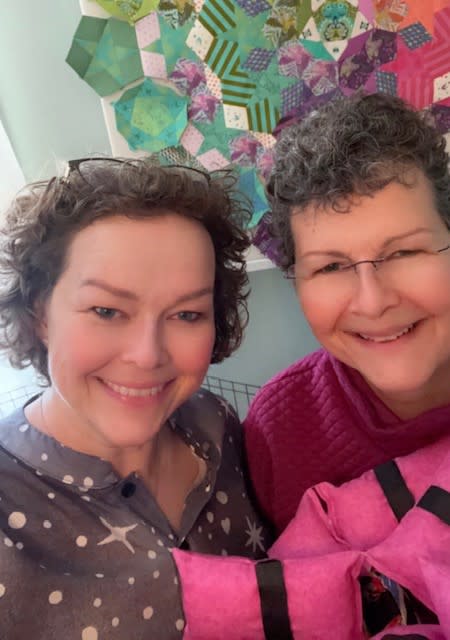 Niagara Health patients using a port for treatment have been provided some extra comfort by a breast cancer survivor and her quilter sister.
Donna Allman, who was diagnosed with aggressive breast cancer in late 2020, and her sister Diane Willoughby, donated about 200 port pillows sewn by Diane earlier this year as a gesture of thanks for the care Donna received at the Walker Family Cancer Centre during a year and half of intensive – and successful – treatment.
The port pillows, made of two four-by-seven inch pieces of fabric, sewn together, stuffed and affixed with Velcro straps, wrap around a seatbelt or anything else that might rub against the surgically implanted device used for long-term intravenous (IV) treatment.
But before they were a show of gratitude to the hospital, Diane stitched together port pillows as a symbol of caring for her younger sister, who used a port to receive immunotherapy.
Donna underwent a lengthy treatment regimen that also included surgery, chemotherapy and radiation, which left her immunocompromised and unable to be around other people, particularly during the pandemic.
That inspired Diane to get creative in showing her support for Donna. She sewed port pillows to let Donna know she was with her even though she couldn't accompany her to treatments.
"It was nice to have something from her, especially when I was going (to treatment) by myself. It's nice to have people around you," Donna says. "(The port pillow) worked for me in the summer when I wasn't wearing a jacket that would prevent my seatbelt from rubbing against it."
The small cushions that Diane found inspiration for on Pinterest didn't go unnoticed by Donna's care team. Nurses involved in her post-operative recovery commented how clever they were and asked whether she might have more.
Now the port pillows Diane pieced together for Donna using scraps of material left over from her quilting group meetings have turned into a source of comfort for other Niagara Health patients. Diane, who lives in Cambridge, has spent evenings and weekends sewing hundreds of the protective cushions for patients with ports. 
Rather than work, she sees it more as appreciation for her sister's healthcare providers.
"It was for Donna to take with her to say thanks to the hospital," Diane says. "I really felt badly that I was so far away from Donna. I felt it was something I could give her to take with her to the hospital when she had treatment and to give to the institution that really helped her."
Donna, who speaks highly of her care at Niagara Health, was happy to share Diane's handiwork.
"It was just so nice how excited the nurses got about the port pillows," she says. "The biggest thing people ask when you're diagnosed is 'What can I do?' This is one thing you can do."
Donna's treatment successfully wrapped up in June with her final immunotherapy appointment. Since then, she's been building her strength – and getting together with family again.
Checkups are scheduled for every six months to ensure her cancer stays in remission.
Diane beams with a mix of pride and relief at her sister's ability to overcome.
"She did great. I'm very proud of her," she says. "I don't know if I would have done the same."
She plans to continue making more port pillows over the winter, some of them with help from her quilting group, which wants to designate its Saturday drop-in meetings to the cause.
"It's good to know that other people find them useful," Diane says. "When you hear about a good cause that needs support, I think it's important to volunteer."
Photo: Donna Allman (left), who was treated for breast cancer at the Walker Family Cancer Centre, and sister Diane Willoughby hold port pillows that Diane sewed to support patients, including Donna, who use the implanted devices to receive long-term intravenous treatment.