Dr. Liam Beedling is a shining example of the positive outcomes of the partnerships Niagara Health (NH) has with more than 100 post-secondary institutions in Niagara, Hamilton and beyond.
Now working with NH as a general surgeon, Dr. Beedling grew up in St. Catharines. His educational journey brought him back to the region at during his time at McMaster University's Michael G. DeGroote School of Medicine - Niagara Regional Campus.
"As a medical resident at Niagara Health, you're basically one-on-one with other surgeons, which is a perfect experience for learners," he says. "The learning opportunities were unparalleled with what I wanted to do with my career. We're a big, busy hospital. There are endless opportunities to seek out what you want to do."
After graduating in 2016 and conducting a residency at NH from 2016 to 2021, he decided to continue his career caring for people in the region he grew up in.
"It's a great place for learners and great to continue to have the support of those who taught me," he says
"Working closely with our academic partners allows our team to provide future healthcare workers unique, real-world learning opportunities," says Fiona Peacefull, Interim Vice President, Human Resources, Niagara Health. "These invaluable experiences prepare students for a rewarding career in healthcare and make a positive impact on patients and our community. In addition, these students bring unique perspectives to the hospital."
For Oreoluwa Majekodunmi, a third-year Nursing student at Brock doing her fourth placement at Niagara Health, each experience has been "more positive than the last."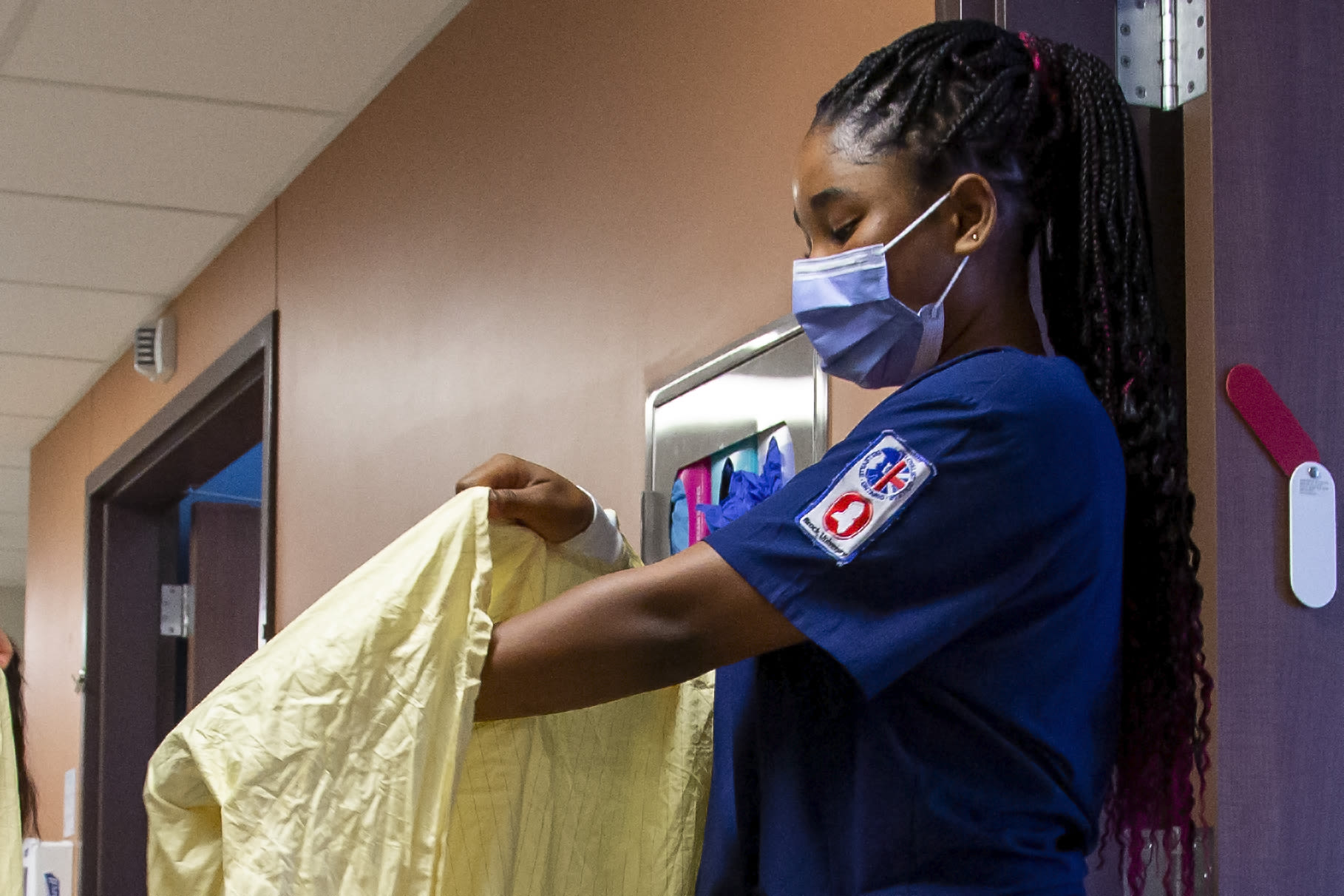 "All of the staff, physicians, students and clinical instructors have been warm, welcoming and supportive," she says. "Everyone is constantly learning and the environment is very inclusive and non-judgmental."
Throughout her placements, Majekodunmi has helped check vital signs, learned about various acute and chronic conditions, administered medication and collaborated with patients, their families and their healthcare teams.
"It's a powerful thing to have someone's health in your hands," Majekodunmi says. "There's help everywhere at Niagara Health. I feel like I'm exactly where I should be."
Peacefull says academic partnerships also provide Niagara Health staff and physicians with professional development opportunities to improve team performance, as well as internships for staff looking to enhance their skills and clinical placements for students.
Like Dr. Beedling, many students and resident physicians who conduct their placements at Niagara Health go on to become a permanent part of our healthcare team.
"Brock's long history of collaboration with Niagara Health has led to valuable teaching, learning and research opportunities that strive to improve health and healthcare delivery in the region and beyond," says Peter Tiidus, Dean, Faculty of Applied Health Sciences, Brock University. "Through a variety of projects and experiential education offerings, the partnership has allowed our students to have a positive impact on healthcare in Niagara while learning from outstanding healthcare professionals dedicated to saving and improving lives."
One such collaboration includes the I-EQUIP program, which allows students and frontline healthcare workers to work together on a variety of quality initiatives that improve patient care. The program is a collaboration between Brock and Niagara Health that provides experiential education opportunities on healthcare initiatives.
"Throughout the pandemic, the Niagara Health team has gone above and beyond in their efforts to maintain clinical placements for students while optimizing infection prevention and control for their clients and staff," says Angela Butt, Interim Dean of Health Studies at Niagara College. "We are extremely grateful to Niagara Health for their resourcefulness and commitment to keeping their doors open to our students."
It's a sentiment that McMaster University's Niagara Regional Campus shares.
"We have graduated hundreds of physicians and many of them have chosen to continue their training and remain in the Niagara region to practice," says Dr. Amanda Bell, Regional Assistant Dean, McMaster University's Niagara Regional Campus. "We are grateful for the range of clinical placements and dedicated staff at Niagara Health that provide important learning opportunities for medical students, physician assistant and rehabilitation students and resident physicians."
For more information about Niagara Health's academic partnerships and activities, visit niagarahealth.on.ca/site/academics