We are Niagara Health is a series of stories that celebrates the incredible people working and volunteering in our organization and how they make a difference in the lives of patients and coworkers every day.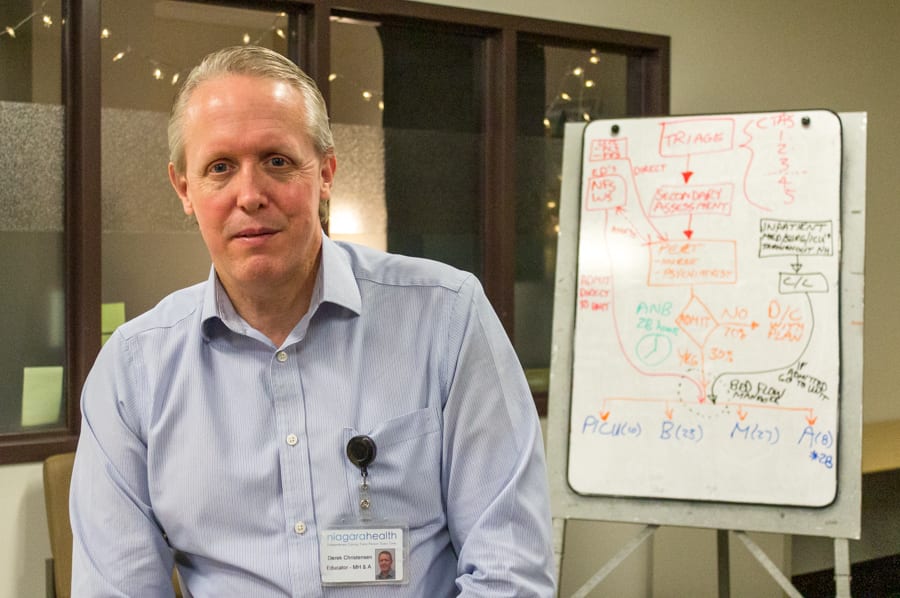 Derek Christensen started the role of mental health educator at Niagara Health from scratch. Derek retires from the role at the end of January after 17 years and providing training for hundreds of staff and physicians.
Derek Christensen knows well the stigma attached to mental health challenges and addiction.
The Mental Health and Addictions Program educator for Niagara Health has seen how patients in his area experience it.
But he's also felt it, albeit for different reasons.
"Working in mental health and addictions, you, too, become stigmatized," Derek says. "There are those who think you don't have the drive or motivation to work in other areas of healthcare that some deem more important, or that you don't use many skills and it's dangerous. I always counter with 'You'll gain 1,000 new skills that people don't even know about.'"
Chances are, they're skills Derek may have taught.
In his role at Niagara Health, he develops and implements training for the more than 475 staff and physicians working in 28 different mental health and addictions services offered across six sites.
It's a tall order, given mental health and addictions is Niagara Health's largest healthcare program with the biggest footprint at the St. Catharines Site, where his wife Shelly also works as a nurse practitioner in the inpatient unit.
It's even more of a feat considering Derek created the training program from nothing when he became the organization's first mental health and addictions educator in 2006 after successfully running the Impact community mental health program out of the former St. Catharines General Hospital for seven years.
At the time, there was no support or education for staff working in a much smaller, inpatient-only program spread over three sites. That was until Niagara Health made the St. Catharines Site a Centre of Excellence for Mental Health and Addictions when it opened in 2013. Today, the hospital is equipped with responsive programming and everything a full psychiatric hospital needs.
"Developing that education couldn't be done overnight," he recalls. "It took years. It's certainly still a work in progress but I got to develop it from scratch. It's a large program now."
Derek will be passing the reins to that work in progress to Kavitha Kuriakose and a second educator, still to be determined, later this month when he retires Wednesday, Jan. 29 after 17 years in his educator role and 31 years working in mental health, including as a registered nurse.
While Derek will tell you he drew upon best practices he picked up elsewhere in his career for program content, he can take credit for developing unique training, including a staff orientation based on the needs of patients and staff competencies.
His efforts, which have benefitted hundreds of staff and physicians, and even more patients, haven't gone unnoticed outside Niagara Health.
Last fall, Derek was nominated for a Colleges Ontario Premier's Award in the health science category. It was the second time he was shortlisted for the honour.
This month's retirement will also be his second within a year. Last October, Derek called it a day on 38 years of service in the Canadian Army Reserve, a job that turned him onto a career in healthcare after working closely with military medical staff in his early days as a reservist.
The stigma attached to working in mental health couldn't be farther from the truth for Derek. He saw early in his career the need was great among those with mental health and addictions challenges. He stayed to make a difference, particularly as an educator.
"I grew into it," Derek says. "I pursued more knowledge and got more experience in it. The average person, even in healthcare, may not know a lot about mental health and addiction. It may seem strange and different but as you learn more about the issues, it's an area of huge need for knowledge and learning, and has lots of different opportunities for working in different areas.
"It's always busy," he adds.
That's especially true when it comes to fighting the stigma faced by patients, which can affect their ability to seek care. Over his career, Derek has seen increased awareness and attention given to effective mental health and addictions services. He's buoyed by the fact that two people will take over the work he's been doing as educator and build on what he started for a more successful program benefitting staff and patients going forward.
"I don't feel like the work is done," Derek says. I feel like I got it going and brought it to a good level. I feel confident in Kavitha and the other educator that they'll carry the torch forward strongly."