We are Niagara Health is a series of stories that celebrates the incredible people working and volunteering in our organization and how they make a difference in the lives of patients and coworkers every day.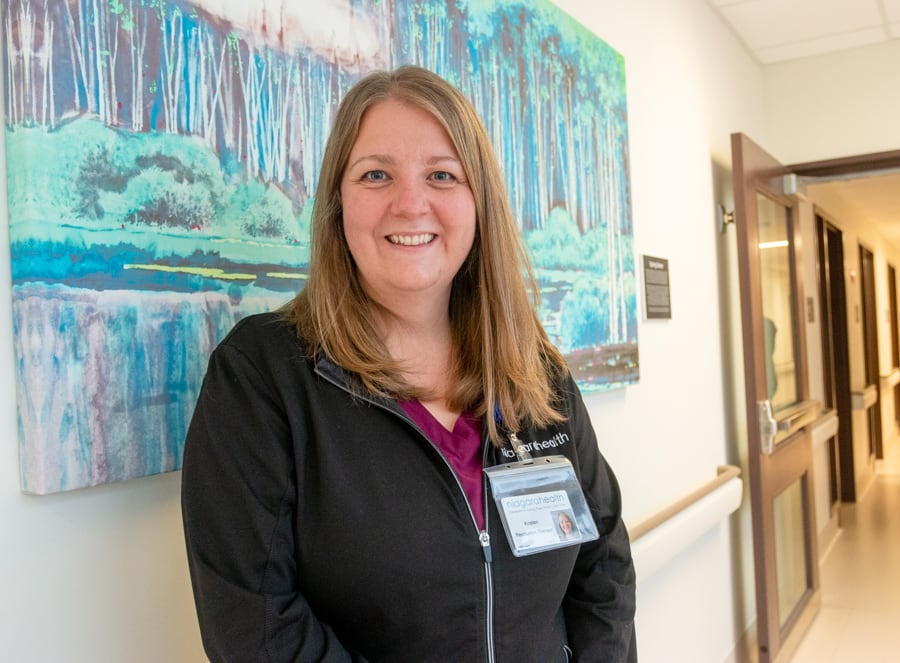 Kristen Young is a recreational therapist in Mental Health and Addictions at the St. Catharines Site. Last December, Kristen received an Interprofessional Practice Award for the efforts she went to creating programming to help patients through the challenges of the COVID-19 pandemic. 
Kristen Young is an advocate for journaling, but not for the reasons you might expect.
Rather than put pen to paper to practise gratitude or express feelings, the recreational therapist at the St. Catharines Site uses her journal to track how her patients' gardens grow.
Those gardens – the raised beds and planters visible in the courtyards surrounding the Mental Health Unit – have become healing grounds for many patients in mental health programs. They've also become fertile ground for crops of tomatoes, herbs and other vegetables thanks to Kristen's meticulous notetaking about when seeds are sown, what grows well and what might grow better next season.
"It's trying to get it down to a science so we can do it better the following year," Kristen says. "It's mostly keeping track of things for me."
The gardening program is about to begin its seventh season in inpatient Unit A as Kristen works with patients to start many of the plants from seed. Once they sprout, other patients in the Mental Health Program take over to tease out a harvest later in the year and turn what they reap into meals featuring bruschetta, pizza, and basil coulis to dress other dishes.
Excess plants are sold to hospital staff in May for use in their own gardens with the proceeds funding the program the following year. Any patient discharged from the Mental Health Program around the time gardening season officially begins in the spring also leaves with plants to hone their green thumb at home.
If food is thy medicine, so too, is growing it, explains Kristen, who grew up on a farm.
"You have people who really want to jump in and get their hands dirty but others get involved in a quiet way," she says. "Some patients will go around checking plants or doing dead-heading. There's always something to do when it comes to gardening, and getting and keeping people involved."
That was especially true during lockdowns, she notes. Gardening was one of the easier social activities to organize because it happened outdoors where people could easily practise physical distancing.
Kristen and her fellow recreational therapists got creative in other ways to overcome the challenges the pandemic created for patients who rely on interaction with others to heal. They secured iPads and the help of Information and Communications Technology to host virtual group meetings, including fitness programs patients could do sitting on chairs in their rooms.
Kristen also provided yoga mats and hand weights so patients could remain active during periods of isolation. And when her patients couldn't enjoy outings to the on-site Tim Hortons, she and her colleagues took coffee orders, making and delivering the java as an opportunity to check in with everyone.
"A lot of our patients we have are very anxious and very depressed," Kristen says. "At one point, people weren't able to come out of their rooms. It's very challenging to keep people's spirits up."
She managed to do it anyway. Kristen was recognized for her efforts in December with an Interprofessional Practice Award for Excellence in Clinical Expertise – Individual Practice Award.
"Kristen not only provides creative, meaningful programming for patients, she also enables them to tap into their interests, skills and hopes to access relevant activities when back in the community," her nomination reads. "She always exhibits integrity and professionalism in her words and actions with patients, families and staff. These acts mean so much to patients who report they feel 'cared for' and 'not so alone.'"
Kristen credits her fellow recreational therapists for inspiring the ideas to get through the last three years. It was a "nice surprise" to win, she says.
"Through COVID, it was really tough, especially for rec therapy. Most of what I do is getting people together," she says. "That's what made me most proud and happy to be nominated – the hard work paid off through COVID."
Soon, it will pay off in the garden, provided she heeds the advice scrawled in her journal. Seeding of some vegetables starts this month and Kristen knows timing is everything. Seed too soon and plants can get too leggy before going in the garden.
Regardless, Kristen looks forward to patients being able to get their hands dirty once again.
"We're spoiled with this space and the room we have," she says. "We take advantage of every nook and cranny and the sunny spaces. Everyone loves it."