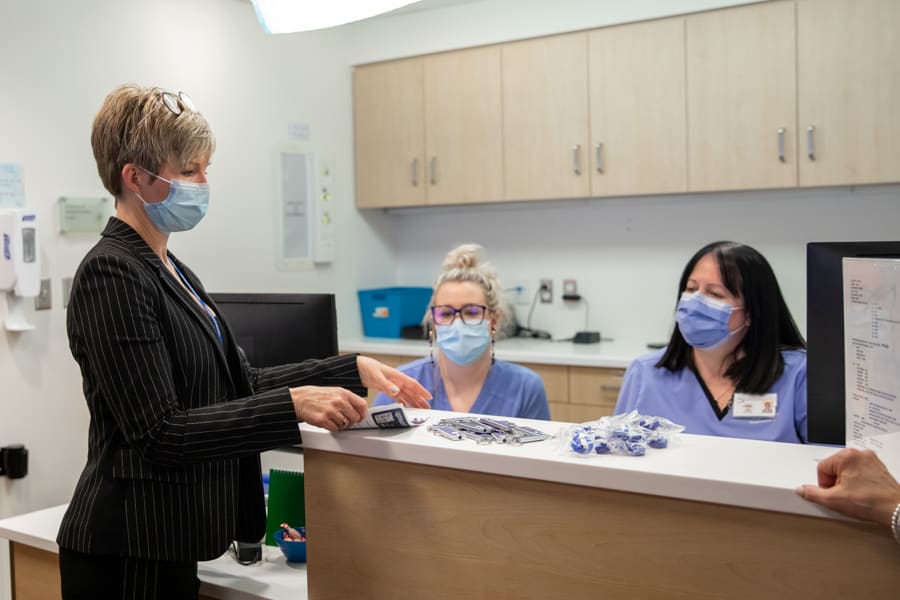 Niagara Health President and CEO talks with staff at the St. Catharines Site about the new Strategic Plan, Transforming Care, released in January.
When Lynn Guerriero became Niagara Health's President on Tuesday, Feb. 18, she could never have imagined what was in store.
Fast forward three years and Guerriero is now Niagara Health President and CEO and a proud Niagara resident. After guiding the organization through the pandemic, she is now looking toward the future. Guerriero launched the 2023-28 Strategic Plan last month and is excited for big things to come this year and beyond.
"It's incredible to think about what we, as an organization and more widely as a global population, have been through," said Guerriero, who marks her three-year anniversary on Saturday, Feb. 18. "The pandemic taught us so much and has changed how we deliver healthcare in many ways."
A good example of this is in the design of the new South Niagara hospital site, which will feature state-of-the-art infection prevention and control measures, including all rooms being private.
Guerriero came to Niagara Health with an extensive background in provincial healthcare and was familiar with the region as a regular visitor.
"Niagara welcomed me with open arms and this region quickly became my home," she said. "From the incredible assortment of wineries and top-quality restaurants to the parks and greenspaces, I've fallen in love with everything Niagara has to offer.
"As we work to recruit healthcare workers from across Canada and from around the world, selling Niagara as a great place to live and work isn't difficult."
Today, those health human resource challenges are the biggest issue facing Niagara Health and hospitals across the country. However, Niagara Health continues to aggressively recruit and is hiring dozens of frontline workers each month. Guerriero said the South Niagara Site and the long-term regional plans -- with the redevelopment of the Welland Site as a cornerstone to those plans -- will help attract physicians and other frontline workers to Niagara. The regional model will create new centres of excellence in complex care and wellness in aging, and the South Niagara Site will also be the new home to our Regional Stroke Centre. 
She's also proud of the steps Niagara Health has taken over the past three years in the area of Diversity, Equity and Inclusion –- launching an Indigenous Health Services and Reconciliation team, for example.
"We're at a pivotal moment in our history and are transforming how we deliver care to the people of Niagara," she said. "We're on this journey together and I look forward to continuing engaging with our teams, elected officials and community partners."
Photo caption: Niagara Health President and CEO Lynn Guerriero answers questions at the launch of the 2023-28 Strategic Plan in January.