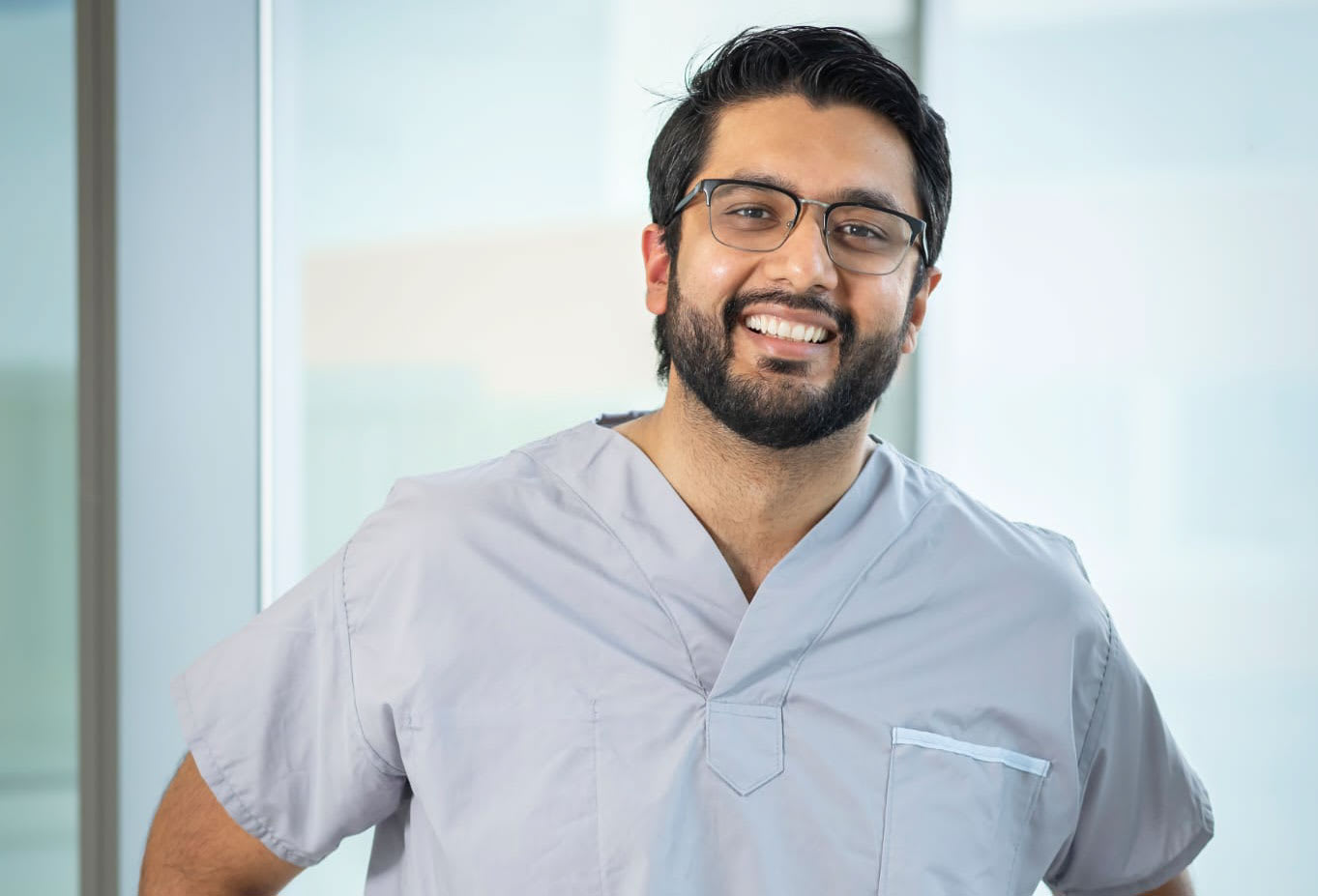 Dr. Noman Hassan is a third-year general surgery resident at Niagara Health who chose medicine as a career path to serve humanity. 
Dr. Noman Hassan wanted to become an Imam growing up.
But like many young people forging their path, the third-year general surgery resident at McMaster University's Michael G. DeGroote School of Medicine, Niagara Regional Campus changed his mind. Medicine turned out to be his calling – one he notes is not all that different from his original career ambitions.
"You can still be spiritual and practise medicine. I don't see it as a source of conflict," says Dr. Hassan, who is doing his clinical training at Niagara Health. "The rationale (in Islam) is for both science and religion to serve humanity and that's the crux of it."
The idea of serving humanity extends beyond Dr. Hassan's work at the hospital. He's been a longtime member of the Ahmadiyya Muslim Youth Association (AMYA), a national organization dedicated to performing humanitarian and charity work, which are at the core of Islamic values.
The group helped him find his focus as a youth, Dr. Hassan says, especially when he moved from his family home in Brampton to Saskatoon to complete his undergraduate medical education at the University of Saskatchewan and start carving his career path as a doctor.
These days, he volunteers with the Niagara AMYA chapter, helping other young people find their focus and make the world a better place with food drives that support community food banks and answering calls from people needing assistance with tasks such as picking up their prescriptions at the pharmacy.
More recently, the group set up at the St. Catharines Library to answer questions about Islam in an effort to build upon similarities that exist between all people.
Dr. Hassan also volunteers with AMYA's national education committee, helping to organize virtual professional panel discussions "to raise the curiosity and awareness about different fields young people can go into so they can be leaders for future generations to come." That includes talks about careers in medicine.
In all his roles with the group, including as a youth member, media relations co-ordinator and now a mentor, Dr. Hassan's passion for both science and religion have been continually nurtured and shared with others.
"Your community and spiritual guidance is to advance in education, wherever you are, and excel in these places and be a leader. It comes back to serving humanity," he says. "My work with the youth group connects me spiritually as well. It allows me to give back to a community that's given me so much. Working with the next generation and youth is amazing."
So, too, is working and learning at Niagara Health.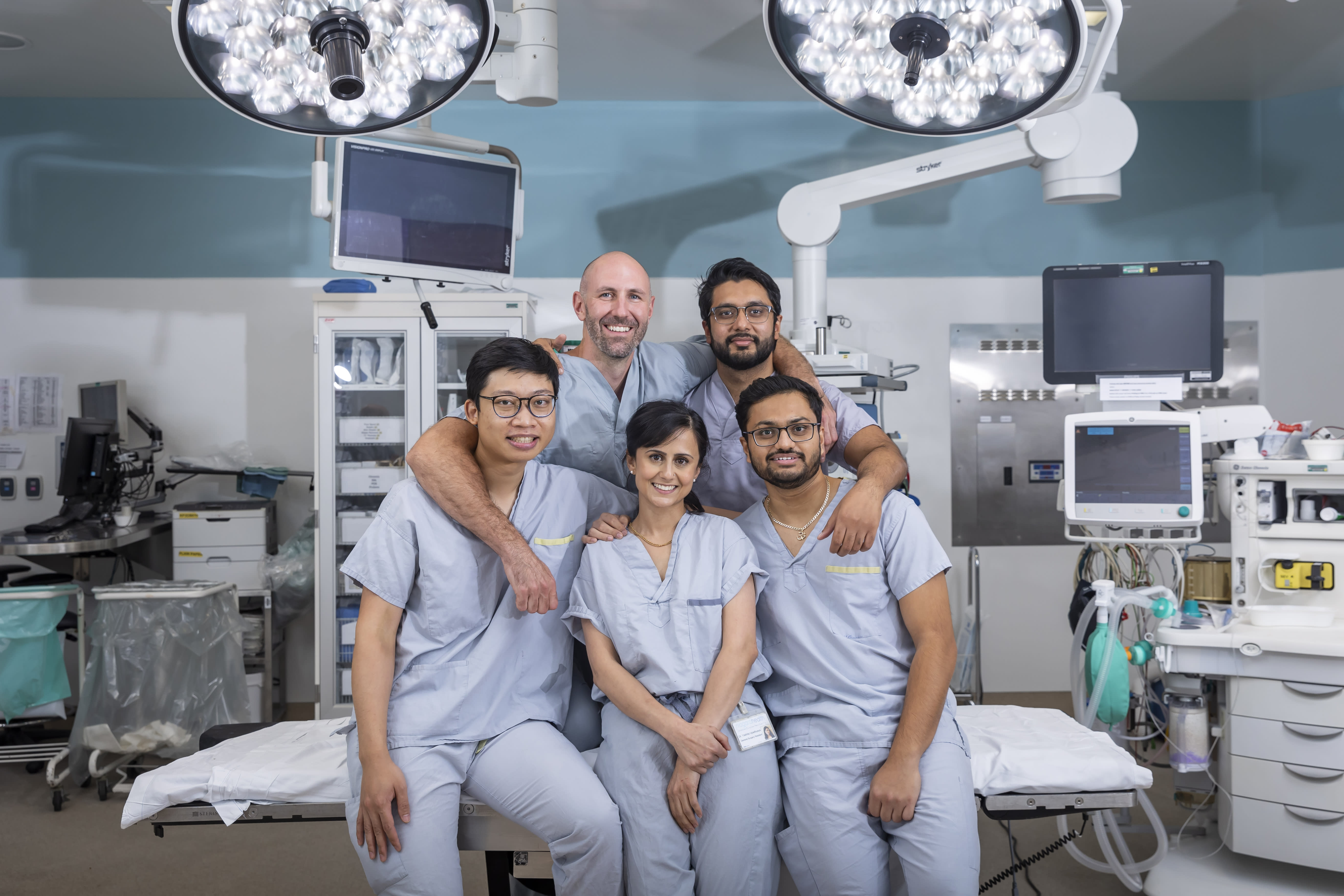 Members of the McMaster University's Michael G. DeGroote School of Medicine, Niagara Regional Campus General Surgery program. Back row, from left:  Dr. Ryan Fielding (program director), Dr. Noman Hassan. Front row, from left: Dr. Lukas Shum-Tim, Dr. Yashita Upadhyaya, Dr. Vivek Patel.
Dr. Hassan returned to Ontario to study at McMaster's NRC and do a residency specifically at Niagara Health, where he has found a supportive environment that grows his confidence as a physician.
He chose general surgery because it fits with his plan to serve humanity. Being a medical jack of all trades will enable Dr. Hassan to practise medicine anywhere in the world, be it in a small, rural hospital or a large, urban one.
As a general surgery resident at Niagara Health, Dr. Hassan is in the operating room (OR) nearly every day, assisting with or leading procedures. One day he could be involved with a thyroid case, the next performing vascular surgery. The surgeons mentoring Dr. Hassan are keen to help him develop further, he says.
Such relationships in a resident program would be hard to come by had he chosen to do his residency in a hospital in a larger centre, he says. He also wouldn't have the same work-life balance, enabling him to continue his work with AMYA, like he has at Niagara Health.
"The exposure in terms of surgical experience is fantastic and you don't have to fight with colleagues for space like I would in a larger hospital. There's only one general surgery resident accepted per year. This program remains to be the only community-based, general surgery training program across the nation," Dr. Hassan says.
"It's a hidden gem and I think Niagara Health has something special that a lot of regions don't."