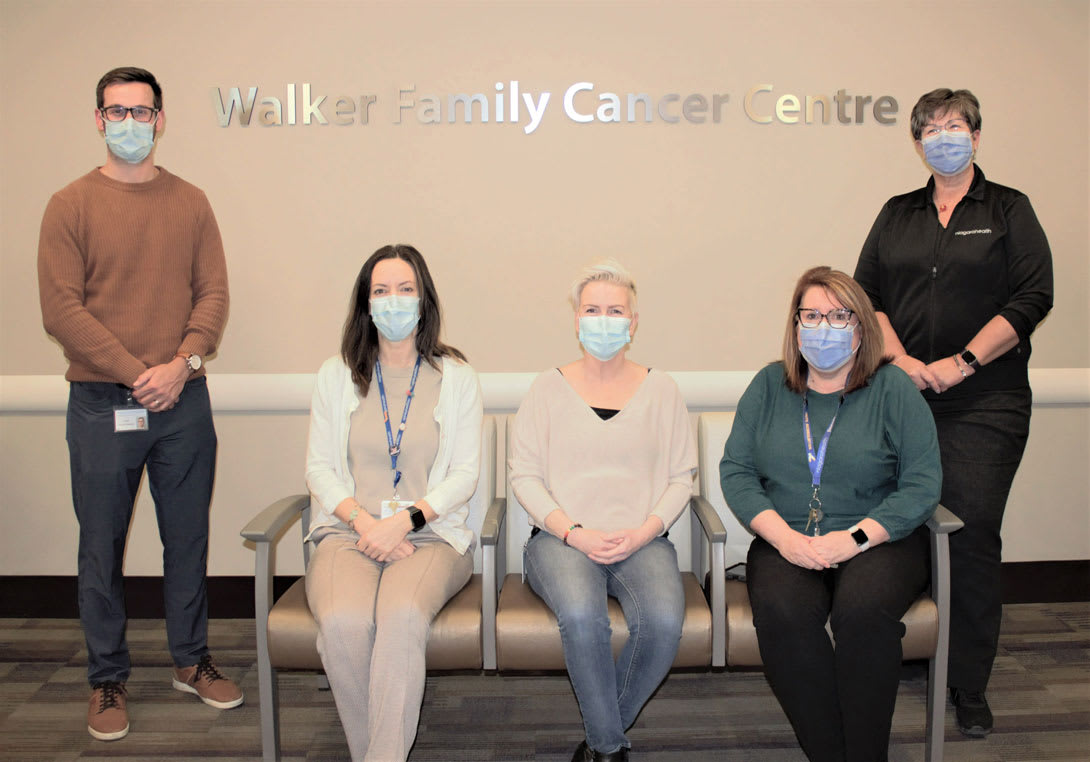 Since 2013, the team at Walker Family Cancer Centre (WFCC) has been committed to providing compassionate cancer care close to home for patients and families in the Niagara region. 
From left: Lucas Schinkel, Clinical Specialist Radiation Therapist, Radiation Oncology; Tracy Fazzari, Director, Patient Care Oncology and Palliative Care; Lara Lorge, former WFCC patient; Bonnie Van Veen, Clinical Manager, Medical Oncology; and Helmy Flus, Administrative Assistant, WFCC.
As a community health broker at Niagara Region Public Health, Lara Lorge never expected to find herself on the other side of her profession. However, that's exactly what happened when she was diagnosed with Stage 3 uterine cancer in February 2021.
Like so many other Niagara residents, Lara was able to receive her treatment close to home at Niagara Health's Walker Family Cancer Centre, which opened its doors 10 years ago this week at the St. Catharines Site (SCS). It was a monumental event in the region, as local patients and families would no longer need to travel outside of Niagara to receive radiation treatment and further specialized cancer care.
"Being able to access care close to home was invaluable and allowed me to recover between treatments," says Lara. "Having to co-ordinate travel and the additional expense would have created an intense layer of increased fatigue to an already stressful situation. It was not only beneficial for me, but also lessened the burden on my entire support network."
Lara completed her cancer treatment in December that year, following a 10-month personalized care plan that included surgery, radiation therapy and chemotherapy. Having returned to work in October 2022 and now in the process of starting her Master of Social Work, Lara is incredibly thankful for the care and support she received from the team at WFCC.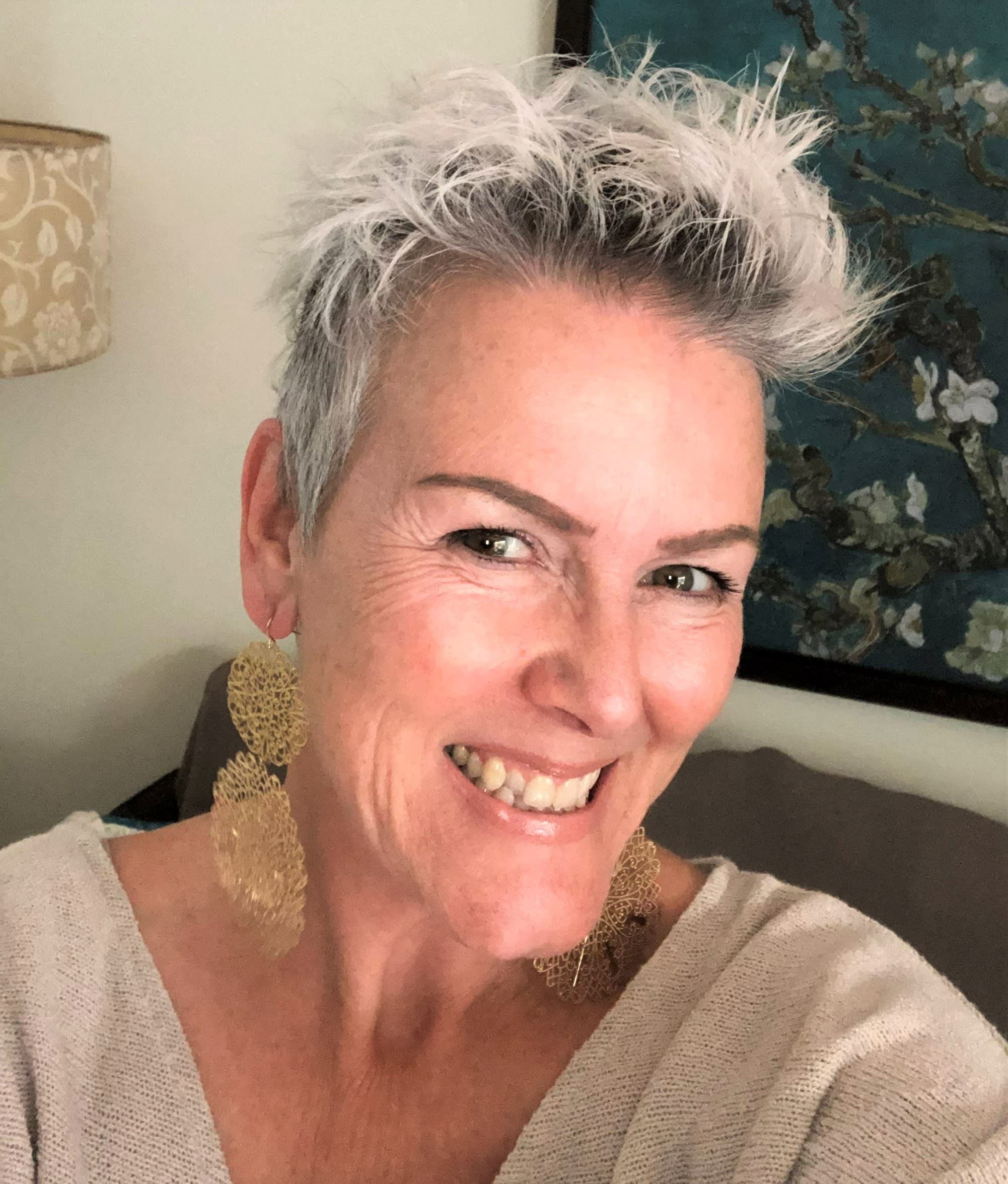 Lara Lorge, now in year two of being cancer- free, received personalized treatment at the Walker Family Cancer Centre and Juravinski Hospital and Cancer Centre in 2021.
"It was like having family and friends provide me with the best care possible. From the physicians to the nurses and volunteers, everyone was extremely compassionate and kind," Lara says. "I had situations come up during chemotherapy and the team would always reassure me and were incredibly responsive. Cancer is not one size fits all. Sometimes you need normalizing and I felt supported and held in a team of care."
Since opening in 2013, the WFCC has supported more than 9,000 radiation therapy visits that would have otherwise taken place outside Niagara. There has also been an increased opportunity for patients in the region to receive chemotherapy treatment.
Every day the multidisciplinary team of medical oncologists, radiation oncologists, specialized nurses, radiation therapists, social workers, dietitians, pharmacists, spiritual care providers and more work side-by-side to ensure high-quality patient-centred care and emotional support for patients and families during their cancer care journey.
"The team at WFCC are highly skilled, dedicated and caring clinicians. They work tirelessly to provide care that is aligned with best practices to meet each patient's individual care needs," says Tracy Fazzari, Director, Patient Care, Oncology and Palliative Care. "Since opening the clinic, the availability of specialized services has attracted experienced clinicians to our team who provide the quality of care traditionally offered at large-scale, urban cancer centres."
In the past 10 years, WFCC has participated in various clinical trials that support successful delivery of cancer treatments. As members of the Canadian Cancer Trials Group (CCTG) and Ontario Clinical Oncology Group (OCOG), clinicians at WFCC work closely with a number of industry partners to lead research to advance cancer care in Niagara and beyond.
To further support oncology patients, the first centralized Thrombosis Service in the region opened at SCS in 2015. With cancer-associated thrombosis being a major cause of severe complications in cancer patients, the Thrombosis Research Program launched in 2022, and is currently enrolled in four clinical trials that give patients access to innovative thrombosis care in their own back yard.
Dr. Michael Levesque, an oncologist with Niagara Health since 2008 and Chief of Oncology at WFCC since 2020, is hopeful about the future of cancer care in Niagara.  
"There are so many personalized cancer treatments that have been developed in the past 10 years and as a result, quality of life and life expectancy for people living with chronic diseases is dramatically improving," Dr. Levesque says. "As the population in Niagara grows and ages, we are able to provide better care for more people, regardless of how complicated their health may be.
"Resources are also being allocated to our region and we are preparing to build a brand new hospital," he adds. "We are continuing to grow and are collaborating more than ever to advance cancer care in our communities."
Thank you to our generous donors
Over the past decade, the Niagara Health Foundation has been fortunate to receive support dedicated to the Walker Family Cancer Centre from nearly 32,000 donors and thousands of Big Move Cancer Ride participants who have generously contributed to patient care equipment and programs. Their donations have enabled the Centre to purchase vital equipment such as chemotherapy recliners, ultrasound scanners, endoscopy equipment and a CT Simulator. In addition to these essential items, donor support has helped fund programs such as the arts and medicine program, which brings together patients, artists and clinicians to explore the connections between creativity and wellness.
These donations have helped expand the types of cancers that can be treated in Niagara and have had a significant impact on the care provided to cancer patients and their families. We are incredibly grateful for the generosity of our donors.
You can make a donation and learn more about the Niagara Health Foundation at NiagaraHealthFoundation.com  or by calling 905-323-FUND (3863).