We are Niagara Health is a series of stories that celebrates the incredible people working and volunteering in our organization and how they make a difference in the lives of patients and coworkers every day.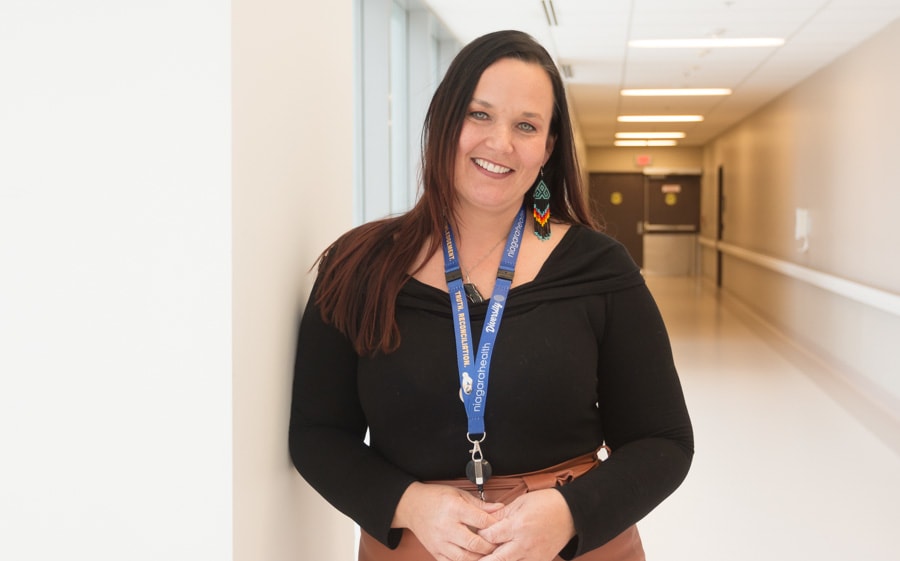 Charity Beland is Niagara Health's new Manager of Indigenous Health Services and Reconciliation. 
Charity Beland looks forward to hearing positive stories about Indigenous Peoples accessing healthcare.
When that happens, there's a good chance Beland will have been co-author of some of that affirming feedback. As Niagara Health's new Manager of Indigenous Health Services and Reconciliation, the Ojibwe-Mohawk woman will lead a team dedicated to helping address systemic barriers and biases in healthcare that have led to negative Indigenous patient experiences.
It's significant work – both in impact and volume.
"I definitely want to do the work where we create a system that can be adopted around the province so the stigma is removed, stereotypes are corrected and access to equitable healthcare is given," Beland says.
Beland's career started shifting into healthcare when she became a caregiver to her aunt, Norma, an opportunity she was grateful to have, especially as Norma's care needs grew and became more complicated.
Beland had already carved out a successful career working in community education, including developing curricula focused on literacy and life skills for Indigenous learners. She saw an undeniable place for education in healthcare, too, while looking after her aunt. Hospitals proved to be challenging places for Norma to self-advocate and that's where Beland stepped in.
"It was one of those things where I thought the need for community support and advocacy outnumbers those who are providing that support. Many people don't have family close by," Beland says.
"Education and healthcare intersect a lot. You need your basic needs met to learn and healthcare fits into that. But when you speak to the community about accessing healthcare or accessing services and you find out why they don't go, or why they get the treatment they get, you see the connection."
After a decade working in education, Beland became a patient navigator with the De dwa da dehs nye>s Aboriginal Health Centre, supporting Indigenous families accessing public healthcare. She helped with co-ordinating health services, cultural support, including access to traditional healing and wellness programs, discharge planning and follow-up.
In that role, Beland would hear about the unconscious bias that Indigenous patients experienced when accessing healthcare. It's fuelled by a lack of awareness about issues, challenges and past traumas Indigenous Peoples have experienced individually or as a group, she explains. The stigma and the stereotypes they may have to contend with can make them reluctant to access healthcare at all.
"A lot of people don't understand (the issues Indigenous Peoples face) or realize these things are happening," she says. "Unfortunately, a lot of what we see in the hospital is that lack of awareness."
As a patient navigator, Beland felt she was having an impact at the individual level but she wasn't able to address the systemic issues in healthcare contributing to her patients' negative experiences.
In her role at Niagara Health, however, Beland will be a key partner in building a culture of inclusion, equity and compassion, and leading efforts to identify and address those existing barriers for Indigenous People accessing services at Niagara Health and, ultimately, improve Indigenous patients' healthcare journeys.
Beland will also provide leadership and education to physicians, staff and volunteers on principles of Indigenous cultural safety, patient experience and community engagement to ensure clinical services and physical spaces at Niagara Health are accessible to Indigenous patients, their families and team members.
That includes creating a safe and informal space for Niagara Health staff to ask Beland and her team questions, start conversations, and learn how to play an active role in creating equitable healthcare.
"We'll be able to change that stigma and fear of accessing care just by being present," she says. "The hope is, through education, that trauma-informed approach and that level of sensitivity will come from a different lens. It's not to come from a place of pity or judgment but an understanding that the reality of our existence is just different."
And, in time, she hopes the stories she hears about Indigenous experiences accessing healthcare will be different, too.
"It's exciting to be in the community and hearing positive stories about accessing healthcare," Beland says. "We've heard a lot of horror stories. I look forward to hearing the positive stories."