We are Niagara Health is a series of stories that celebrates the incredible people working and volunteering in our organization and how they make a difference in the lives of patients and coworkers every day.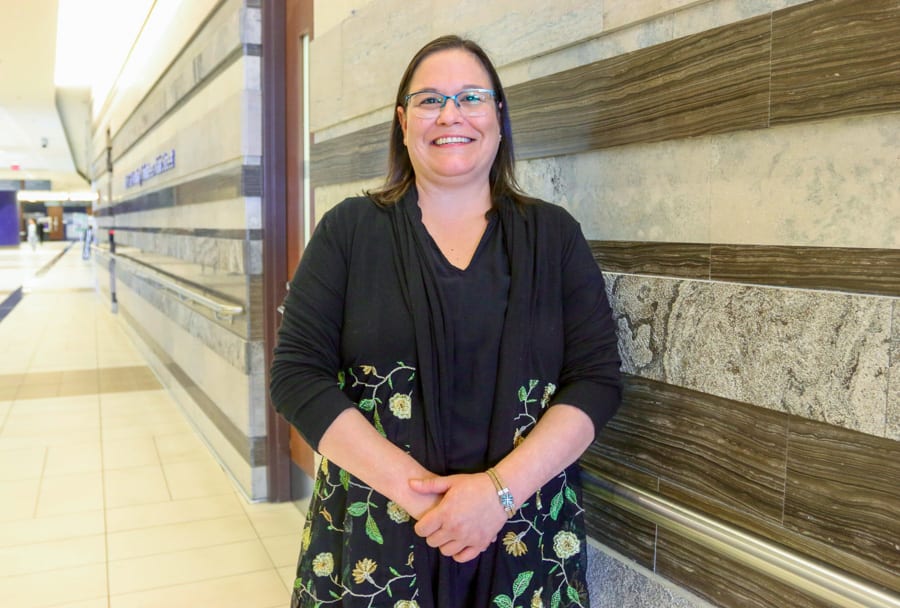 Indigenous Relations Specialist Jolene Courchene will help effect change to remove barriers Indigenous Peoples encounter when accessing mainstream, public healthcare. 
Jolene Courchene's official job title is Indigenous Relations Specialist but her email signature could just as likely read 'Jolene Courchene, Change Agent.' 
Change was at the heart of Courchene's decision to join Niagara Health in January as one of the hospital's first two Indigenous Relations Specialists. Working alongside fellow Indigenous Relations Specialist Bethany Williams, and Manager of Indigenous Health Services and Reconciliation Charity Beland, Courchene will help identify and act on priorities that ensure inclusive, equitable and compassionate healthcare journeys for Indigenous patients and their families.  
In other words, she'll help effect change to remove barriers Indigenous Peoples encounter when accessing mainstream, public healthcare. 
"I'm excited to be with Niagara Health and part of this team," Courchene says. "It's going to be fulfilling and amazing in a lot of different ways. I feel this can be a big change for the Indigenous community and it's just the beginning." 
Courchene, from Sagkeeng First Nation along the Winnipeg River in Manitoba, has been part of cultural shifts in healthcare before. She was one of the first Aboriginal Patient Navigators providing services in Niagara, Hamilton and Haldimand-Brant through the De dwa da dehs nye>s Aboriginal Health Centre.  
In that role, Courchene worked one-on-one with Indigenous patients at all Niagara Health sites to provide cultural and spiritual supports. She also collaborated with social workers, discharge planners, mental health staff, physicians and others to advocate for, co-ordinate and ensure culturally appropriate services for patients, caregivers and their families to improve outcomes.  
With her background in child and youth work and mental health, Courchene was a natural fit for the patient navigator position.  
"In mental health, I saw a lot of our community members struggling," she recalls. "I was able to connect with them easily by sharing my knowledge and understanding of historical trauma. That advocacy part is what I love to do." 
Her new role is similar to her previous work but with a few significant changes. Courchene is no longer working for an outside organization looking in. Niagara Health's 2023-28 Strategic Plan, which includes a focus on Indigenous healthcare, has set the stage for change from within, she notes.  
Courchene is also a different person than she was all those years ago when she began forging her career in healthcare. 
"When I started in healthcare, I was a quiet little mouse but as I got comfortable in that role, I got louder in advocating for the Indigenous community," she says.  
As Indigenous Relations Specialist, Courchene will continue helping the Indigenous community by "meeting patients at the front door" to let them know she and her teammates are here, she explains. 
"Sometimes it's just a 'hello' or saying 'I have your back and I'm going to work with you and your team to make sure we get you the care you need.'" 
Her new role also includes addressing barriers that exist when accessing healthcare, providing education "in a safe way" to Niagara Health staff and physicians on the complex needs of Indigenous patients, and ensuring those patients have access to healthcare that considers the spiritual, physical, mental and emotional aspects of one's self, all of which are intrinsic to Indigenous concepts of holistic well-being.  
With a shortage of primary care and an increase in mental health and addictions challenges in the Indigenous community, Courchene says it's critical to pay attention to the symptoms a patient may present with at the hospital, including the less-severe ailments. They may signal something more significant that requires a trauma-informed approach to effectively treat.  
"If we look at healthcare equity and the barriers the Indigenous community experiences, we begin to recognize the systemic and intergenerational trauma that has taken place. We know there is a sense of fear and apprehension when Indigenous community members come in and their healthcare needs are often so complex," she says. "That is why we need to catch them when they first present at the hospital…. We need to catch them earlier."  
Those changes won't happen all at once, she notes. But she's keen to facilitate them.   
"It's a big job to come in and make a change, but personally and professionally, being part of that will be incredibly humbling for me as a helper in my community," Courchene says. "I'm excited to be part of this journey."