We are Niagara Health is a series of stories that celebrates the incredible people working and volunteering in our organization and how they make a difference in the lives of patients and coworkers every day.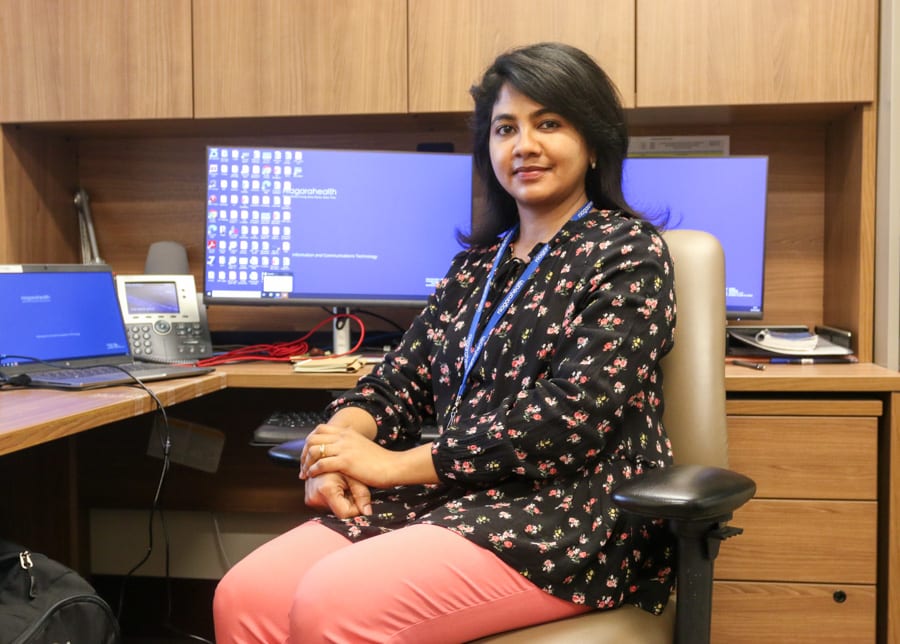 Kavitha Kuriakose, Nurse Educator in Mental Health and Addictions, trained and worked internationally before coming to Niagara Health in 2016.
It wasn't long after starting nursing school that Kavitha Kuriakose realized the impact she could have in her profession.
At the time, though, Kavitha figured she could help change her patients' lives for the better.
More than 20 years later, Kavitha, a registered nurse by training, is still doing that as a nurse educator in Mental Health and Addictions at Niagara Health. But she's playing a positive role elsewhere, too.
It's in the lives of internationally trained nurses who come from abroad to forge their careers at Niagara Health, in an entirely new health system and homeland, much like Kavitha did when she came to Canada from India via Abu-Dhabi in 2015.
They see themselves in Kavitha, who is often on hand for orientation sessions to welcome them and become a familiar face to help them in the same way her colleagues have been there for her since she started at Niagara Health in 2016.
"I tell them about my journey and I do everything I can to give them the message I am available if they need support," Kavitha says. "There are people here to support them and integrate them into the system."
Kavitha knew early in life she wanted to work in healthcare. However, it wasn't until she took her university entrance exams that she was steered toward nursing. She developed a passion for her new-found career soon after starting her studies at Government College of Nursing in Kottayam, in India's Kerala state.
"I realized this career is very rewarding and I would have the ability to make changes in people's lives," she recalls. "I never looked back after I got that feeling."
Kavitha started in pediatrics, eventually taking on teaching roles and getting her master's degree at the University of Kerala, which piqued her interest in mental health. Her next stop was Abu-Dhabi where she continued providing care and working as a clinical resources nurse in a large military hospital with a culturally diverse staff and patient population.
With no opportunities for professional development or options to stay in the United Arab Emirates capital long-term, Kavitha and her family, including her young son, decided to come to Canada.
"In Canada, I found there are more opportunities to grow in your career and, of course, there's quality of life, especially for my son," she says. "After coming to Canada, there were numerous opportunities to learn, so I was able get more education in mental health."
Kavitha credits those professional development opportunities with helping her become a nurse educator in Niagara Health's largest program. It's a role she took over earlier this year and shares with Christopher Loewen.
There have been hurdles as an internationally trained nurse, however, including a language barrier and learning a new health system. Even in the moments that proved most challenging, Kavitha recalls compassionate coworkers willing to lend a hand.
"I was able to overcome because of the kindness of so many people, especially my colleagues," she says. "Even in overwhelming moments, people supported me. There will always be negative stuff going on but if you open your eyes, you will see lots of kindness and willingness to help."
Including from Kavitha, who continues to seek out opportunities to grow personally and professionally, and share her world of insight with others who come from abroad to work at Niagara Health.
"I'm a constant learner, and that is how I can help other people – by continuing to learn," she says. "Opportunities came my way because of the training I had. My advice (to internationally trained nurses) is don't be mediocre. Strive for excellence and satisfaction will follow."