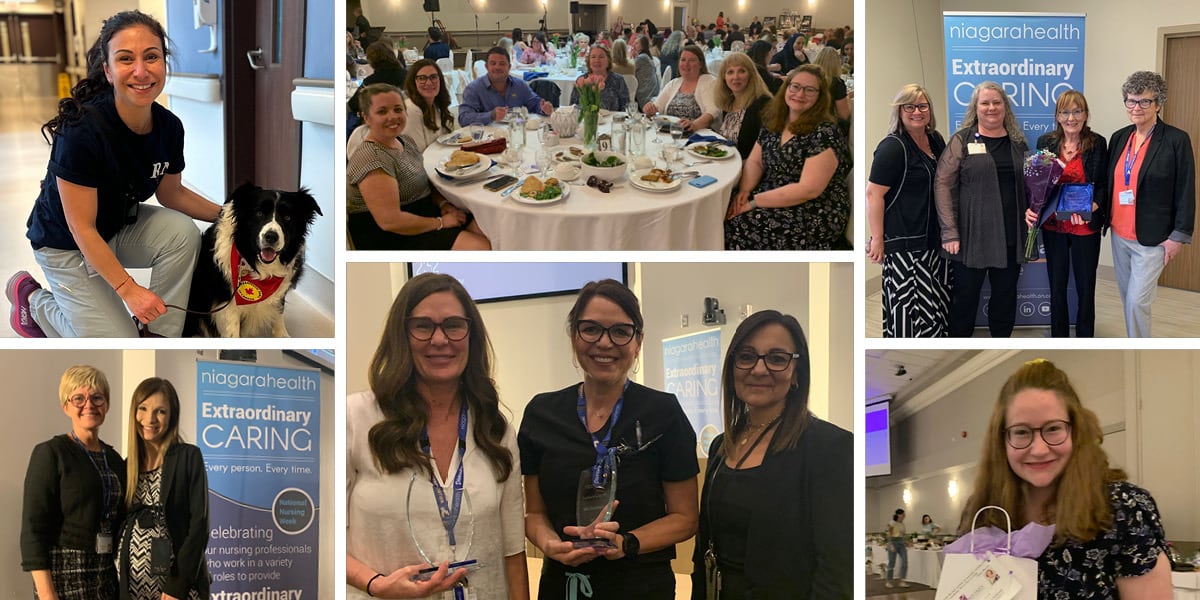 Niagara Health celebrated its nurses this week during National Nursing Week.
A nurse who provides colouring kits and frozen treats for children in the Emergency Department. One who helped grant a palliative patients' wish to witness his daughter's Grade 12 graduation. Another, known as a "legend" in hemodialysis, has inspired the question, "What would Bob do?" amongst colleagues.
While there are core characteristics to being an exceptional nurse, each of these nurses has their own unique style in enhancing patient care. They were recognized this week during Niagara Health's Nursing Excellence Awards.
The peer-nominated awards happen annually during National Nursing Week and, this year, included 25 recipients in nine categories and a record 150 nominations.
"I would like to congratulate this year's Nursing Excellence Award recipients," says Janice Feather, Director, Nursing Practice. "Thank you for contributing to positive patient care at Niagara Health and for your service and dedication not just to patients and their loved ones, but also to your colleagues. I would also like to recognize the record number of nominations this year, which speaks to the quality of nurses we have at Niagara Health."
Two Niagara Health registered practical nurses, Ashleigh Koop and Shannon Colosimo, were also nominated for the Hospital News 2023 Nursing Hero Awards, which celebrate Canada's nurses.
Excellence in Nursing – Lifetime Achievement
Rosanne Brown, RPN | Fort Erie | Complex Care
Rosanne's nursing career began nearly 50 years ago in 1974, and she consistently goes above and beyond to care for patients. Last year, upon learning that a palliative patient was unable to attend his daughter's Grade 12 graduation, Rosanne reached out to the school and oversaw a special personalized ceremony that granted the patient's wish of witnessing his daughter graduate. One of a handful of nominators writes: "Her dedication doesn't seem to vanish at all. On the contrary, it ignites every time she shows up to work."
Karen Buckle, RN | St. Catharines | Children's Health
Karen has dedicated more than 35 years of her nursing career to patients in Niagara. She is an enthusiastic team player who always demonstrates professionalism and kindness to everyone she meets. She loves teaching others and sharing her wealth of knowledge, and is always compassionate and comprehensive in communicating with families who are often overwhelmed when concerned about their sick children.
Bob Kubushesky, RN | Niagara Falls | Hemodialysis Satellite
Bob has always gone out of his way to ensure that everyone he works with feels valued and included. He has a clear passion for nursing and takes others under his wing, never growing tired of questions or helping others. A "legend" in hemodialysis, one colleague frequently asks themselves, "What would Bob do?" In addition, Bob has impeccable bedside manner with patients and gives them his undivided attention.
Excellence in Nursing – Registered Practical Nurses (RPNs)
Jennifer DiPardo | St. Catharines | Unit 4A Respiratory
Jennifer is a compassionate and empathetic nurse who has become "a pillar on the unit." She is passionate about integrated care for patients with mental health and addictions who are admitted with a medical diagnosis, and is a leader and mentor to her colleagues while working towards her bachelor in nursing.
Erica Seehagel | Welland | Emergency Department (ED)
Erica's colleagues in the ED say she "lifts us up and helps us continue on," and is appreciated by patients and colleagues alike. While working full-time as an RPN, Erica is pursuing her bachelor in nursing. She is "the nurse one wants in the room when a patient is deteriorating or coding. Her ability to think and act quickly is an asset in critical situations."
Dee Dee Shatkosky | Port Colborne | Complex Care
No matter the challenge, Dee Dee always sees the glass as being half-full. Colleagues feel excited when they see her name on the schedule during their shifts, and she always goes out of her way to talk to patients about their lives to ensure they don't feel like a patient, but like a friend.
Jamey Rivet | Niagara Falls | Brock Unit
Jamey is selfless and always shows up to work with a positive, caring attitude and ready to provide the best quality care possible. No matter how heavy his workload is, he always asks other staff how he can support them.
Excellence in Nursing – Registered Nurses (RNs)
Stephanie Adamson | St. Catharines | Interventional Radiology – Diagnostic Imaging
Stephanie has been described as the "go-to" person in Interventional Radiology. One nominator wrote: "Her opinion is very highly regarded and there have been many instances where her advice has proved to be invaluable to patient care… Stephanie is a credit to the nursing profession."
Angela Crane | Niagara Falls | Unit D
Angela's professionalism, helpful demeanor and coaching abilities makes her a highly valuable member to Unit D and Niagara Health. Called a guiding light by her colleagues, Angela nourishes their skills with her knowledge and experience.
Andrea Demery | St. Catharines | ED
Andrea has served across a variety of areas, but has, as one colleague put it, "become one of the backbones" of the ED. Andrea embodies what "every nurse should be" and advocates for her patients as well as her colleagues. She works hard to ensure inclusivity in the Department and often spends her own time and money decorating for the holidays and putting together colouring packages and popsicles  for children in the ED.
Anthony Diaz | St. Catharines | Mental Health
A "ray of sunshine," Anthony has been described by colleagues as "much needed in this world and on our unit." He's often the first to volunteer to step up to a challenge, embodies what it means to be a team player and goes out of his way to ensure that both patients and colleagues alike feel cared for.
Lindy Finkbeiner | Welland | IP Medical
Lindy tailors her nursing care to patients' unique circumstances and always ensures that patients and their loved ones are included in all aspects of their care plan. She regularly mentors students and other staff to "become the best nurses they can be," and uses creativity in her approach to patient care. For example, Lindy often provides patients who are feeling confused or stressed with puzzles or activities to help them focus and calm down.
Excellence in Nursing – Advanced Practice Nurses
Nathalee Crawford-Campbell, Nurse Practitioner | Port Colborne | Eating Disorder Outpatient Clinic
Nathalee demonstrates excellence in patient care planning and delivery, and is dedicated to both patients and her colleagues, both of whom she advocates for. Her professionalism and compassion makes her appreciated by everyone around her.
Jessica Dolinski, RN – Nurse Educator | St. Catharines| Walker Family Cancer Centre and Ambulatory clinics
Jessica's passion for oncology nursing and serving patients is something she generously shares with nursing colleagues to ensure patients in this area receive the highest quality of care. She uses her expertise to educate nurses and willingly supports their learning needs.
Danielle Johnson, Nurse Practitioner | St. Catharines | Neonatal Intensive Care Unit (NICU)

Danielle has worked tirelessly behind the scenes to create new policies and algorithms to ensure best practice in the unit and for patients – even when she isn't working. She often checks in on patients on her days off to make sure babies and their families are getting the best care possible, and always makes herself available for a consultation.
Excellence in Nursing – Leadership
Tara Coffin-Simpson, RN – Clinical Manager | St. Catharines | ED
Tara joined the ED during a particularly challenging time and implemented necessary change to improve the department. She always takes her colleagues thoughts and ideas into consideration, and her positive attitude and drive to make the work environment more positive has made an impactful difference.
Lorie Heafey, RN – Charge Nurse | Niagara Falls | ED
Lorie demonstrates professionalism, kindness, communication and empathy every shift. No matter how challenging a day might be, she leads her team through it effortlessly every time. She is constantly checking in with staff to ensure they have all the resources needed to provide exceptional patient care, sees challenges as learning opportunities and takes the time to listen to those around her.
Excellence in Nursing – Mentorship
Susan Adams, RN – Primary Care Nurse | St. Catharines | Unit 4A Respiratory
Susan is passionate about mentoring the next generation of nurses and is always willing to share her knowledge to improve patient care. Regardless of the challenge, Susan always supports those around her and takes clear pride in both being a mentor and being a nurse.
Anjana Kumar, RN – Clinical Coach | Multiple sites | ED
Anjana's open mind and positive attitude have made her an exceptional mentor to colleagues. She has always promoted a strong sense of mentorship to other nurses, no matter their skill level or seniority status, and makes sure that everyone feels heard and feels like an integral part of the team. Anjana is always excited to see her colleagues grow and is always willing to answer questions, discuss ideas and lend a helping hand.
Mike Slongo, RPN – Manager | St. Catharines | Unit 3A Nephrology
Mike is committed to using professional development to enhance patient care at Niagara Health and to help his colleagues help those seeking care. He also seeks out feedback from peers to continuously improve himself and is often sharing his learnings with colleagues.
Excellence in Nursing – Rising Star
Niamh Knox, RN | Port Colborne | New Port Centre
Niamh is never one to shy away from a challenge and works diligently to ensure that clients at the New Port Centre get the support and care they need. She is constantly learning  new skills to better serve clients. Relatable and reliable, Niamh always goes the extra mile.
Stephanie Ralph, RN | Multiple sites | Geriatric Assessment Program
Stephanie is a team player who has a demonstrated commitment to enhancing patient care. She belongs to a number of committees working on quality improvement throughout the organization and is always supportive of her colleagues and their ideas to improving patients' experiences.
Excellence in Nursing – Teamwork and Collaboration
Perioperative Redesign Team | Niagara Falls and Welland Operating Room
From the start of the perioperative redesign, the charge and resources nurses were fully engaged. They worked relentlessly to ensure clear communication amongst teams and a smooth transition for staff, physicians and patients.
3A Nephrology Team | St. Catharines
The 3A team has continually demonstrated their commitment to providing extraordinary care to patients and their loved ones as well as to colleagues. The team supports a steady stream of learners and are always willing to lend a hand.
Excellence in Non-Traditional Nursing Role
Sarah Furnival, RN – Nurse Navigator | St. Catharines | SCOPE Program
Sarah's nursing knowledge helps make the SCOPE Niagara program possible. She has navigated more than 350 calls since the program launched in May 2022, and helped more than 80 per cent of patients avoid an unnecessary visit to the ED.