We are Niagara Health is a series of stories that celebrates the incredible people working and volunteering in our organization and how they make a difference in the lives of patients and coworkers every day.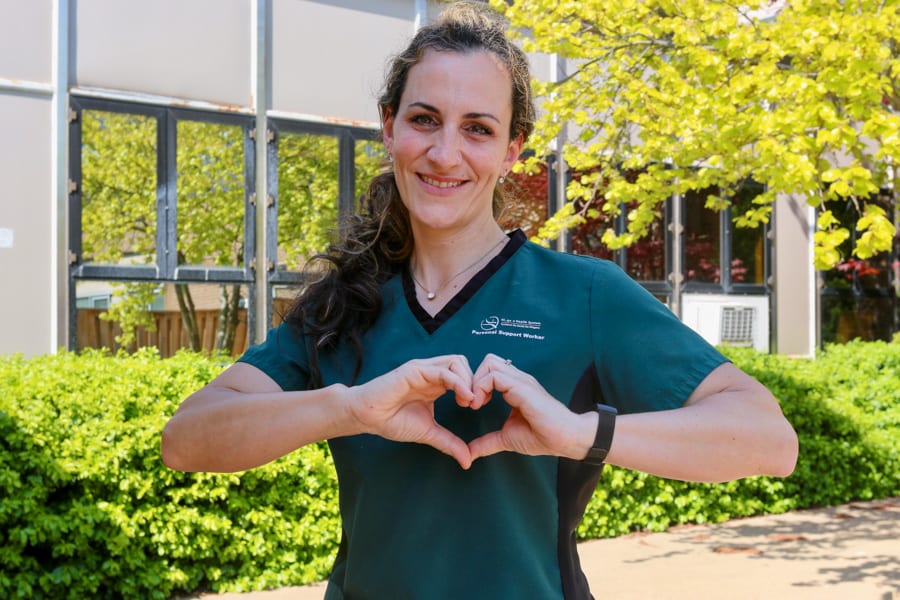 Michelle Rapattoni is one of 362 personal support workers who provide vital support to clinical teams at Niagara Health. 
It's not uncommon for Michelle Rapattoni to take on a handful of overtime shifts every month.
She doesn't work extra hours because she has to, however.
"It's because I love my job," Rapattoni says. "I feel like being at work, I lighten the load of others."
She undoubtedly does. Rapattoni is a personal support worker (PSW) and a member of the Staffing Resource Team (SRT), a group of more than 60 PSWs and registered practical nurses (RPNs) with enhanced skills and knowledge, who fill short-term staffing needs across all Niagara Health sites.
That means having to pivot quickly to provide quality and personalized care to patients and support to clinical teams. Rapattoni could be in the Emergency Department one day, called to oncology the next, and have to move to nephrology or complex care during that same shift.
While on duty, she works as part of a care team, helping patients with hygiene, feeding and getting to appointments elsewhere in the hospital. They also provide support for interprofessional teams, which, in Rapattoni's case, could mean jumping in to help nursing staff with minor wound care, or assisting physiotherapists with patient exercises.
PSWs also provide important socialization, engagement, and behavioural support to patients and their loved ones, serving as "their eyes, their ears, their support," and their advocate.
"I joined the SRT to see everything," Rapattoni says. "We're an adaptable group. You have to be adaptable to do this. Every day is different."
But the impact she and Niagara Health's other 361 PSWs have is the same – and it's significant. After all, it takes a village to heal someone who is receiving care at the hospital.
"Even the smallest jobs are a big deal," she says. "We're here to support the staff. We're here to take the edge off. We're here to answer the (call)bell so nursing staff can continue charting and doing the work they have. We're an essential part of the team. Everyone here at Niagara health has a vital role in our patient's stay and outcome. It's incredible how everybody's role helps complete the process."
Rapattoni is a natural caregiver. She learned that in her personal life, having cared for her father and then her mother-in-law, who encouraged her to make a career of it. Even as a teen, there were hints of her calling in life. She volunteered at Hotel Dieu Shaver Health and Rehabilitation Centre, helping patients pass the time by playing cards with them, or assisting with hygiene. She also gave her time to Meals on Wheels and the Red Cross.
Rapattoni's original ambitions were in nursing but she saw PSW training offered through the District School Board of Niagara's Lifetime Learning program and thought that would be a good gateway. As part of her schooling, Rapattoni did a placement at Niagara Health and was hired after graduation, starting in the Woolcott Wing at the Welland Site in 2016.
Rapattoni has taken every opportunity to build her skillset, particularly since joining the SRT in 2019, which is why she can assist with minor wound care, taking patients' vitals, and helps quarterly pressure injury point prevalence audits. She also has operating room certification to assist surgical teams.
"Michelle exemplifies our Niagara Health values to provide extraordinary care, every person, every time, no matter what site or unit she is assigned to," says Tanja Groeneveld, Manager of Clinical Services. "She is an instrumental team member in transforming care, and she always puts people first, both her patients and her team members." 
Rapattoni says she seeks out new opportunities because gaining knowledge is key to growth and success. But there's another reason that drives her willingness to take on more responsibility, she notes.
"When I go to work, I'm the difference. I'm the extra set of hands," she says. "It's just being able to help others, give them their dignity and optimize their well-being. Here, people are at their most vulnerable. How many times a day do I hear a patient say thank you? That's what makes my heart happy."
May 19, 2023 is Personal Support Worker (PSW) Day, which celebrates and acknowledges the vital work PSWs do in our lives.