We are Niagara Health is a series of stories that celebrates the incredible people working and volunteering in our organization and how they make a difference in the lives of patients and coworkers every day.
Simon Akinsulie will have many questions for his team of nurses and allied health professionals as he gets to know them as Niagara Health's Executive Vice-President, Practice, Clinical Support and Chief Nursing Executive.
Among the first will be 'How can I help?'
"How can I help our allied health professionals and nurses every day so they can take care of patients?" says Akinsulie, who started in his role June 5. "It's a challenging time in healthcare. How can we work to improve and make each other better? My job is to help."
Akinsulie's compassion for his teams and his collaborative approach to leadership are two of the many reasons Niagara Health is thrilled to have him join the leadership team in a new executive role that will help transform healthcare in alignment with the goals outlined in the Strategic Plan.
Reporting to Niagara Health President and CEO Lynn Guerriero, Akinsulie will oversee professional and interprofessional practice and clinical support, including pharmacy, diagnostic imaging, long-term care, and infection protection and control. Bringing these functions together under one leader fosters agility and focus within these portfolios.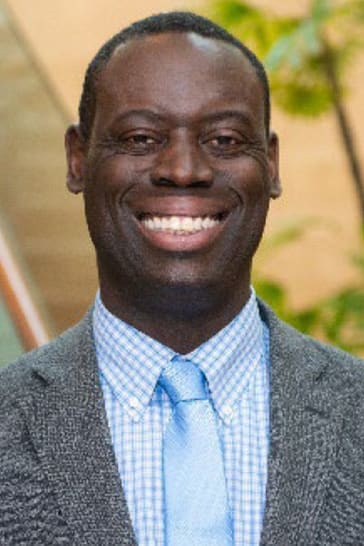 Simon Akinsulie
With Niagara Health's focus on innovation and transforming care, this role requires the synergetic, relentless, and accountable leadership that Akinsulie has shown over his career to influence the commitment to people and practice, and contribute to the delivery of generational projects, including the construction of the new South Niagara Site and the implementation of the new Health Information System.
"We're excited to have Simon join the Niagara Health team and look forward to moving strategic and operational results forward together," Guerriero says. "His energy is inspiring and his rich clinical and leadership experience will be a significant contributor to our people first culture."
The depth and breadth of Akinsulie's professional experience and achievements embody Niagara Health's core values of Compassion in Action, Driven by Optimism, and Achieving Results. His leadership at Niagara Health will strengthen a culture of achievement, foster a commitment to patient care, and elevate Niagara Health's models of care.
Akinsulie is a registered nurse by training who comes by his passion for health and patient care naturally, following in the footsteps of his mother, whose career was also in nursing. Akinsulie has embraced and actively sought out opportunities to develop professionally with the intention of being the best healthcare provider and boldest leader he can be for patients, their families, and his teams.
"I love talking about healthcare, I love reading about healthcare, I love nursing," he says. "I love what nurses do. What a great job when you can help people through their happiest moments, their saddest moments, and just being there, providing that care. The greatest joy is from interacting with patients, seeing how they're doing, how we're helping them and how we can do better."
Akinsulie's career in healthcare spans 23 years. It includes service in oncology with the Children's Hospital of Eastern Ontario, as a board member with the Provincial Bariatric Network of Ontario, a clinical manager at The Ottawa Hospital, Executive Director of Long-Term Care for Bruyere Continuing Care and Baycrest Health Sciences, director roles in cancer care with Hamilton Health Sciences and integrated community programs with the Waterloo, Wellington LHIN,  and most recently, as the program director of Women's and Children's for Trillium Health Partners.
"Healthcare is a pillar of society and I can't imagine doing something else" he says. "It's a privilege to be in this job."