We are Niagara Health is a series of stories that celebrates the incredible people working and volunteering in our organization and how they make a difference in the lives of patients and coworkers every day.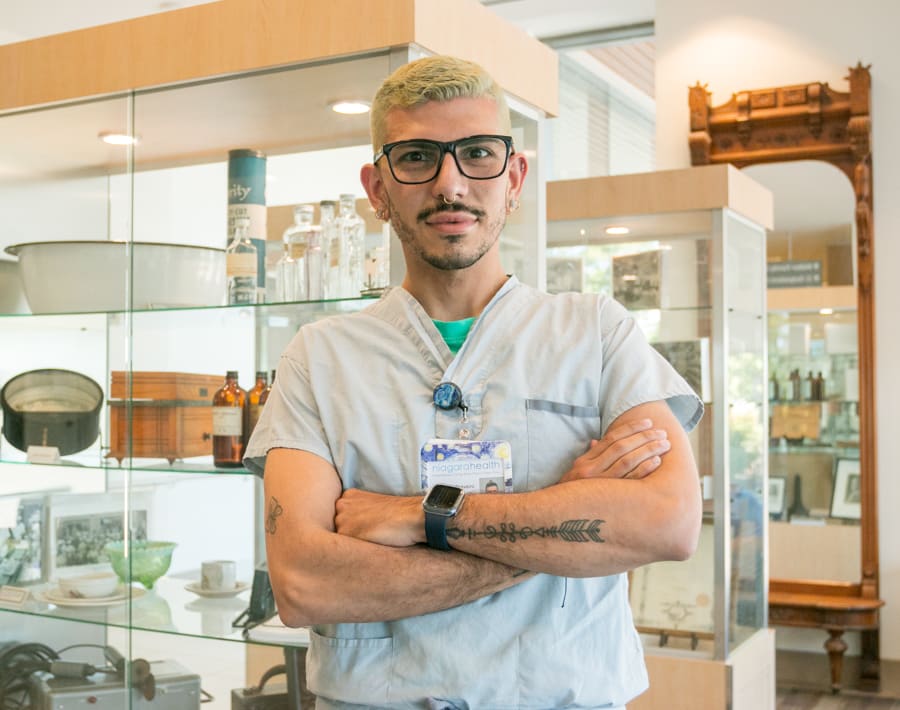 Ricardo Craveiro Blanco left his homeland of Venezuela for Canada seven years ago, beckoned by the freedom to live openly as a member of the 2SLGBTQIA+ community.
June is a big month for Ricardo Craveiro Blanco.
The personal support worker (PSW) with Niagara Health's Staffing Resource Team (SRT) will become a Canadian citizen in a few weeks. He'll also celebrate Pride Month.
The two aren't mutually exclusive. The acceptance and recognition of 2SLGBTQIA+ people are precisely the reasons Craveiro Blanco came to Canada. He counts himself as part of that community – something he couldn't do openly and safely in his birth nation of Venezuela.
"The people born here are really lucky because they have that opportunity," Craveiro Blanco says. "In my case, I took that opportunity. I made that choice to come here because Canada is a free country. I get emotional about it. It's why I'm here."
Craveiro Blanco arrived in Canada seven years ago in pursuit of a lifelong dream to be himself as a gay man. Back home, the civil engineer by training worked in a traditionally masculine construction field where he had to hide his true self, even conforming his physical appearance to fit in with his coworkers and not raise suspicions about his sexual orientation.
"People laugh or they are close-minded," Craveiro Blanco says. "In my country, people judge you. To be outside the closet is really hard. It wasn't acceptable in my job or community."
Craveiro Blanco came to Canada via Spain in 2016, unfamiliar with the language and how to integrate himself into Canadian life. He travelled to major cities to get to know his adopted homeland and find a new home city. He settled on Niagara, beckoned by its proximity to the U.S. and Toronto, the wineries and natural beauty, and taking his cues from an aunt who had already immigrated here.
He also felt safe to live as his authentic self.
Among the many changes Craveiro Blanco made was to his career. Having worked as a pharmacy assistant while studying civil engineering in Venezuela, healthcare held real possibility. He befriended Natalia Sanchez, a registered practical nurse in Niagara Health's Staffing Resource Team (SRT), who became a mentor and inspired him to become a personal support worker (PSW).
"She said, 'I know you. You're really passionate and you can do whatever you want,'" Craveiro Blanco recalls. "She always helped me."
After working multiple jobs in Canada, Craveiro Blanco heeded Sanchez's advice and enrolled in PSW training through the District School Board of Niagara's Lifetime Learning program. He was hired by Niagara Health in 2020, proving himself quickly and becoming a member of the highly skilled and adaptable SRT, whose members fill short-term staffing needs across all Niagara Health sites and programs.
The work is rewarding, he says, especially the opportunity to bring kindness, compassion and comfort to the patients he helps.
"When your day is going badly, one patient says 'Thank you' and that's the switch," Craveiro Blanco says. "That reminds you why you're here."
He's also grateful for the other benefits that come with being a Niagara Health employee. The emotional support he's received and the safe space he feels he has as a member of the 2SLGBTQIA+ community are among the most notable.
And they reflect the values that align with Craveiro Blanco's decision to leave Venezuela, call Canada home and live life the way he's always wanted. Five years ago, his mother and sister left Venezuela to join him in Niagara. He recently welcomed a niece, born at the St. Catharines hospital and into the freedoms he sought out all those years ago.
"When you have freedom, people see you as a person," Craveiro Blanco says. "During Pride, everyone comes together to celebrate and people don't judge you because you have a different sexual orientation. We are part of the world and we are part of the community. And we are recognized here."
 Each June, Niagara Health celebrates Pride Month. We are sharing stories like these to highlight the work being done to support diversity, equity and inclusion.