We are Niagara Health is a series of stories that celebrates the incredible people working and volunteering in our organization and how they make a difference in the lives of patients and coworkers every day.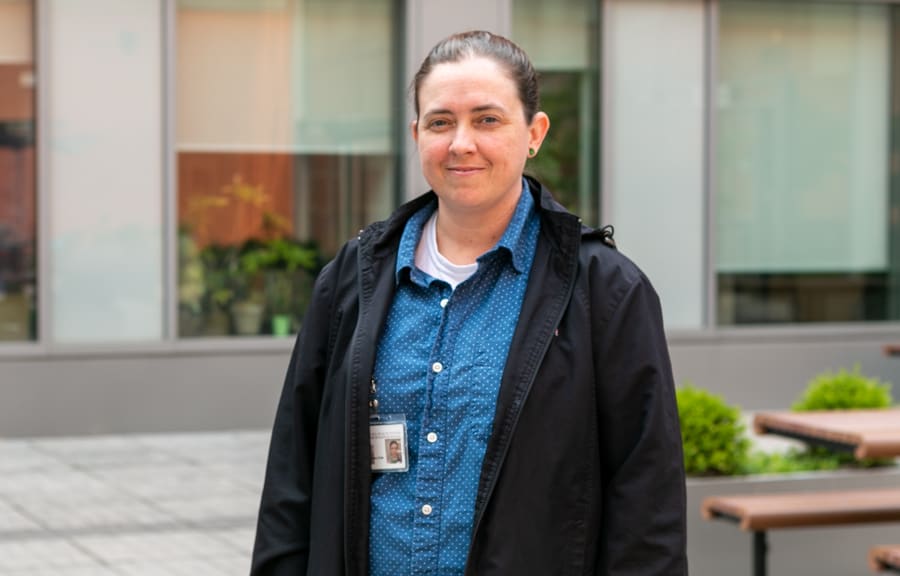 Environmental Services Aide Jill Cameron says simple actions, including using pronouns in an email signature, go a long way to fostering feelings of safety for those in the 2SLGBTQIA+ community.
Jill Cameron noticed the first time their manager added pronouns to her email signature.
It was two small words but the impact on Cameron was huge. As someone who identifies as non-binary queer and uses the pronouns they/them, Cameron found the gesture heartwarming.
It also added to the safety Cameron has increasingly felt as a member of the 2SLGBTQIA+ community at Niagara Health since they started working here 12 years ago.
So have this year's Niagara Health-branded rainbow photo backdrops set up at the larger sites, the unprompted door decorating for Pride Month by the neonatal intensive care unit at the St. Catharines hospital, and the allies Cameron has met over the years while working in food services and, most recently, as an Environmental Services Aide on the Women's and Babies unit.
"The outright displays everywhere are really nice," Cameron says. "The visibility is important. I think it's brave and cool. It's a safe space."
Cameron knows they're lucky that way. When they started, their wife, who has experienced less acceptance in the industry in which she works, suggested Cameron wait until they had full union protection before coming out to coworkers.
Cameron hasn't experienced the same issues at Niagara Health.
"This is the first place people have genuinely asked (how I identify) and it's nice to see," they say.
Working for the NH seems as much a part of Cameron's DNA as their sexual orientation.
Cameron's grandmother, Ann Cameron, worked in laundry at the Niagara Falls hospital. Their mother, Lorraine McGuigan, clocked 32 years doing clerical work at Niagara Falls, while their dad, Allan Cameron, started there as a janitor before moving up the ranks as an Environmental Services (EVS) supervisor.
As a child, Cameron played switchboard with their mom. Their brother was given a toy janitor cart.
"My parents joked whether I'd be EVS or clerical," they say with a laugh.
Cameron started in Environmental Services right out of high school before moving to food services and, despite joking they couldn't boil water when they started, they hit their stride doing meal prep, including at the former Niagara-on-the-Lake hospital cooking solo for 22 patients.
"There was no food truck coming (to bring us meals from St. Catharines)," they say. "I did it. Everyone ate and we made it through."
Some of their fondest memories happened during the three years they worked at the Fort Erie hospital before coming to St. Catharines last fall. That includes seeing their manager's revised email signature with pronouns.
Those are changes that happen with awareness, Cameron explains. They're also signals that have become increasingly important at a time when other shows of support, including flying the Pride flag at schools or municipal buildings, have come more and more under attack.
They're easy actions that can establish that vital sense of safety in 2SLGBTQIA+ community members, much like what Cameron feels working at Niagara Health.
"Education is key," they say. "No one's inherently bad. They just don't understand so we need to educate people.
"Talk to a 2SLGBTQIA+ person. Everyone knows someone who is part of the 2SLGBTQIA+ community, whether it's a co-worker, family member or friend, so talk to them to see what kind of support they need and check in. Ask what pronouns we use. Use pronouns yourself in your email signature. These are simple ways to start."