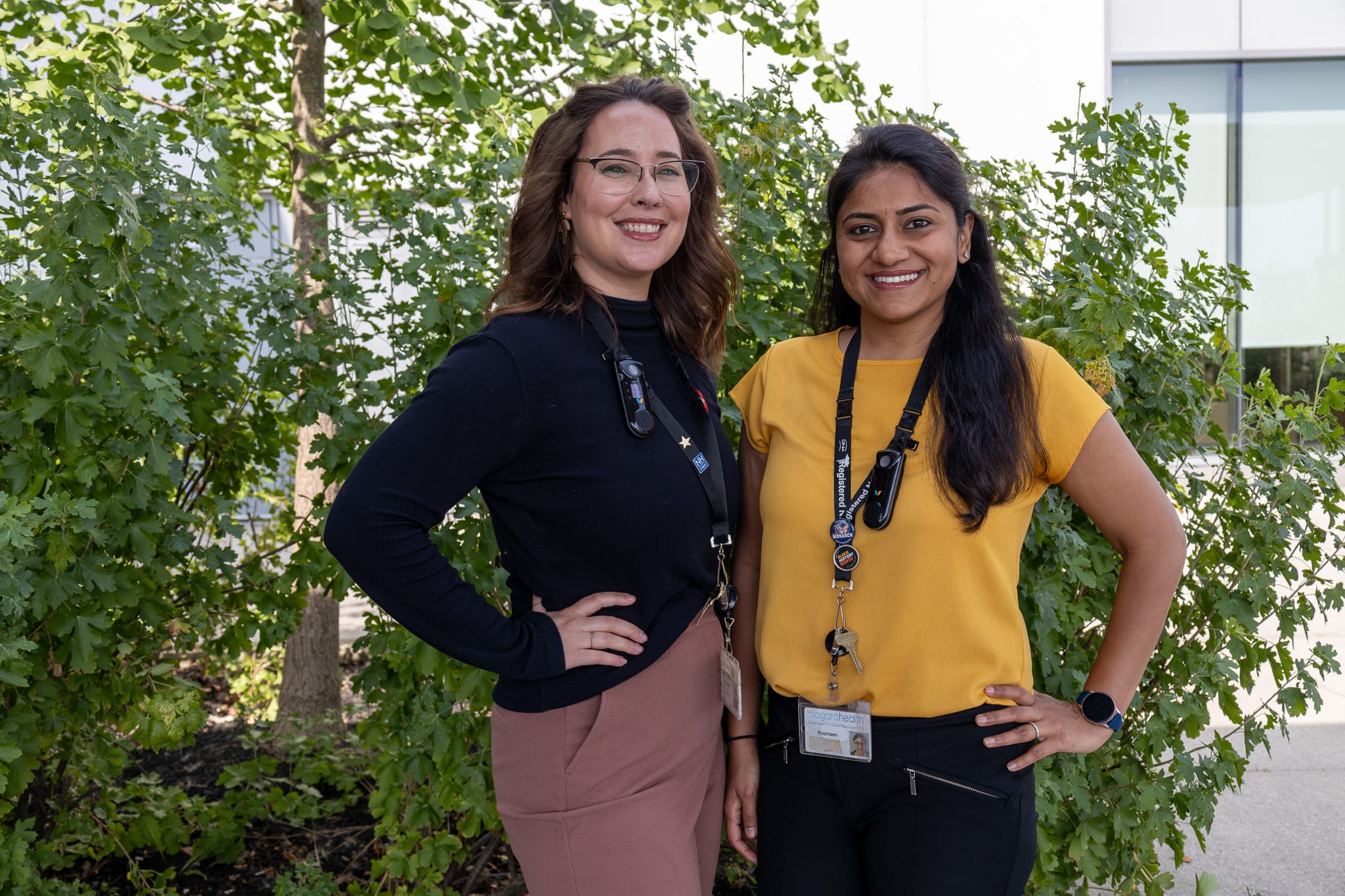 RRS from left: Registered Nurses Elisabeth Mumford and Rozmeen Khowaja.
Two distinct and innovative mental health programs at Niagara Health are being internationally recognized.
The Outpatient Mental Health and Addictions Rapid Response Service (RRS) is dedicated to making sure that not a single mental health patient falls through the cracks while moving between hospital and community care. Meanwhile, the Wellness Recovery Integrated Comprehensive Care (WRICC) program supports adults living with complex mental health needs who find themselves repeatedly in hospital.
Both programs have been named Leading Practices by Accreditation Canada and the Health Standards Organization.
"I believe we gained these certifications due to the compassion, commitment and hard work of the program staff," says Robin Crown, Outpatient Mental Health and Addictions Clinical Manager.
In order to receive the international certification, a program must demonstrate innovative and people-focused practices that lead to a positive change related to safe, reliable, accessible and integrated care.
Crown says the credit for receiving the latest recognition for the Rapid Response Service (RRS) belongs to the two nurses operating it: Rozmeen Khowaja and Elisabeth (Lily) Mumford, who helped create the program.

The RRS was designed to bridge support between hospital and community for all clients discharged from the inpatient mental health units and psychiatric emergency services. This ensures that patients and their families and caregivers understand the next steps and available resources with the overall goal of improving the patient care experience.
A nurse will phone within 24 to 48 hours to connect, review the discharge, answer any questions and provide further resources to support the transition from the hospital.
"It's a big transition when someone is discharging and it can be emotional," Crown says. "Sometimes clients don't hear everything, or absorb everything, or appreciate everything upon discharge, so what rapid response does is take it a little slower and help the client to digest what has happened."
Khowaja and Mumford are involved in every step of the process, she adds.
"They are involved in providing feedback to ensure the efficiency and effectiveness of the program, and are dedicated to supporting clients after their discharge by providing all of the resources they need. Their efforts ensure that no clients fall through the cracks.
"Both of them are absolutely lovely, compassionate, hard-working and dedicated nurses."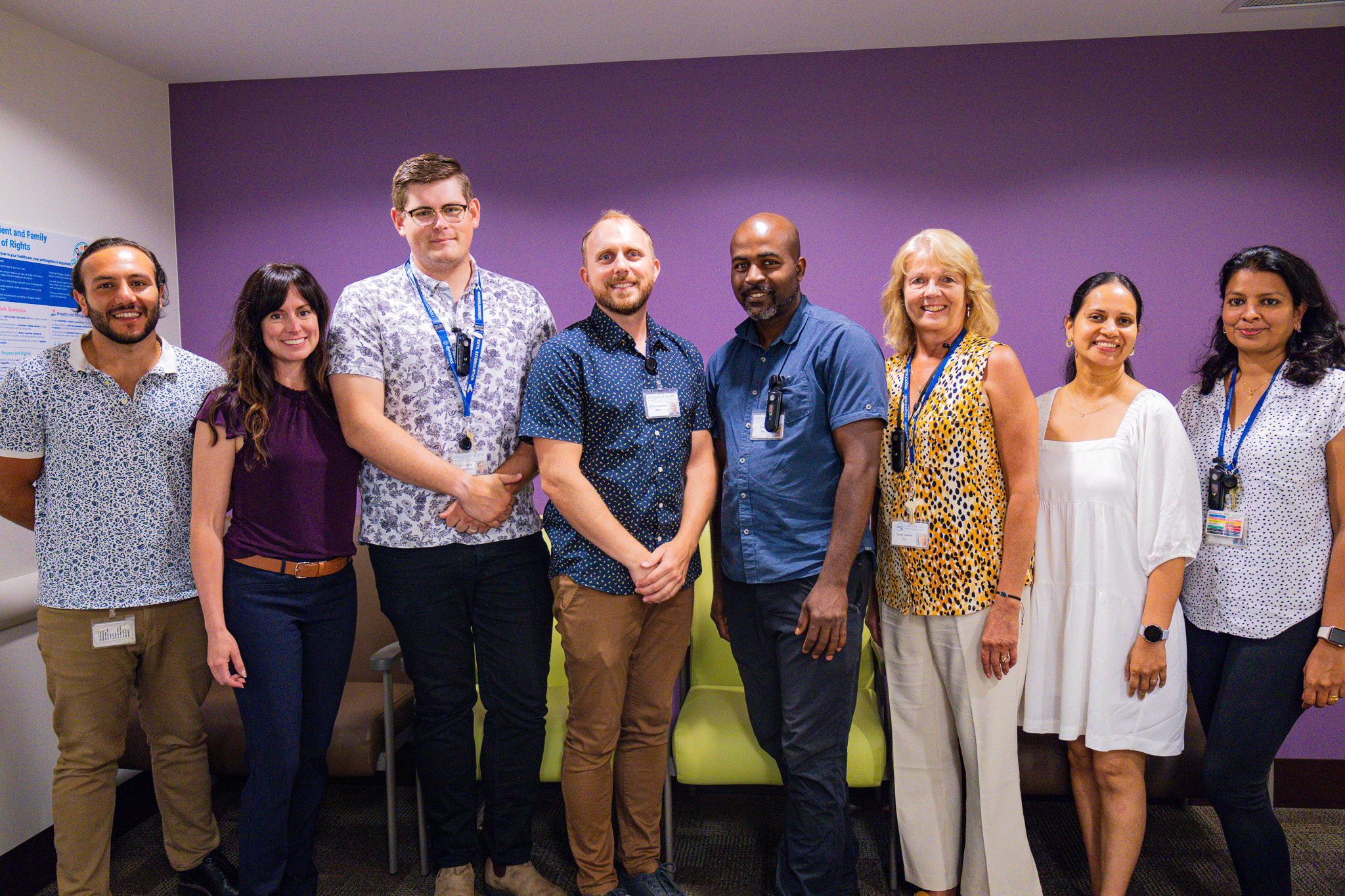 WRICC from left: Vincent Siriani, RN, BScN, BScKin; Shannon Hudson, BSc., Msc., ATC-BOC, OT Reg.; Tyler Harris, RP, MACAP; Darryl Langendoen, MSW, RSW; Addis Campbell, RN; Sue Veldman, RN; Milimol Lukose, MSW; Manju John, MSW.
Wellness Recovery Integrated Comprehensive Care program accolades
The Wellness Recovery Integrated Comprehensive Care (WRICC) program meets the criteria for a Leading Practice due to the eight team members "thinking outside the box" to support clients, Crown explains.

The WRICC team supports adults living with complex mental health needs, who experience repeat Emergency Department visits and hospital re-admissions, and helps them along their journey. The WRICC team works with clients and community partners to develop a collaborative care plan with the goal of improved wellness.
"This team is people-centred, bringing about positive results for client wellness," Crown says. "The program is also accessible without a waitlist, and is integrated and collaborative with other outpatient Mental Health and Addictions programs, inpatient units and community partners."

Providing high-quality, safe care is the No. 1 priority of Niagara Health. Crown says the Leading Practice certification validates the hard work this team has invested into developing the program. That includes truly listening to clients to consider gaps in support and brainstorming new ideas to deliver quality care.
"It also recognizes that with committed, compassionate, adaptive and innovative staff, clients can achieve meaningful change in their lives and not have to attend the Emergency Department to get their needs met.

"Achieving Leading Practice status is significant because if our teams can offer such services and be successful, so can others."