The research we conduct at Niagara Health has a profound impact on the health and well-being of our patients and communities, and contributes to better understanding some of the most significant healthcare challenges of our time and have the potential to benefit patients in Niagara and across Canada.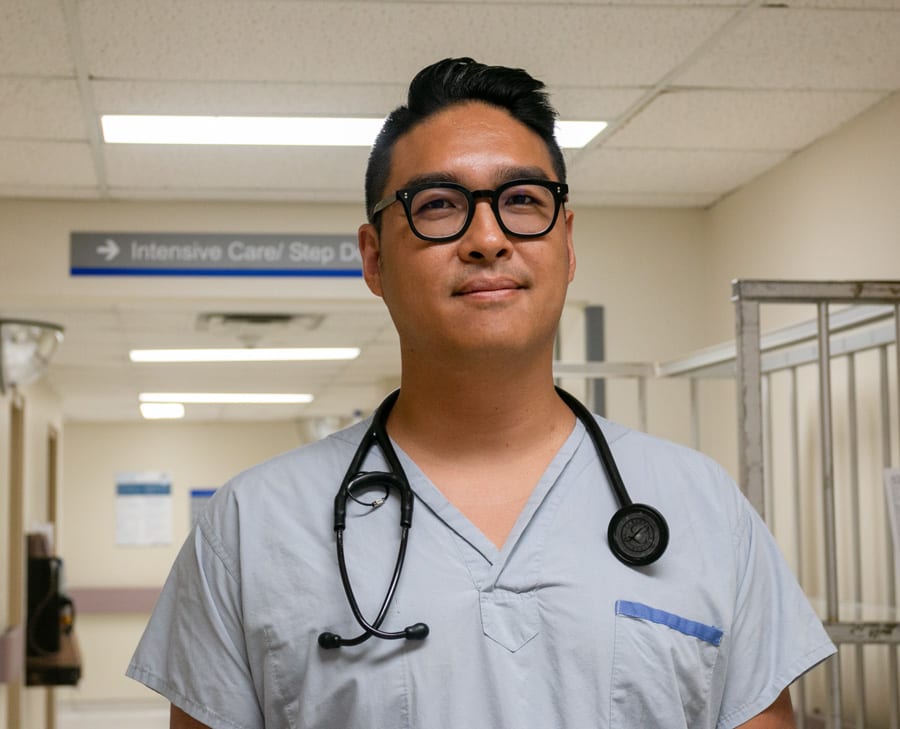 Intensivist Dr. Erick Duan has helped to build the Critical Care research program since arriving at Niagara Health in 2016. He was presented with the Medical Staff Association Research Award earlier this year for his efforts. 
As an intensivist, Dr. Erick Duan is well-versed in the standard care practices followed in an intensive care unit.
But advances in medicine are continuous so he's always looking to see if there's a better way to treat patients needing the most serious care.
Take Dr. Duan's involvement in a Canadian-led international randomized control trial called Re-evaluating the Inhibition of Stress Erosions (REVISE). It's re-examining the standard practice of administering the acid-suppressing medication pantoprazole to prevent stomach ulcers in patients requiring life support machines.
Thanks to evolving care, critically ill patients on ventilators rarely develop gastrointestinal bleeding compared to decades ago. But there may be other risks with using pantoprazole while ventilated, including pneumonia and C.difficile infections.
"In current, modern-day medicine, do we still need to do this?" Dr. Duan asks about administering pantoprazole. "Is there a benefit or harm in giving this medication? Do we no longer need these medications?"
It's that curiosity and tenacity that helped Dr. Duan earn the Niagara Health Medical Staff Association Physician Research Award earlier this year for his involvement in the REVISE study among many others.
"Niagara Health is really great at recognizing the work of staff and physicians," he says. "It was really positive for me to win the award and, reflecting on my research, that it's appreciated and important to the organization. It's certainly important to me and my colleagues. Being recognized shows this is work Niagara Health wants to support. That's the win for me."
Dr. Duan's efforts in the REVISE study, funded by the Canadian Institutes of Health Research, will not only redefine the care of critically ill patients at Niagara Health, it will impact healthcare in ICUs around the world.
Putting Niagara Health on the research map
His desire to find answers in the randomized trial that also involves the Canadian Critical Trials Group and researchers from Australia and New Zealand has resulted in another significant bragging right: Niagara Health is the No. 1 community hospital in Canada for recruiting patients to REVISE and No. 3 overall in the world.
"We've been supported tremendously in the hospital along the way. That's the Niagara Health way."
Niagara Health also ranked third among Canadian hospitals for patient recruitment to critical care clinical trials in 2022 report from the Canadian Clinical Research Network.
Patients and their families participate in studies because they're keen to help clinicians find the best treatments in a safe and ethical way, Dr. Duan explains.
"A lot of families are altruistic, even in their most dire moments of need. It speaks to the trust we build in the ICU," he says. "Patients are often reassured we're examining what we do and contributing to find better answers."
Altruism is partly what led Dr. Duan to a career path in medicine. He discovered a natural aptitude for science early on but it was working with people that compelled him to apply that ability to medicine. Becoming a critical care physician underscores his desire to help people when they need it most.
"People in the ICU are at their direst time of need. We can really make a difference as physicians who have to act quickly and think critically. I love having the ability to work as a team to look after patients and that's very rewarding," Dr. Duan says. "We also know families need support in the ICU and clear communication, and I strive to help families on the worst days of their lives with our team."
Dr. Duan arrived at Niagara Health 2016, beckoned by fellow intensivist Dr. Jennifer Tsang who presented him with the opportunity to build a critical care research while also working at St. Joseph's Healthcare Hamilton and McMaster University where he's an associate professor at the Michael G. DeGroote School of Medicine.
Today, Niagara Health is involved in 26 critical care studies and part of the Canadian Community ICU Research Network, thanks to their efforts and those of a research team that also includes Dr. Han-Oh Chung, Dr. Natasha Ovtcharenko and staff led by Lisa Patterson.
The people convinced him to come to Niagara Health, Dr. Duan notes. The potential for impactful research cemented his decision.
"It is our duty as physicians, clinicians and healthcare providers to do this research. Most research happens in academic hospitals but most of the care happens in community hospitals. We thought this was a crisis. There was a mandate to do this," he says.
"We've been supported tremendously in the hospital along the way," he adds. "That's the Niagara Health way."