Kathryn Crow was expecting a relaxing vacation in Aruba last year, when instead a car crash resulted in a painful leg injury that required surgery, two metal plates and 21 screws to hold her tibia in place.
She says when a complication from her leg injury landed her in the St. Catharines hospital emergency department, it was the dedication and care from Nurse Taylor Hanson that made all the difference."
She was just so pleasant and friendly. She solved the problem so efficiently," says Crow. "She was just what I needed that day to ease my burden."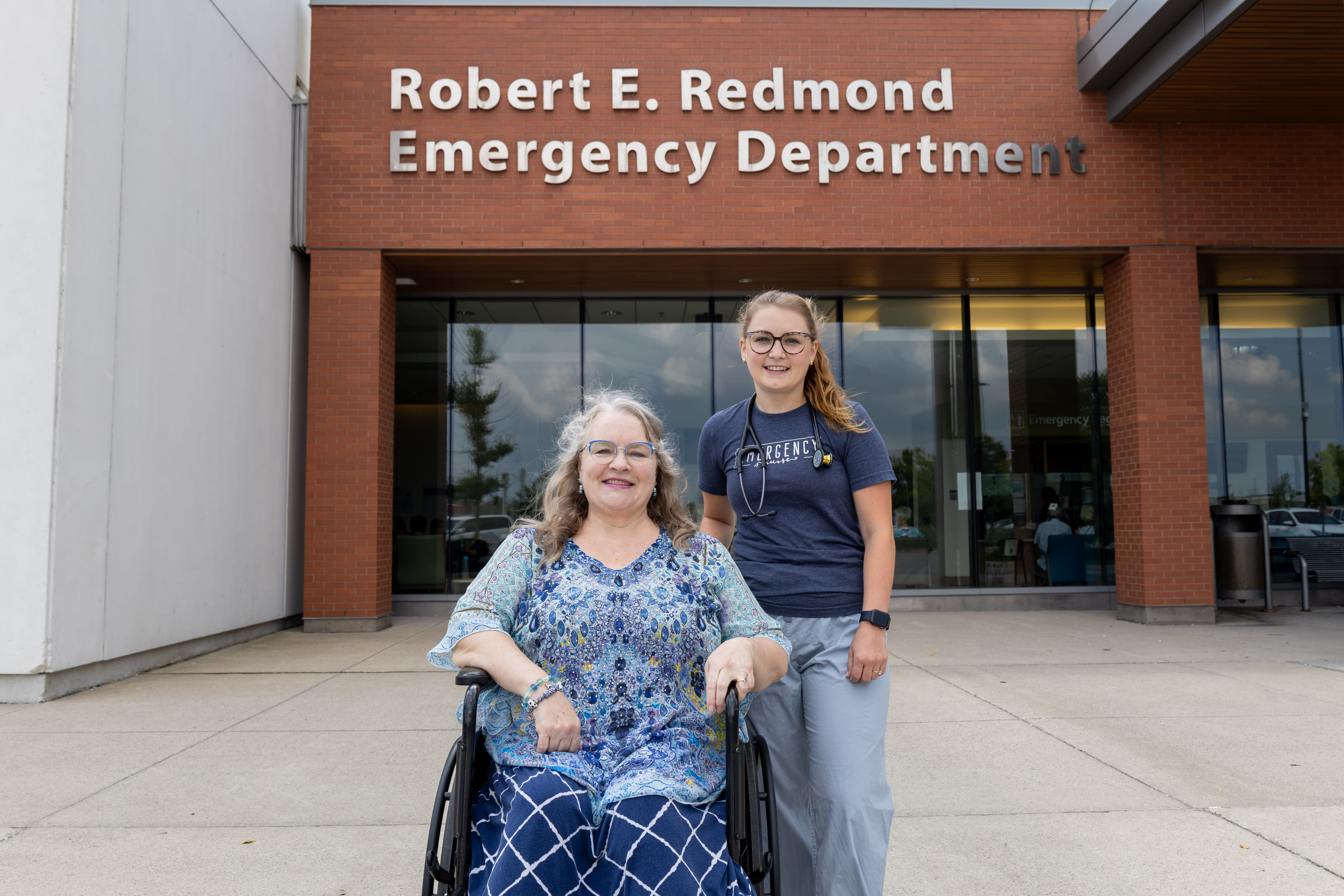 Crow, a retired manager of the Halton Region drinking water testing laboratory who now lives in Niagara, had leg surgery last February. The operation left her unable to walk for several weeks, which meant in-home nursing care.
Last May, Crow suffered a skin reaction to medical tape that led to a common bacterial infection known as Cellulitis. What followed was a string of antibiotic IVs that kept popping out of her veins. This meant more than one visit to the emergency department to have it re-inserted.
Hanson was working that one day in May when Crow needed help.
"I was feeling really anxious about receiving the antibiotics late because I now had to wait in the emergency department and it was really busy that day," Crow says. "I had the good fortune to be helped by Taylor.
"Not only was she able to instantly start a new IV line in triage, but she also arranged to have my prescribed antibiotic directly injected on the spot so that I would not have to wait for a treatment room. As timing is critical for the antibiotic I was on, she not only saved me a lot of time, hassle and pain, but also ensured my continued healing."
An often fast-paced and high-volume part of the hospital, Hanson says she tries her best to help give patients a positive outlook when they arrive in the emergency department.
"Triage is a lot like the gatekeepers of the emergency department. We sort out the sickest patients to see the doctors first.
"So, we try and do our best to expedite people who are in a lot of pain or that can be treated quickly in triage by a nurse. I try and give everyone a positive experience at triage because we are the first face that they see."
Hanson still vividly remembers Crow's visit to the emergency department last spring.
She was quite teary when I was triaging her and she had told me she had been there for seven hours the day before and it took several tries for the nurse to get her IV back in, after the at-home nurse failed to do so. And then, of course, she had lost the IV again. So, then they tried to restart it numerous times at home and Kathryn said they couldn't.
"She was quite anxious because she was already an hour late for her antibiotics. So I said, 'well, let's just have a look here.'"
Hanson found the vein and started the IV for Crow before tracking down a doctor for a quick order of her antibiotics. "She wouldn't have been able to start her own antibiotics."
Crow says she is still grateful for Hanson's kindness on a day when she really needed some joy. "Maybe she didn't save my life, but she saved my sanity. And I think it was a critical thing in my healing because she got the antibiotic into me in time, and she was willing to be inventive and clever."
The staff and physicians at Niagara Health work hard to serve all patients with safe, quality care in a timely manner. The emergency department can be a very dynamic environment where things change quickly depending on the urgent needs of patients.
Hanson says every emergency department in Ontario is having problems with long wait times due to staffing shortages but the nurses and physicians do their best, understanding that no one likes to wait.
"No patient wants to be here," she says, "but we are all working together really hard to try and get them the best care that we can. I live here, myself. Most of the nurses live here in Niagara. At the end of the day, we just want to help our community and make sure we have a positive and welcoming environment for them."
The road to recovery has been a long one for Crow, but she is now finally able to walk again.
"It requires a lot of patience and a lot of finding the joy in the little things. And I think that was why what Taylor did meant so much to me."