We are Niagara Health is a series of stories that celebrates the incredible people working and volunteering in our organization and how they make a difference in the lives of patients and coworkers every day.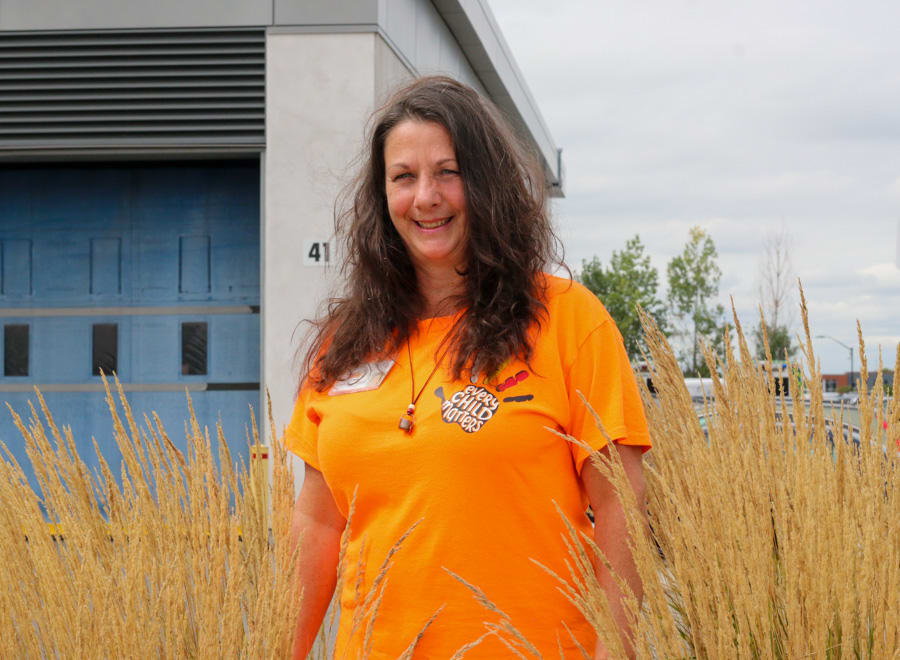 Environmental Services Aide Cherie Bernard discovered the healing power of drumming during her own mental health journey 20 years ago. She continues drumming today to help others heal. 
When Cherie Bernard embarked on a journey toward mental health, she chose to heal to the beat of her own drum.
The Environmental Services (EVS) aide in the St. Catharines Emergency Department did it by picking up an Indigenous hand drum, and in the years since Bernard began striking a rhythm to heal, she's used drumming to help others along their own path to well-being.
"The sound unblocks things that are in the way of healing," Bernard says. "For me, when I use my drum, it's not about performance. It's about sending prayers and connecting to Creator."
It was about 20 years ago when Bernard hit a roadblock in overcoming past traumas and reached out to the local Indigenous community for help.
Bernard began attending medicine teachings, support groups and sweat lodges at the Niagara Regional Native Centre (NRNC) in Niagara-on-the-Lake. Soon afterward, she started to feel connected – to herself, the Indigenous community and its cultural practices and symbols, including the medicine wheel with its four components of health: physical, mental, emotional and spiritual.
Healing happened in earnest.
"I felt at home. I felt peace. I felt connected," Bernard recalls. "It really enhanced my recovery in many ways."
Then she made two other discoveries that pushed her trajectory of personal growth further.
One was tapping into the power of drumming, learning from the NRNC's Moms' Program before connecting with the Strong Water Singers, a collective of drummers from throughout Niagara that runs out of the Fort Erie Native Friendship Centre.
Drumming's effects are so profound, she explains, because it represents the heartbeat of Mother Earth, to whom we're all linked. It's not unlike the connection a newborn feels to its mother when placed on her chest after birth and hearing her heartbeat, a familiar soundtrack from life in the womb.
"If you've ever held a drum and put your feet on the grass, you feel that heartbeat," Bernard says.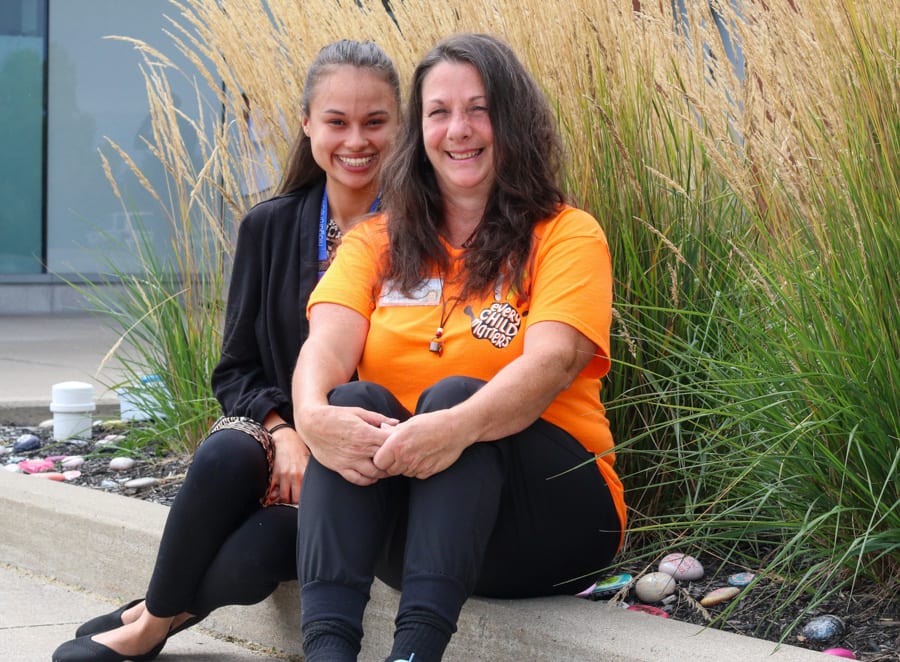 Shyann Jenkins (left), who does Indigenous community outreach and engagement for Niagara Health, is one of Cherie Bernard's drumming sisters. 
She also learned her connection to the Indigenous community was in more than the practices she learned from it. It was in her blood. While on her healing journey, she found out her great grandfather, who hails from Nova Scotia, was Indigenous.
"That's why I felt connected," Bernard recalls. "My father said we always feel connected when we're connected to our roots, no matter how big or how little they may be."
Teacher of the Children
Bernard, who self-identifies as Indigenous today, sees it as a blessing that she straddles both the Indigenous and non-Indigenous worlds. It's a gift that's enabled her to take the healing power of drumming to others in both communities.
Though she continues to participate in the Strong Water Singers, Bernard, who has been given the name Teacher of the Children, drums outside the group in circles dedicated to helping others experiencing mental health and addictions challenges, including at Niagara Health.
During the pandemic, she held smudging ceremonies and drummed with small groups of physically distanced patients in the Mental Health and Addictions courtyard. She also does drumming circles and full healing ceremonies, incorporating smudging, sacred fires, and talking sticks and feathers, with "drumming sisters" Bear Woman and Little Spirit at New Port Centre in Port Colborne.
On Saturday mornings, she drums and assists in circle at Silver Spire Church in St. Catharines to help those facing barriers in their own mental health journeys.
Being called Teacher of the Children "made me realize that's why I'm between both communities," Bernard says. "My biggest gift is to give back to all community."
Another gift has been giving back to her colleagues as a member of Niagara Health's Diversity, Equity and Inclusion (DEI) Committee. The past three Septembers, Bernard has helped organize vendor fairs and drummed at the Welland, Niagara Falls and St. Catharines hospitals during Indigenous Inclusion Month, organized by both the DEI Committee and the Indigenous Health Services and Reconciliation team.
"It's beautiful to see we have a team that's doing great things. It's all about interconnecting everyone," she says about the DEI Committee.
She's happy to contribute, even outside of official events and without a drum in her hand. She does it all with the hope of helping others to find their rhythm and heal.
"Working in EVS, I love being that face in the waiting room, that smile, that hug people need and being there for people when they ask questions about drumming, about smudging, about medicines," Bernard says. "It's all to help people with their overall well-being."
September is Indigenous Inclusion Month at Niagara Health. It is a time to come together to recognize the unique heritage, traditions and teachings of Indigenous Peoples, as well as the important and ongoing work with​ Indigenou​s partners to build healthy communities. This year's theme, Honouring Truth and Reconciliation, will explore the rich and diverse cultures, voices, experiences and histories of Indigenous Peoples.