It was one week before Christmas when Gerry Sergenese was referred by his family doctor to the Walker Family Cancer Centre, where the urologists suggested a prostate biopsy after abnormal test results. A month later, he and his wife got the news. It was cancer.
From biopsy to surgery to recovery, Gerry says the entire team of staff and physicians at Niagara Health made the difficult experience reassuring.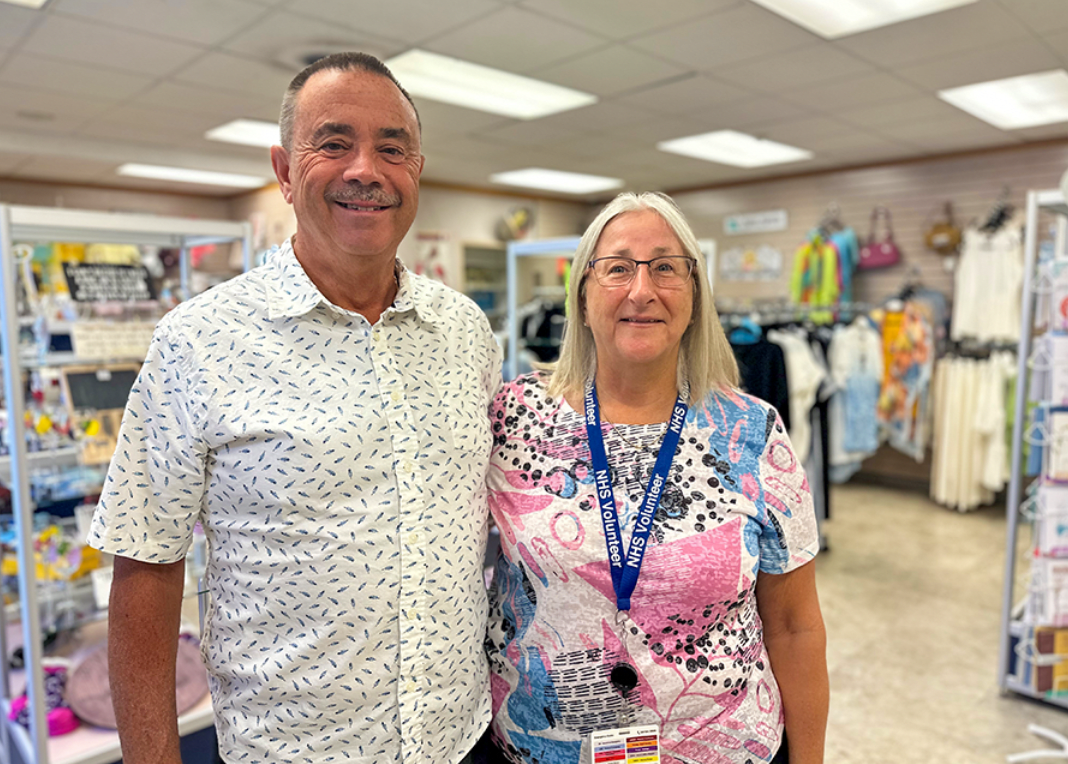 "I wasn't scared throughout the entire treatment process," he says. "And the staff at Niagara Health are the reason for that."
Gerry says he was talking to his doctor in April 2022 when he mentioned getting a prostate checkup.
"I mentioned being 65 and having some minor problems urinating, so I suggested going for a prostate exam. I know that in older men their prostates can enlarge, so I figured let's just get it checked," he recalls.
Agreeing, his family doctor sent him for a prostate-specific antigen (PSA) test, which can detect high levels of the antigen that can indicate prostate cancer. As it turned out, Gerry's PSA count was higher than normal.
By the end of January, after monitoring his PSA levels with more testing and an eventual biopsy, Gerry found out he had cancer.
"I am getting older," he concedes. "You gotta keep on top of your health."
Gerry's father died at 57 of colon cancer. He says that may have led to his high level of self-care and focus on prevention.  "I advocate for my own health," he says.
The question for Gerry was: radiation or surgery?
"So I talked to both a surgeon and a radiologist at Niagara Health and they both agreed that I was a candidate for surgery. I was still young enough to cut the cancer out. But then I had to make a decision: laparoscopy radical surgery that includes removing lymph nodes, or open surgery. And I said, 'Whoever's first.'"
Gerry says what made him feel comfortable with the idea of a full prostatectomy, when the option of a less radical open surgery was available, was the fact that Dr. Stephanie Tatzel, urologist at Niagara Health, took the time to thoroughly explain the entire procedure.
"We sat there talking for nearly an hour and I felt really good after that," he says.
On May 1, Gerry had a prostatectomy. His journey started with nurse Mena Difelice, who prepared him for surgery and, as it turned out, was a family friend.
"I just said to him, your name looks familiar," says Difelice, "and he ended up knowing some of my relatives."
"So," says Gerry's wife, Mary, "They made a nice connection. They talked about family instead of Gerry laying there in worried anticipation of what was going to happen. Nurse Mena made all the difference in calming his nerves. The human touch prior to the surgery was amazing."
Difelice has been a nurse at St. Catharines hospital for 38 years. She says making patients comfortable is about listening and learning their fears so that she can reassure them they are safe.
"I treat everyone like I would my own family members," says Difelice. "I try to give them the information that they need and make it a very positive experience. We're often meeting people when they're very stressed."
At 65, this was Gerry's first time in surgery since having his tonsils removed as a child.
"I didn't know what to expect but I wasn't stressed at all because the staff and doctors were great."
Mary says she knew her husband would be in good hands with the entire team at Niagara Health. As a volunteer at the gift shops inside Welland and Niagara Falls hospitals, she gets to meet many of the staff regularly.
"Dr. Tatzel is a very strong doctor. She is very confident. So, that made us feel very good," says Mary. "The OR recovery team made sure Gerry was comfortable and, even though he was groggy while he was with them, he knew he was being well taken care of."
Mary believes Gerry's surgery saved his life.
"If he had been stubborn in the beginning and not gone to the doctor, and then not followed up on his PSA testing, Gerry would be in really big trouble now," she says. "The cancer was aggressive, and it could have done a lot more damage than it did."
With September being Prostate Cancer Awareness Month, Mary and Gerry encourage people to shed embarrassment and talk about the health condition. But they don't just use September as a reason to talk about it. They use every day of the year to share Gerry's success story and pass on helpful information to others.
"We need more dialogue about prostate cancer so that there isn't any sort of negative emotion about it or hesitancy to get screened for it," Mary says.