We are Niagara Health is a series of stories that celebrates the incredible people working and volunteering in our organization and how they make a difference in the lives of patients and coworkers every day.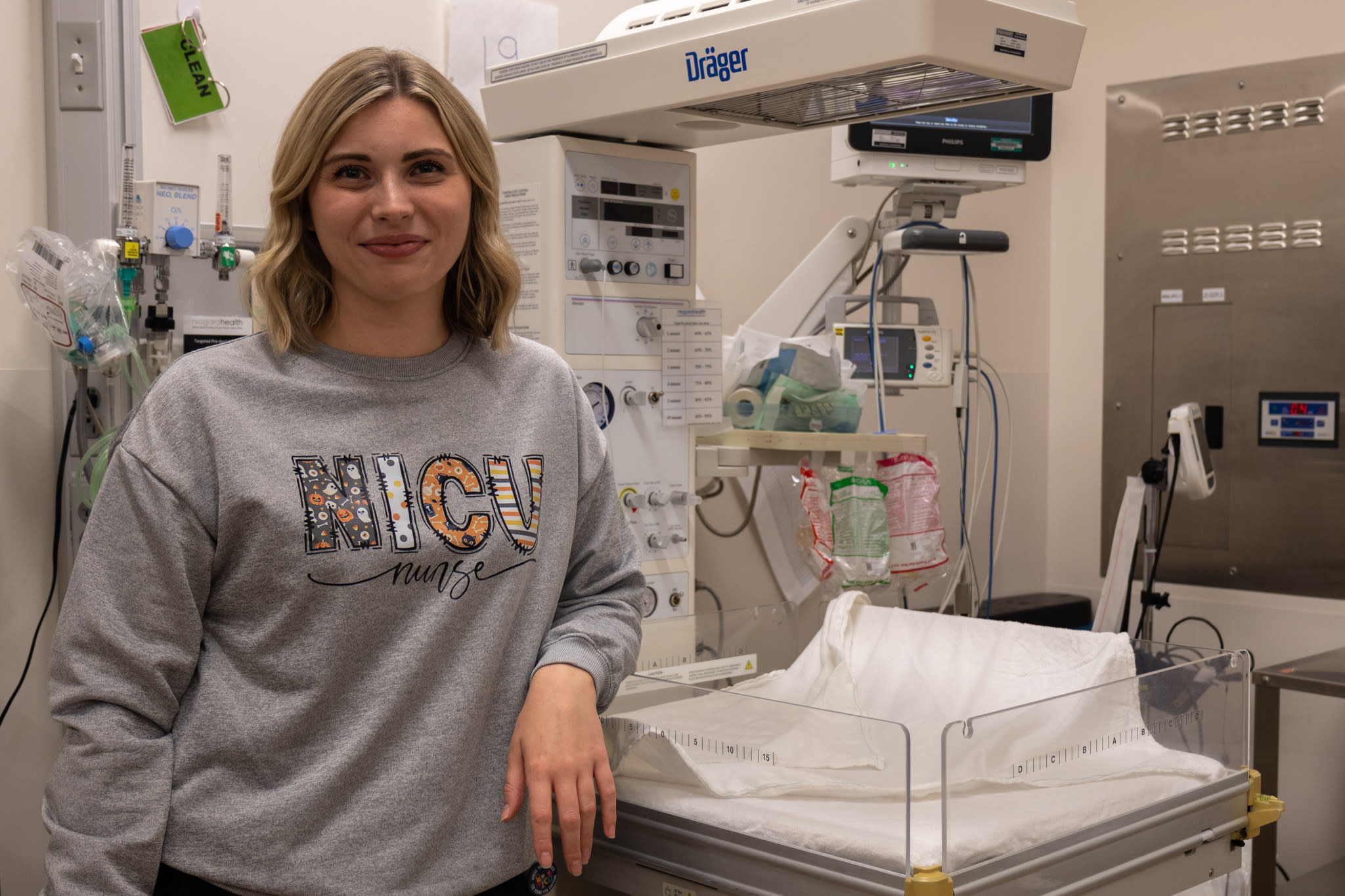 Registered Nurse Abby MacNaught provides care and emotional support for both babies and families in Niagara Health's Neonatal Intensive Care Unit. 
For Abby MacNaught, caring for premature babies is not just her job, it's a privilege she doesn't take for granted.
As a registered nurse in Niagara Health's Neonatal Intensive Care Unit, she provides care to the tiniest and most vulnerable patients. Her commitment, however, does not stop with just babies. She aims to be a beacon of hope for families as they navigate the NICU journey with their newborn.
Caring for family is just as important as providing care for babies, McNaught explains.
"I always remind parents that while every day may not be good, there is something good in every day," she says. "In the NICU, we refer to ourselves as a family, but that extends to new parents and their babies as well. We laugh together, cry together and celebrate every milestone."
The strength and resilience of the NICU family was one of the many reasons McNaught was drawn to the unit as a new graduate.
During her studies, she shadowed a nurse in Niagara Health's NICU where she witnessed first-hand the complexity of care and resilience of the team.
A team she has proudly been a part of for the last three years.
McNaught's kind and compassionate heart shines through with every patient she cares for. As a NICU nurse, she takes on the role of caregiver, advocate and emotional support for both the babies and families in her care.
"No five minutes are ever the same," she says. "It's important to be focused and adaptable because things can change in a moment's notice."
NICU nurses assist interdisciplinary teams to develop patient-specific care plans, provide family health teaching and attend to high-risk deliveries. This is in addition to baby care, feedings and - if patients are well enough - lots of snuggles.
"As a NICU nurse, my job can be very rewarding, but it can also be emotionally taxing," says McNaught. "While it can be easy to get caught up in the rush of the day, I try to remember that it is a privilege to be able to do what I do.
"As their nurse, I have the honour of helping babies and their families start a new chapter in life. I get to witness many of their baby's firsts – first breath, feed, bath, weight gain – and celebrate them with pride."  
Abby understands the importance of involving families as integral members of their baby's care team.
"I always tell parents that they are their baby's number one caregiver because they know [their baby] better than anyone else," she says. "Seeing parents gain confidence and bond with their baby is so special to witness."
McNaught says her favorite part of the job is discharging babies home.
"Seeing a baby from their very first day of life to the day they graduate. That's the most rewarding," she says.
In the NICU, graduation is not marked by the tossing of caps or the traditional march down an aisle. Instead, it is a moment filled with pure elation as families watch their babies take their finals steps in the neonatal journey and prepare to go home.
"I always try to make it extra special. We bring out a little cap and gown and take the patient on a victory lap of the NICU while playing Pomp and Circumstance."
McNaught's love and concern for her patients extends long after they have been discharged.
"I don't think parents realize the impact their babies have on us, even long after they've gone home," she says. "We think of them often and wonder how they're doing out in the world."
The NICU even has a 'Wall of Fame' where every birth announcement, Christmas or first birthday card is hung with pride and admired by the NICU team.
"I get to be a part of so many little miracles every day. It isn't always easy, or the way we expect it, but watching these tiny people grow, overcome and get better makes it worth it every day."
September is Neonatal Intensive Care Awareness Month and an opportunity to recognize the extraordinary NICU team whose expertise, compassion and unwavering support make a remarkable difference in the lives of patients and their families every day.