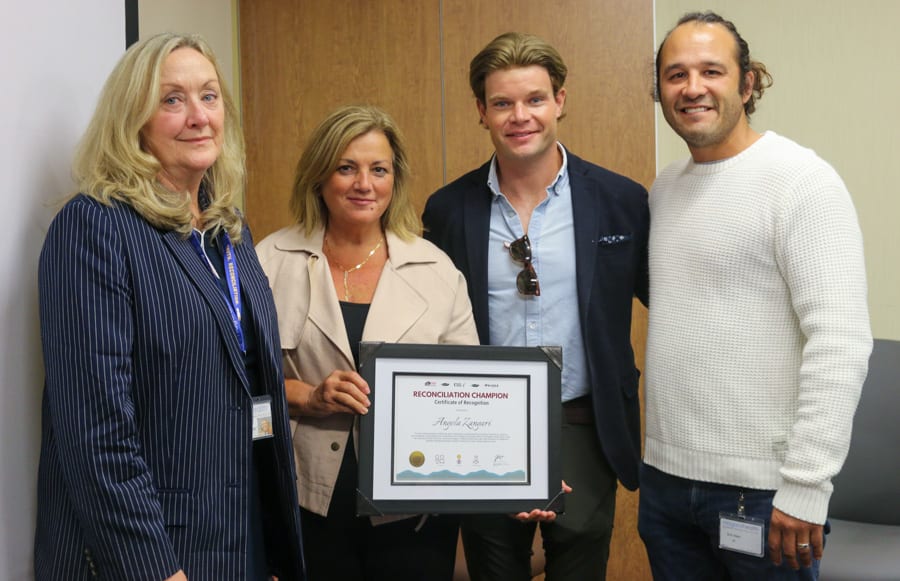 From left: Marylee O'Neill, Niagara Health Board Chair, and Angela Zangari, Executive Vice-President, Finance, Redevelopment and Facilities, and Chief Financial Officer were recently presented with Reconciliation Champion plaques by Shay McFadden, MSS Director, Corporate Development, Eastern Canada, and MSS President James Hiebert. 
Niagara Health is being heralded as a Reconciliation Champion by an Indigenous partner for the hospital's ongoing efforts to support self-determination, economic independence and improved health outcomes for Indigenous Peoples.
Medical, Surgical and Safety Supplies (MSS) Ltd. presented Angela Zangari, Executive Vice-President, Finance, Redevelopment and Facilities, and Chief Financial Officer, and Niagara Health Board Chair Marylee O'Neill with a plaque at a recent Board meeting in recognition of several actions Niagara Health has taken toward reconciliation.
Niagara Health is the first organization in Canada to earn the designation, part of MSS's Reconciliation Champions program.
"Niagara Health is leading the way," says MSS President James Hiebert of the Turtle Clan, Mohawk Nation. "We're making this presentation because it's important, for awareness, that this is happening. As well, the leaders leading reconciliation are the groups achieving and creating action, and they need to be recognized for putting reconciliation into action."
MSS, a Certified Aboriginal Business and social enterprise based in Hay River, NWT, supplies Niagara Health with acute care, nitrile medical gloves it manufactures with PRIMED Medical Products. Hiebert credits Zangari with connecting him and MSS with key players, including Mohawk Medbuy Corporation, a shared services organization that provides supply chain and other services to hundreds of Canadian hospitals, to get the gloves to market.
As a result of those partnerships, Niagara Health was the first hospital in Canada to receive a shipment of Indigenous-supplied medical gloves. Proceeds from the ongoing purchasing of MSS gloves enabled the business's social enterprise arm, Turtle Island Health and Research Society, to donate $15,000 to the Mississaugas of the Credit First Nation (MCFN) earlier this summer.
It's the first in a series of anticipated social benefits from MSS for the First Nation, chosen because Niagara Health operates on MCFN Treaty lands and Territory.
"Part of our teachings are to consider the sacrifice of the seven generations before us and the impact on seven generations after us. Partnerships, such as this with MSS, have the potential to create an impact for our communities long into the future," says Charity Beland, Niagara Health's Manager of Indigenous Health Services and Reconciliation. "For Niagara Health to build relationships with a positive social impact, supporting both business development as well as local communities, is a bold step in working towards creating a more inclusive and equitable future for our Indigenous communities."
Other reasons MSS calls Niagara Health a Reconciliation Champion include:
Respecting Indigenous cultural and spiritual practices with dedicated spaces, including seeking input from Indigenous partners on the design of a healing space and garden at the new South Niagara hospital, currently under construction.
Establishing a focused Indigenous Health and Reconciliation team dedicated to ensuring culturally sensitive support and care of Indigenous patients coming to the hospital.
Setting a 5 per cent Indigenous procurement target.
Forming a Diversity, Equity and Inclusion committee and continuously educating staff on cultural awareness.
Promoting an inclusive and welcoming environment for Indigenous Peoples at Niagara Health.
Actively listening to Indigenous experiences to improve health services, including implementing a smudging policy.
"As an Indigenous leader, I urge other Indigenous youth to get involved and participate across the supply chains of Canada," Hiebert says. "There are institutions and people that believe in reconciliation and Niagara Health has shown that they are willing to forge a path and set standards for other healthcare organizations across Canada."
Niagara Health is making a conscious effort toward reconciliation and intends to wholeheartedly continue those efforts, Zangari explains.
That includes ensuring criteria that underscores the importance of vendors' Indigenous, environmental and social values and a scoring matrix based on these standards in requests for proposals related to the new hospital construction and other procurement opportunities.
"I was very humbled James came all that way in order to present the award to us," she says. "At the same time, I'm really proud of us as an organization. We said this is what we're going to do and we are committed to doing more. It's a small step in getting us to where we need to be."
About Niagara Health
Niagara Health is a regional healthcare provider with multiple sites and a growing network of community-based and virtual services. As a community-based academic centre, our focus on teaching and learning, research, innovation and partnership propels us to continually improve care and make a difference in people's lives. Our team is made up of more than 7,300 staff, physicians and volunteers who provide a full range of acute care hospital services to the 450,000 residents across the Niagara region.
About MSS
MSS is an Indigenous-owned social enterprise that is on a Journey of Reconciliation to promote Indigenous entrepreneurship; create supply chain equity; and to deliver a social value and benefit to health organizations, governments and Indigenous communities throughout Canada. Earlier this year, MSS formed a partnership with PRIMED, a Canadian manufacturer of PPE, and Mohawk Medbuy Corporation, a not-for-profit, shared services organization that provides supply chain and other services to hundreds of Canadian hospitals.