The research we conduct at Niagara Health has a profound impact on the health and well-being of our patients and communities, and contributes to better understanding some of the most significant healthcare challenges of our time and have the potential to benefit patients in Niagara and across Canada.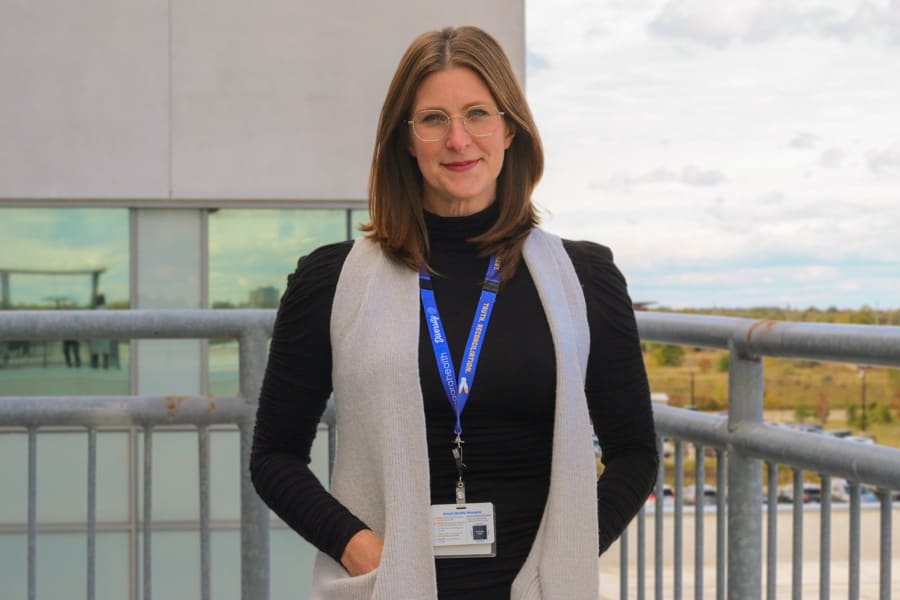 Madelyn Law is Niagara Health's Director of Quality, Patient Safety and Risk. The prolific researcher with an interest in improving healthcare services is on a two-year secondment from Brock University. 
Madelyn Law loves research and complex systems.
If there's one thing she loves more, it's using research to improve a complex system, like how healthcare is provided in a hospital.
"I really enjoy looking at all the pieces of the puzzle, how they align, how things could be streamlined or how they could be connected differently to make improvements," Law says. "My lens for research has always been 'What can I do with my research to shape change?'"
That drive has roots in Law's own healthcare journey when she was a teenager. A competitive rhythmic gymnast at the time, she had just returned home to Niagara from international competition and was diagnosed with group A Streptococcus, which resulted in necrotizing fasciitis, also known as flesh-eating disease, in her foot.
Law, who was 16 at the time, was hospitalized for three weeks and at risk of having her foot amputated. She credits a pathologist and orthopedic surgeon on her care team with figuring out what was wrong. The pathologist had "just happened to read a research paper on it" before he became part of Law's care team, never thinking he would need it.
That doctor's interactions with the rest of Law's care team and her parents were critical to the success of her care, she recognized years later.
"It was the system in which he worked that allowed for me to have a good outcome," she says.
That ultimately inspired Law to do her PhD in patient safety and focus her academic career and subsequent research on helping other patients have a similar positive care experience.
Take a recently published study Law was involved with about using telemedicine to increase access to specialized care for pediatric patients who can't get to a children's hospital.
The research article, which she co-authored with her master's student Lidia Mateus, Niagara Health's Research Manager Elaina Orlando, Dr. Madan Roy in Pediatrics, and others from Brock University and McMaster Children's Hospital, underscored how physicians and parents both recognize telemedicine's value in quickly connecting remote and local physicians to provide emergency pediatric care. It also recommended how to overcome barriers to telemedicine's use and how to support implementing telemedicine programming in hospitals.
"It's understanding there are other experts out there we can collaborate with to improve care," Law says. "It's thinking innovatively and studying if it works or not. We don't just want to come up with a cool implementation and hope it works." 
A familiar face
As Niagara Health's new Director of Quality, Patient Safety and Risk, Law will be looking at other innovations in health services and how best to implement them. She'll also work with her team and researchers linked with the Niagara Health Knowledge Institute to determine how research being done at Niagara Health and elsewhere can be used to improve the quality of care provided by the organization, "thinking about it through a lens of evidence to practice and aligning it with the Strategic Plan to enhance safe and quality care."
"What is it that we've learned from research that we can put into practice and how can my team support frontline staff to help implement that? How do we implement, sustain and spread improvement across the system? These are the big questions we will continue to focus on," she says.
Law, who started her two-year secondment to the role earlier this summer, will already be a familiar face to some around Niagara Health. The Brock University Health Sciences Associate Professor is the founder and director of I-EQUIP, the Interprofessional Education for Quality Improvement Program, which engages community partners and students in the health sector to improve the quality of health services through research.
Niagara Health is one of many local healthcare partners in I-EQUIP. Student researchers in the program have worked on two to three quality improvement projects at Niagara Health every year since its inception in 2012.
"My passion for research has always been to do research that's supportive in improving the quality of care and supporting healthcare professionals," Law says.
Now her tenure at Niagara Health will enable Law to put more of her life's work and experience into sustainable practice for that very purpose.
"There are so many great things happening at Niagara Health together with other evidence-based research that can further support great care and we need to think about how we spread great innovations," Law says. "I want to do this in a way that doesn't overburden people at here. I would like to help do this in a way that engages staff and physicians and makes them excited to come to work."