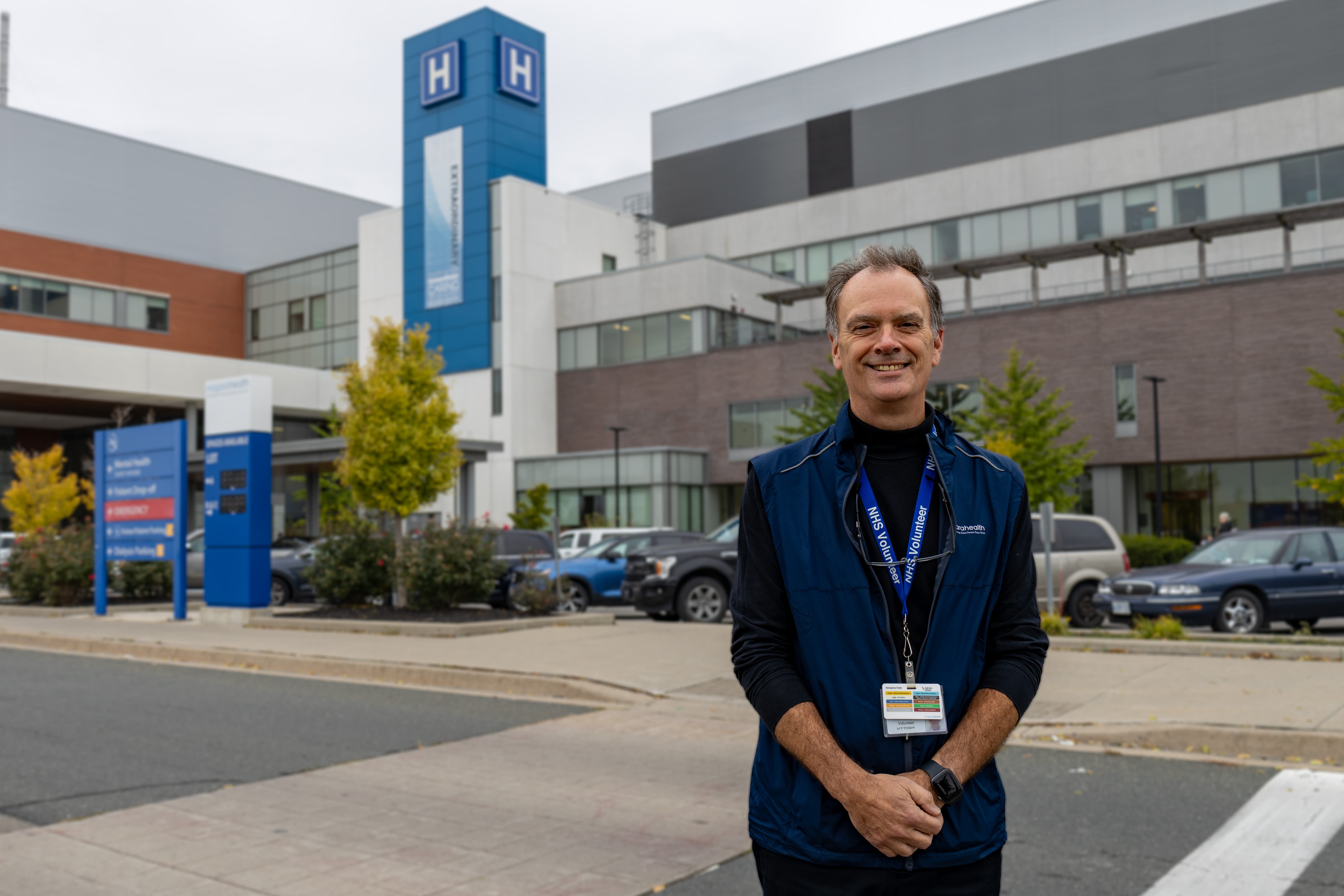 When Niagara Health volunteer Kenneth Ralph retired, he was looking for a way to connect with his community.
He says he found that connection and so much more by volunteering at the St. Catharines hospital.
"It's the best four hours of my week. It's the best four hours of my wife's week, too," he jokes. "But all kidding aside, it's a lot of fun."
After 25 years of travelling across North America as a management consultant, the retiree says he didn't even know his next-door neighbours, let alone the city he grew up in.
"Even though I live in the St. Catharines community, I was never a part of it because I was never here. The people I met were in airplanes or in airports. After working 16-hour days for 25 years, you need something to do, and I thought a hospital would be an interesting place to get to know the community when I retired.
"I would hear about how much help they need at the hospitals, how they're short staffed, so I thought it would be a good place to volunteer."
September marked one year of volunteerism for Ralph at the St. Catharines hospital. He spends his volunteer hours in the outpatient clinics helping people navigate the hospital. From greeting people coming off the elevators to guiding them to registration and appointments, Ralph says he loves making people feel better about their situation.
"The best part is getting to help people, as corny as that sounds. People are coming in who are confused, who are stressed or overwhelmed. You see the whole range of emotions, and sometimes I'm just an ear to listen. I help people navigate the system and the registration process, or distract them from their distress by telling a joke, or a long wait by offering up a riddle."
Having a good sense of humour with the patients is Ralph's specialty. "I think because I'm here and I'm having fun, people tend to relax more. We are just here to help them, plain and simple, and if we can do that by putting a smile on their face as they go through this, even just one smile, it's worth it."
Niagara hospitals are seeking many new volunteers. Allison Campbell, Coordinator of Volunteer Resources at NH, says the COVID pandemic had a negative impact on the volunteer ranks, as recruitment was halted and many people chose to discontinue volunteering during that tumultuous time.
With 600 volunteers currently contributing their time across the five hospitals in St. Catharines, Welland, Niagara Falls, Fort Erie, and Port Colborne, Campbell says there is no limit to the number of volunteers they are accepting; but there is a particular need for volunteers in two of the larger hospitals: Niagara Falls and Welland.
Number of Niagara Health volunteers by location:
St. Catharines – 355
Welland – 121
Niagara Falls – 85
Fort Erie – 52
Port Colborne – 17
Volunteers play a vital role in helping people be comfortable with the transition to becoming a patient, says Campbell.
"A volunteer doesn't know why you're at the hospital as that's not their focus. They don't see a sick person, they just see a person for whom they can offer directions, resources, or comfort before that person receives the medical care they require."
And if there is one thing Campbell wants people to know, it's that they should not be intimidated about volunteering in a hospital setting.
"You don't need to know anything about a hospital or healthcare," she says. "We will train you. You just have to be a human being who cares about other human beings."
Ralph describes the volunteer department staff at NH as welcoming and supportive.
"We feel as volunteers that what we do is noticed," he says. "Not that we are doing it for that, but it's nice that the staff show their appreciation. I think that's the spirit of the entire volunteer program at NH, right from leadership on down to the folks who do it. If you have a question or comment, they are always there for you."
If you're wondering whether volunteering with Niagara Health would be a good fit for you, Ralph has only one piece of advice about applying for the role:
"Do it, and you won't regret it. Period. End of sentence. Exclamation mark. Exclamation mark. And I think every other volunteer here would say the same thing."