We are Niagara Health is a series of stories that celebrates the incredible people working and volunteering in our organization and how they make a difference in the lives of patients and coworkers every day.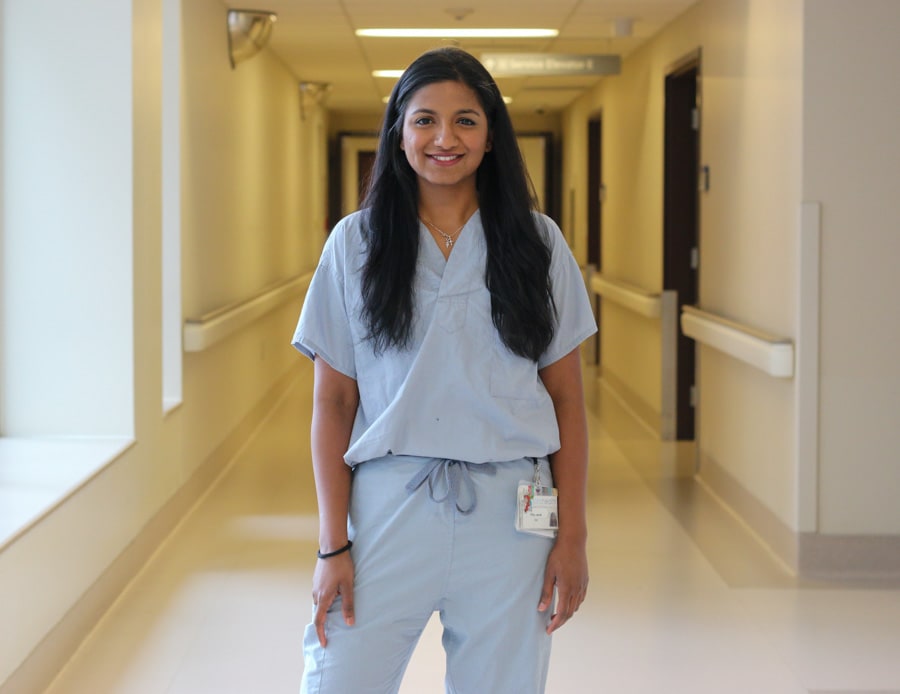 Nithu Thonichalil has it on her list of career goals to be able to foresee a surgeon's next moves in the operating room.
It sounds like a Jedi mind trick but it's a skill the Operating Room (OR) Registered Nurse (RN) is undergoing intensive training and mentoring to learn.
Once she's done, Thonichalil will not only be a bit of a mind reader, she'll officially be an RN first assistant – and one of the few at Niagara Health – playing a vital role providing safe, quality care in the OR by working side by side with surgeons in action.
"You're anticipating the surgeon's next move." Thonichalil says. "You're always moving toward the next step. There's a lot of learning needed for that anticipation."
Thonichalil has been awaiting this moment in her career for the last few years. Not one to coast, the RN has her professional trajectory and the goals she needs to achieve along the way mapped out on a vision board. It keeps her focused and her skillset fresh, she notes.
"After a few years, things become robotic, automatic, and I wanted to learn new skills – suturing, cauterizing," she says. "The OR is constantly changing with new surgical techniques and new technology. It's a place that's intellectually stimulating and I like change. I look forward to learning something new and I wanted to get more involved. I wanted to learn the surgical thought process of a surgeon."
Thonichalil knew she'd need at least five to six years of OR experience to apply to a program that could teach her to become an RN first assistant. Her resume, patience and determination were on her side to pursue the training at this time, but she had the cost of her professional development to consider.
Enter the Niagara Health Bursary Program. Thonichalil was able to start her studies at the University of Rochester earlier this summer thanks to a monetary award from the fund, which launched earlier this year.
She's one of 36 Niagara Health staff and physicians in the bursary program's first cohort to be awarded up to $2,000 to access learning and professional development opportunities. Interest in the program was so great when the call for applications went out that Niagara Health doubled its original funding to $60,000 from $30,000 for the first year.
"It's incredible Niagara Health provides this financial assistance to employees," Thonichalil says. "These benefits will really help our community in Niagara. It translates to higher quality care.
"I feel fortunate to be given that opportunity to aid in my professional growth and ease the financial stress," she adds. "I'm immensely grateful."
Earlier this summer, Thonichalil completed the first step toward becoming an RN first assistant when she did a six-week course online. She's now working with Vascular Surgeon Dr. Surianarayanan Rammohan to complete the practical component of her training: 200 hours of hands-on time assisting in surgery.
"It's incredible Niagara Health provides this financial assistance to employees. These benefits will really help our community in Niagara. It translates to higher quality care."
"He's an incredible mentor and teacher, and I'm a quarter of the way there," she says. "The longer I'm here and exposed to different cases that get more challenging, I'm anticipating what comes next and it helps my learning. Learning these skills is satisfying and you feel like you're really helping the patient in their surgical journey."
Thonichalil and her nursing colleagues are invaluable to patient care in the OR and their roles will only increase in importance amid existing health human resources challenges, Dr. Rammohan says.
"I do foresee a further expanded role for nurse assistants in the years to come, especially in community hospitals where there's a shortage of physicians to assist in surgeries," he says. "I do find the RN first assistants to be well trained and competent, and they make up an important component of patient care in the Operating Room "
Vision board aside, it's Thonichalil's love of the OR's fast pace and the family-like team she works with that are also driving her upskilling.
"To be able to work with such a team is a blessing. We really look after each other – not just the patients but each other," she says.
Her next goal is already written on her vision board. Thonichalil is mum on what it is but as an RN, she says there's no shortage of directions her career path could take her, including teaching, administration and leadership.
Whatever she does, she knows she has the support of Niagara Health in growing her skills.
"Nursing allows you to do so much and it's worth exploring," she says.