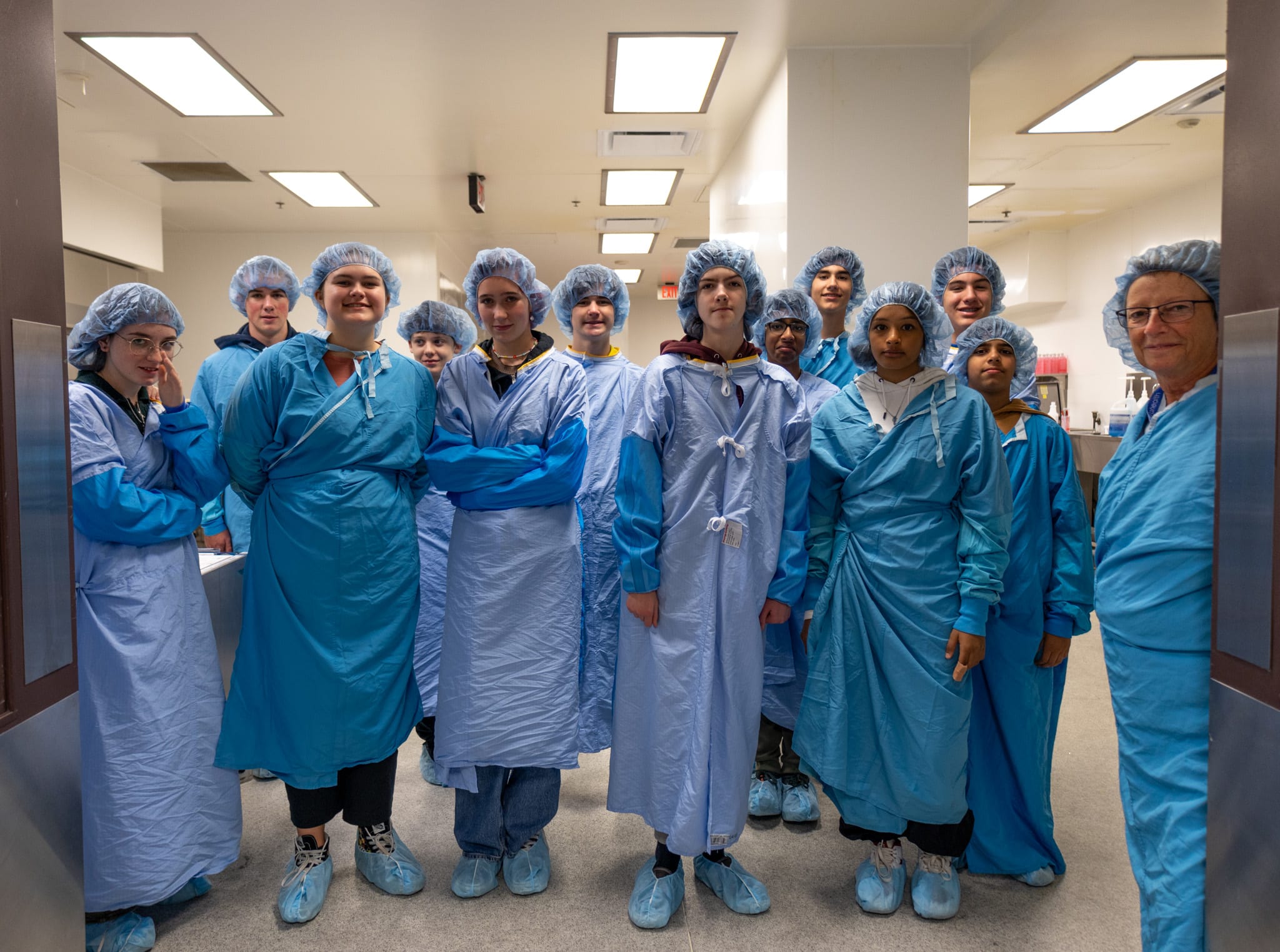 More than 60 Grade 9 students participated in a morning of interactive learning, giving them valuable insights into the wide range of careers available at Niagara Health.
We've all heard it before – the age-old question every child gets asked at the end of the day: 'What did you learn at school today?' But for the young attendees of Niagara Health's Take Our Kids to Work Day, their answers were a little different than usual.
On Wednesday, Nov. 1 Niagara Health welcomed more than 60 Grade 9 children and stepchildren of Niagara Health staff and physicians to the St. Catharines hospital.
Take Our Kids to Work Day is an annual program that takes place nationally on the first Wednesday of November. The program helps students develop their career ambition and supports them in their exploration by observing first-hand their parent's place of employment.
"Having a child in Grade 9 myself, I know how overwhelming it can be for students to think about their career choices this early on," says Amanda Basilone, Manager, Recruitment and Volunteer Resources. "The healthcare industry is so diverse, with so many opportunities. It's important to expose students to all career possibilities so they can be confident knowing what interests them."
Coordinated by our Volunteer Resource team, students participated in a morning of interactive learning, touring various hospital departments including the Laboratory, Dialysis, Medical Device Reprocessing and Food Services. Students learned about the departments first-hand from healthcare experts and had the opportunity to ask questions about different roles in the hospital system.
Guided by Operating Room (OR) team members, students participated in simulations where they examined different tools and instruments used in the OR and put their skills to the test by practicing intubation on learning equipment.
Student's witnessed the dedication and expertise that our staff bring to their roles every day, giving them valuable insights into the wide range of careers available at Niagara Health.
For Jaxon Welychka, Grade 9 student at Centennial High School in Welland, participating in Take Our Kids to Work Day was an "opportunity to highlight new career choices that I didn't know existed," he says.
"There are so many different roles in a hospital setting and it takes very special people to do the work that they do."
Jaxon's favourite part of the day was touring the Food Services department.
"I was surprised how large [the department] was," he says. "The Food Services team prepares 3,200 meals a day. That's more meals than one person eats each year."
After the tour, students had the opportunity to shadow their parents.  
The Grade 9 student admits that before attending the event, he had an idea of what his mother Jessica Welychka's role looked like at Niagara Health.   
"During COVID-19, we both worked from home," he says. "I enjoyed meeting some of the people she talks and works with every day."  
As a Junior Project Manager in Niagara Health's Information and Communication Technology department, Jessica is responsible for delivering business objectives and change initiatives at the department level.
As a mother, she is grateful that this experience allowed students to see "their parents from a different lens than they are used to."
"Being a mom at home, planning dinner and carpooling to after school activities, is very different than being a project lead in stakeholder meetings and planning go-live activities at work."
With numerous career opportunities available in healthcare, Jessica is grateful that her son was able to experience first-hand a few of the exciting roles at Niagara Health.
As for Jaxon's future career plans, that is yet to be determined.
"I am still thinking about what I want to do after high school," he says. "Today's visit helped highlight new career choices that I didn't even know existed."
For students interested in a future career in healthcare, Niagara Health offers opportunities for them to continue to explore their interest.  
"We have partnerships with Niagara Catholic District School Board and the District School Board of Niagara to offer co-op placement opportunities for high school students," says Basilone. "The program provides hands-on learning experiences, so students can be confident knowing what interests them.
"By creating opportunities for staff, students and the community to understand and experience what Niagara Health has to offer, we can continue to work together to improve care and make a difference in people's lives."