The research we conduct at Niagara Health has a profound impact on the health and well-being of our patients and communities, and contributes to better understanding some of the most significant healthcare challenges of our time and have the potential to benefit patients in Niagara and across Canada.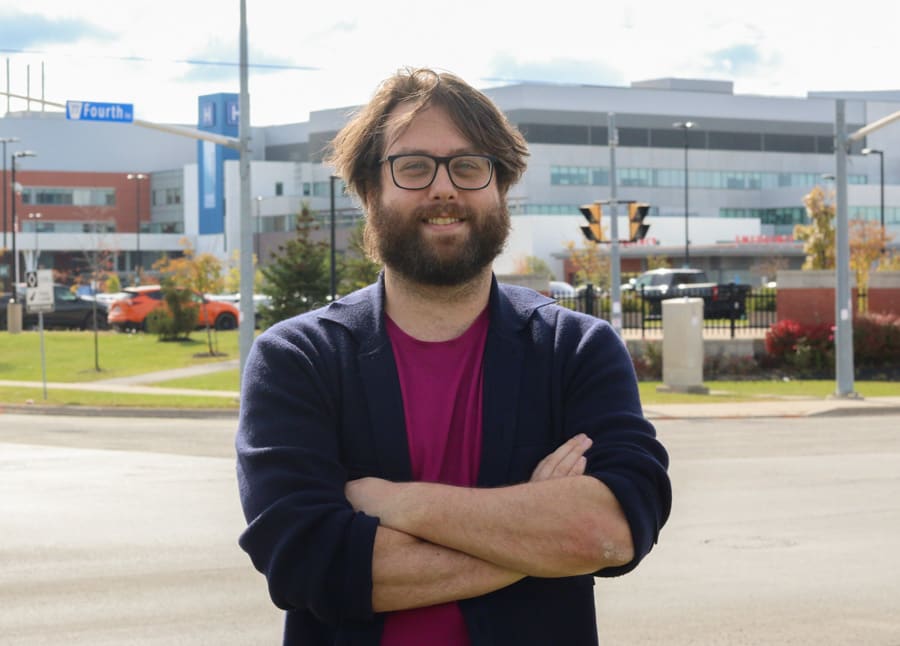 Emergency Physician Dr. Stephenson Strobel also holds a PhD in economics. He combines his passions of medicine and economics to improve patient care in Niagara Health's emergency departments. 
An economist and a physician walk into a hospital.
What comes next turns out to be a benefit to Niagara Health and the Emergency Medicine Researchers of Niagara (EMRON), one of the only emergency medicine research programs in Canada.
That physician – and economist – is Dr. Stephenson Strobel, an emergency department (ED) doctor who holds a PhD in public policy with a focus on healthcare economics. He's the type of person who can treat patients experiencing acute health problems or traumatic injuries and crunch numbers to help support healthcare initiatives that improve care for everyone, especially those coming to a hospital ED.
And he can do it all virtually simultaneously.
The proof is in a program like Niagara HELPS -- Homelessness Emergency Liaison and Peer Support -- in partnership with Quest Community Health Centre. It offers peer support to people experiencing homelessness who come into the ED for care. The program came to be after research by Dr. Strobel and the EMRON team showed there may be better ways than using a medical team to help these patients.
Perhaps they need someone who can relate to their experiences, help them find a bed for the night or a hot meal, set up disposition planning, get them outpatient care, or connect them with the right community social service.
"The Emergency Department is a fast-paced environment and it's not designed to deal with a lot of social problems, yet a lot of people who are homeless wind up in emergency because it's a point of contact for primary care," Dr. Strobel says. "A peer support worker understands patients better than clinical staff who've never experienced homelessness before."
Niagara HELPS is just one of the initiatives rooted in Dr. Strobel and EMRON's efforts. He's also studied where homelessness is on the rise in Ontario. And numbers he's mined from Niagara Health data have led to several published papers, including research on the prevalence and characteristics of flu-like illness in the homeless versus general population, and using a simulation model to map the spread in both.
"A lot of people have worked a long time on building EMRON and nurtured it into the program it is today, which is not only an impressive program for Niagara but Canada."
Helping patients experiencing homelessness
Overall, though, the statistics related to homelessness point to a grim reality.
"We found that homelessness is increasing across Ontario and Niagara Region quite significantly," he says. "We only had data up to 2017-2018. I suspect it's gotten worse. Homelessness has begun to be pushed out of Toronto and it's a population we don't have a large handle on."
But Dr. Strobel and his colleagues do have a handle on the impact the current situation is having on an emergency department already stretched thin amid health human resources challenges. Numbers show that 200 patients experiencing homelessness, who regularly come to the EDs at Niagara Health's three largest hospitals, log the same number of visits between them that the Welland ED sees from all patients all year.
"If we put a peer support worker in the hospital, what happens to demands for medical services?" he says. "We don't have a handle on that yet."
But he's working on it, and early findings show Niagara HELPS is doing what its name suggests to prevent repeat ED visits.
There's no denying the work of Dr. Strobel and EMRON has the potential to make the hospital – if not the world – a better place for patients. But that's not what motivates him.
"I don't have a drive to improve the world but I do have a curiosity about what makes people tick and what makes people better," he says. "I do it because I enjoy understanding the world. People do that in different ways. Some people become physicists, some mathematicians. I became an economist. It's also what drew me to become a doctor."
The odds were in favour of him becoming an engineer, however, given he comes from a family of them. But Dr. Strobel broke the mold when he left his hometown of Winnipeg to study economics at McMaster University. He then applied to medical school at the University of Manitoba but decided to defer his acceptance to do his master's degree in economics at Queen's University.
After med school, he did a residency in family health with the University Health Network in Toronto. He could have hit pause on his academic career at that point, but he opted to get his PhD at Cornell University in Ithaca, NY, and practise medicine at the same time.
'A faithful relationship'
So how does a Canadian doctor pursuing his passion at an Ivy League American school do that? Find the closest Canadian hospital to the U.S. border.
As someone who "thrives in high-variant situations," Dr. Strobel connected in 2018 with Niagara Health Emergency Physician Dr. David Haywood, who's also involved with EMRON.
Dr. Strobel was a doctor looking to practise. He also brought an interesting perspective to the group's research. It's been "a faithful relationship" ever since.
"On Friday nights, I'd drive four hours to the border, work my shifts and go back (to school) on Monday," he recalls. "It was a very good way of getting an idea of how health systems work and the nitty gritty of that. It was a complement to my research."
Now he's a complement to EMRON and to the Niagara Health emergency medicine team, working mostly at the Welland hospital ED.
"A lot of people have worked a long time on building EMRON and nurtured it into the program it is today, which is not only an impressive program for Niagara but Canada," Dr. Strobel says.
"Niagara Health has been a really great supporter of EMRON," he adds. "We're doing a lot to make Niagara Health the premier place for emergency medicine research. Everyone from the data people providing numbers, the leadership, emergency physicians – the most important thing is how conducive Niagara Health is to emergency medicine research and we're trying to make that pay off by making a name for ourselves."