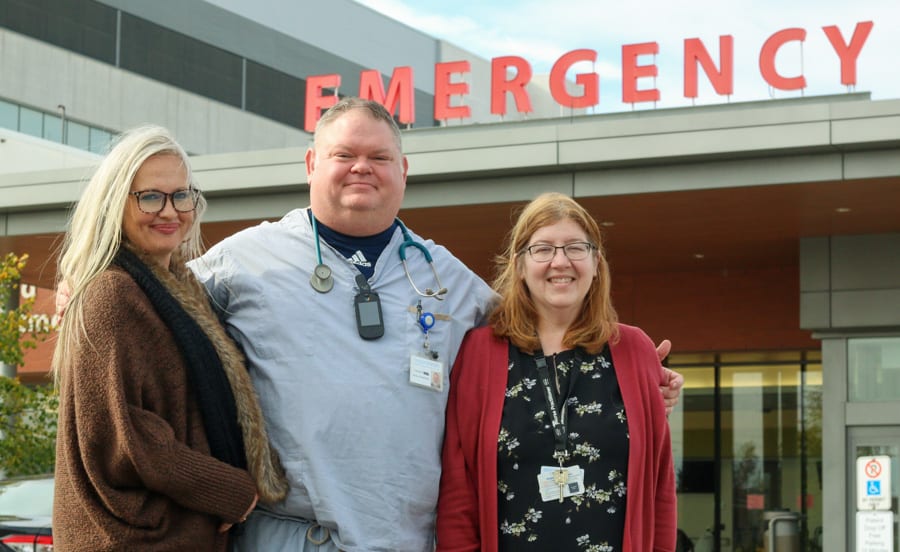 Nurse Practitioners Liz Sharma, Cameron Jones and Laurie Angle make up Niagara Health Geriatric Emergency Management team. The trio work in the emergency departments of the St. Catharines, Welland and Niagara Falls hospitals, helping older adults who come in for care. 
There are frontline healthcare workers and then there's Laurie Angle, Cameron Jones and Liz Sharma.
The trio of nurse practitioners who make up Niagara Health's Geriatric Emergency Management (GEM) team could be considered the very front of the front lines.
Each one works in the Emergency Department (ED) in the St. Catharines, Welland and Niagara Falls hospitals, helping patients 75 and older coming into the ED to get the care they need.
It could be care in the hospital. It could also be at home or in the community.
"It's trying to get the patient at the right place and right time in front of the right people," Cameron says. "We help facilitate them moving through the system."
That makes the GEM team's presence priceless for the people they're helping. And yet, their work is no easy feat considering there are just three of them but older adults – those aged 65 and up – account for more than a quarter of ED visits at Niagara Health.
A growing need for specialized care
With Niagara's older adult population expected to double in the next 20 years, the GEM nurse practitioners, who have knowledge of aging, common geriatric syndromes and how certain behaviours present, may just become the crown jewels of emergency medicine.
"Niagara has one of the oldest populations in Canada and the need for geriatric specialization is great here," Cameron says. "There's a need for this service."
Niagara Health launched its GEM team in late 2020 to meet that need as part of its Care for Older Persons Strategy. Laurie, Cameron and Liz are three of 130 nurses in 60 emergency departments across Ontario who provide expertise to achieve better health outcomes for a growing older adult demographic.
Population statistics aside, their roles are vital because emergency department visits can be fraught for older adults, especially those experiencing delirium, dementia and depression. Older adults tend to be under-triaged and under-treated in acute care settings, according to Provincial Geriatrics Leadership Ontario, and yet, illness complexity, hospital admission rates, lengths of stay and risk of functional decline are highest for older adults.
"Our goal is to ensure people can go back into the community, if they're capable, rather than have a long hospital stay."
The challenges of Emergency Department visits for older adults
All in, trips to the ED can be a threat to their long-term independence, health and well-being, underscoring the need for specialists like them to "shine a light on" what's happening when an older adult arrives in the ED.
"It's a house of cards when an older adult comes into emergency," Cameron says. "When one thing goes wrong, it causes a whole bunch of issues. Delirium, dementia and depression are the three D's we look for and they can all be present in different amounts. Depression can also look like dementia and vice versa, so we have to differentiate."
Given GEM is a relatively new addition to the ED, though, not everyone knows the team is here to help. So rather than wait for referrals, Laurie, Cameron and Liz enterprisingly do rounds, talk to the charge nurse or scan patient records to find who needs their help and prevent unnecessary admissions, which can lead to extended stays. They work closely with the interprofessional team in the ED to plan for discharge and also try to minimize future ED visits.  
"Our goal is to ensure people can go back into the community, if they're capable, rather than have a long hospital stay," Laurie says. "It's about building a team around them to help them with their care outside of the hospital, and that team depends on where they are physically and mentally. It can also change depending on their needs in the short term or long term."
What is a nurse practitioner?
Nurse practitioners are registered nurses who have additional education and nursing experience, which enables them to do some duties normally performed by physicians, including autonomously diagnosing and treating illnesses, ordering tests and interpreting results, prescribing medications and performing some medical procedures. 
Source: Canadian Nurses Association
Taking time to provide extraordinary care
They do all that by working closely with other older adult care teams at Niagara Health, including the outpatient Geriatric Assessment Program and the Behavioural Supports Ontario team.
But it all starts with Laurie, Cameron and Liz's holistic approach to teasing out what a patient needs. They do that by asking questions other clinicians in the ED can't because of the demands of treating traumatic injuries and providing acute care.
"They open up to us because we have that time," Liz says. "They're so thankful we take that time to sit down and listen to their stories."
They know it's a privilege to be let into their patients' lives – and to care for them, too.
"People later in life like to express themselves and what they did and it's an honour to be involved with them at this stage of their life and working with their families," Cameron says. "It's really wonderful to see the life they have in them and how they have lots to offer."
"The elderly are really part of the beauty and mosaic of life," Liz interjects. "I enjoy fighting for the vulnerable. Working with older adults is my way to fight for those who can't advocate for themselves."
"It's like mom and dad always say, 'Respect your elders,'" Cameron adds. "A lot of these people have done their part in society and this is about paying it forward."