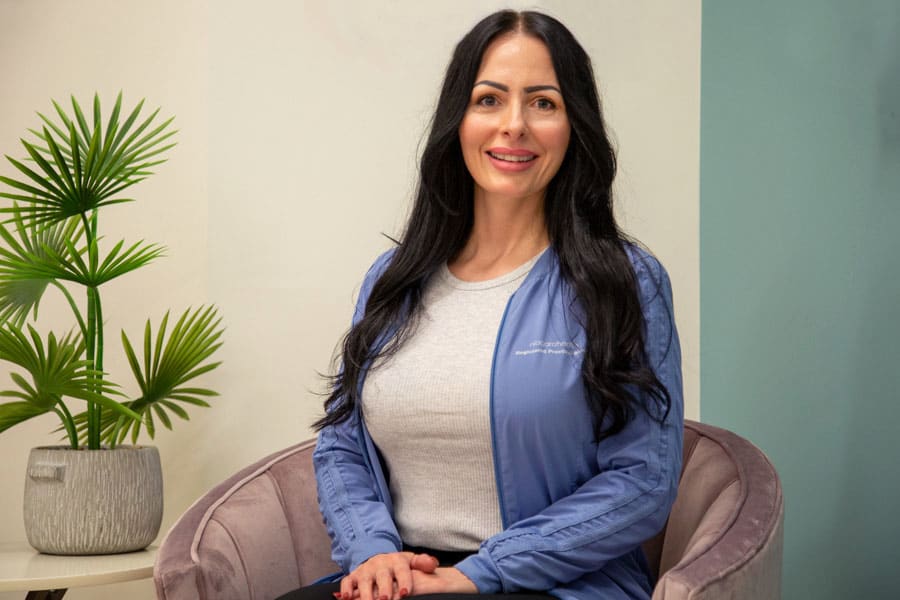 Registered Practical Nurse Alana Hawrylyshyn received the Award of Excellence in Mental Health from the Registered Practical Nurses Association of Ontario.
When Alana Hawrylyshyn was presented with an award of excellence for her work in mental health, the registered practical nurse (RPN) didn't recite a famous quote about nursing in her acceptance speech.
Instead, she echoed tech visionary Steve Jobs and his well-known words about loving what you do and doing great work as a result.
But it was Hawrylyshyn's own musings when she won the Registered Practical Nurses Association of Ontario (WeRPN) Award of Excellence in Mental Health last month that were arguably the most impactful.
"Mental health struggles aren't always clear. There isn't a diagnostic test like bloodwork to say you have depression, anxiety, feelings of despair," Hawrylyshyn said. "So we delve deep into the experiences of the patient and we listen and we don't judge, and we listen to the pain, despair and trauma that these individuals have faced.
"Some have no sense of belonging and are holding onto life by one last strand," she continued. "It is us who show up for them when they have been told time and again that no one cares. We care, I care and I will continue to hold the hands of my patients, offer an ear, or even a shoulder to cry on because my support may be the one last reason they have to live and I will continue with this passion for them, always for them."
The award, handed out annually, is given to an RPN who has contributed in a significant way on an ongoing basis to mental health in Ontario. It also recognizes exemplary nursing practices, innovation to enhance the patient experience, promotion of mental health awareness, and supportive care.
It's an honour that's been a career in the making for Hawrylyshyn. She's worked in a variety of roles in Mental Health and Addictions programs since graduating from nursing school in 2009. That includes inpatient programs, where she currently works, and the Psychiatric Emergency Response Team at Niagara Health. She also spent four years in acute mental health and the psychiatric intensive care unit at St. Joseph's Healthcare Hamilton before that.
Her innate empathy drew her to a career of helping people experiencing mental health adversities. Hawrylyshyn has seen the pain experienced by friends and family who have faced mental health challenges – something she noted we all go through as humans.
"Some have no sense of belonging and are holding onto life by one last strand. It is us who show up for them when they have been told time and again that no one cares."
"I've always had a desire to understand people and their emotional struggles," she said. "I've always had the ability to understand what people are feeling since I was a young age and I was interested in understanding how I can help.
"I feel this passion inside me anytime I'm able to care for a patient," she added. "'I'm here, I feel you, I got you. I'm here to speak on your behalf.' Some of them have never felt that or haven't had that support."
Hawrylyshn credits her ability to connect with patients and their families to skills she learned while studying in the social services worker program at Niagara College before switching to nursing. She brings a trauma-informed lens to her role, which shifts the focus from what's wrong with someone to what happened to them, getting a complete picture of a patient's situation in order to provide effective and healing care.
She's also a big proponent of Niagara Health's Recovery Model, which stresses that if a patient is ready to make a change, she will be there to support it.
"We're there to give options," she explained. "They're guiding the way. You look at each person as an individual and you really listen to them and decide 'How can I help this person achieve their goals? What do they need? You have to get to know a patient to be able to advocate for their needs."
That passion and compassion she brings to Niagara Health isn't lost on her colleagues.
"Her experience has definitely provided a positive impact throughout the entire team," said Jibin Ninan, Clinical Manager of Inpatient 1A and Consultation Liaison programs. "She is passionate about the care she provides to the patients and she does not shy away from expressing her thoughts, ideas and solutions with the interdisciplinary team when discussing complex patients and situations. Her patient-centered approach and genuine care for the patient is certainly notable."
Hawrylyshyn was moved to tears when the words of her nominators were read at the WeRPN ceremony.
Even though her name was the only one mentioned for this particular award, she doesn't see it as hers alone. Like Steve Jobs also said, 'Great things … are never done by one person. They're done by a team of people.'
"I felt, for myself and for Niagara Health, this was recognition for what we do day in and day out," Hawrylyshyn said. "I felt I was accepting this award for the team, too."