Niagara Health's Pharmacy program serves all inpatient clinical programs as well as the regional cancer center, dialysis program and outpatient clinics.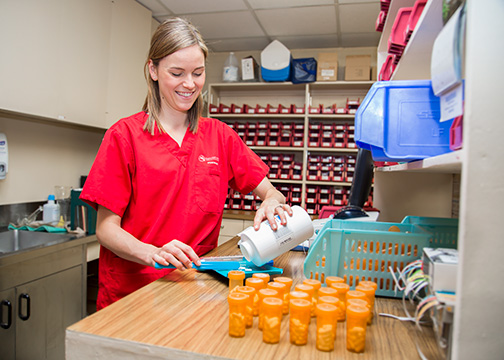 Together, our team of Pharmacists and Pharmacy Technicians support the medication-related needs of our patients with a commitment to ensuring safe and effective use of medications that promote high quality, best patient outcomes. They work closely with patients and other members of the healthcare team to ensure patients receive extraordinary care.

As part of a multidisciplinary team, Pharmacists apply their medication expertise in the provision of pharmaceutical care.  They collaborate with doctors, nurses, and other professionals to support the provision of best possible medication-related care, and to provide drug information and recommendations concerning medications.

Our Pharmacy Technicians not only focus on providing a safe, efficient and effective drug distribution system, but also play an important role in other quality and safety initiatives. 

Pharmacists and Pharmacy Technicians actively participate in various organization-wide committees and working groups, bringing valuable knowledge, insight and perspective related to medication use and the medication system.

As a part of the organizational commitment to safety and innovation, Pharmacy has implemented various drug distribution technologies. Examples include high speed oral solid packagers and automated dispensing cabinets. These use barcode technology as a foundation to support accurate distribution of medications.

Pharmacy collaborates with various community and Local Health Integration Network (LHIN) partners to continually improve care throughout our region.

As a program that is committed to education and learning, Pharmacy offers mentorship and preceptorship opportunities for students studying to be Pharmacists and Pharmacy Technicians.