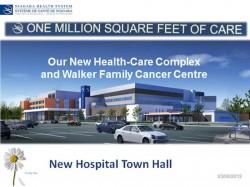 Last week we kicked off the first in our series of New Hospital Town Halls for our staff to keep you posted on progress and to celebrate the countdown to construction completion.
In order to make this information available to staff, physicians and volunteers at all of our sites, as well as the general public, we filmed the presentation so that everyone can be involved as we prepare to provide one million square feet of care. Please note that in order to provide this level of information, the video is approximately 23 minutes long.
Watch the video (below) and feel free to share! We look forward to providing you with these updates and celebrating the arrival of our new health complex and Walker Family Cancer Centre!