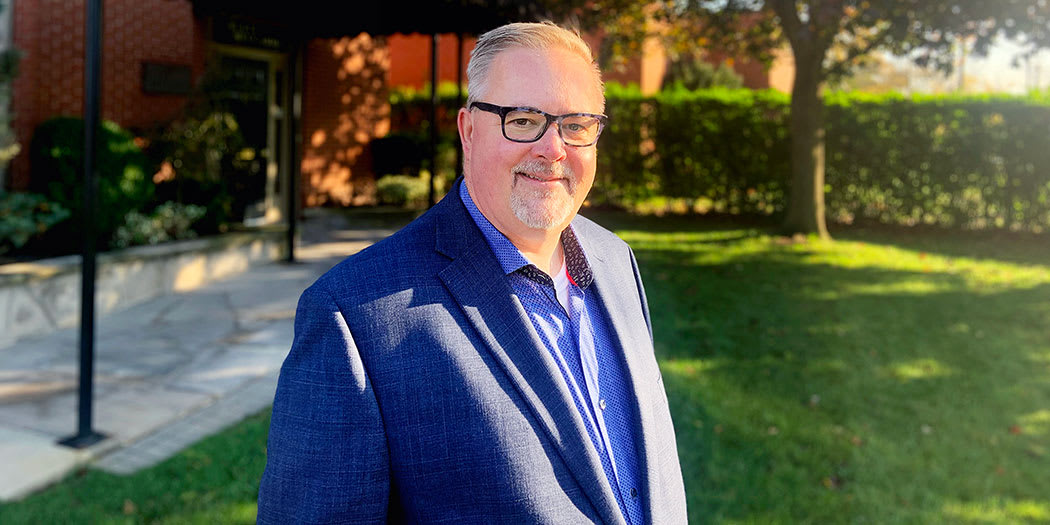 It was an ordinary day for Ross Macfarlane back in August. He and his colleague were enjoying the return car ride to their Welland law firm after having lunch.
Suddenly, Ross, a passenger in the car, began experiencing vision problems.
He pulled out his phone to Google the symptoms, but he couldn't see what was on the screen.
"I had no vision at all in my right side in both eyes," he recalls.
He feared he could be having a stroke.
Just a few minutes away from Niagara Health's Welland Site, Ross asked his colleague to take him to the Emergency Department there. The healthcare team in Welland quickly assessed him and determined he needed to be taken by ambulance to Niagara Health's District Stroke Centre at the Greater Niagara General (GNG) Site in Niagara Falls.
When he arrived at GNG, he was met by a neurologist and nurse practitioner from the Stroke Care team and immediately received a CT scan. The scan showed Ross was suffering an ischemic stroke, meaning a blood clot was blocking blood flow to his brain.
Ross was given the clot-busting drug tPA, which can break up the blot clot and return blood flow to the affected area of the brain.
After receiving the treatment, Ross was taken to the Intensive Care Unit and his vision eventually began to improve. He was home the following evening, where he spent time recovering.
Back to work, Ross is sharing his story to mark World Stroke Day (Tuesday, Oct. 29) and to encourage others to seek immediate medical help when experiencing signs of a stroke.
The 52-year-old knows his decision to act quickly likely meant he did not have more lasting effects from the stroke.
"I'm fortunate to have had the care that I had," he said, referring to the Niagara EMS paramedics and Niagara Health teams in Welland and Niagara Falls. "I'm fortunate I took the steps to get to the hospital as quickly as I did, recognizing what it might be. The support I received from the health system, from my family and friends has been really overwhelming."
TIME IS OF THE ESSENCE
Someone has a stroke every 10 minutes in Canada.
Time is of the essence when treating a person suffering a stroke.
Stroke symptoms usually appear suddenly and include loss of strength or numbness in the face, arm or leg, difficulty speaking, vision problems, severe and unusual headache and loss of balance.
Leanne Hammond, Niagara Health's District Stroke Centre Co-ordinator, said it's vital that people call 911 immediately if they experience signs and symptoms of stroke, something Ross says he now realizes he should have done in his situation.
"Thanks to initiatives like the FAST acronym, we have seen an increase in awareness of symptoms and what to do if a patient is experiencing a stroke," Leanne said. "The ability to recognize the FAST signs of stroke and calling 9-1-1 allows early access to an expert stroke team that ensures early diagnosis and treatment of stroke."
The FAST acronym is an easy way to remember the five signs of stroke: Face: Is it drooping? Arms: Can you raise both? Speech: Is it slurred or jumbled? Time: To call 911 right away. 
Last year on World Stroke Day, Niagara Health and Niagara EMS teamed up to increase awareness by placing FAST decals on the side of ambulances in Niagara. 
ACCOLADES FOR NIAGARA HEALTH
According to the Central South Regional Stroke Network, the Niagara District Stroke Centre has one of Central South and the province's top rating for "time to first visit" following stroke symptoms.  This is due, in part, to the Stroke Rapid Referral Clinic's six-days-a-week operation. 
Learn more about the Niagara District Stroke Centre here.