The flu spreads easily through coughing and sneezing or by touching contaminated surfaces such as toys, doorknobs and eating utensils.
Symptoms of the flu, which is a respiratory illness, include fever, body aches, extreme fatigue, headache, chills, sore throat, stuffy nose, sneezing and coughing. Some people can become very ill depending on their health and other factors, possibly developing complications that require hospitalization.
At Niagara Health, we want you to stay healthy during the cold and flu season. There are many things you can do to protect yourself from getting – and spreading – the flu and other illnesses.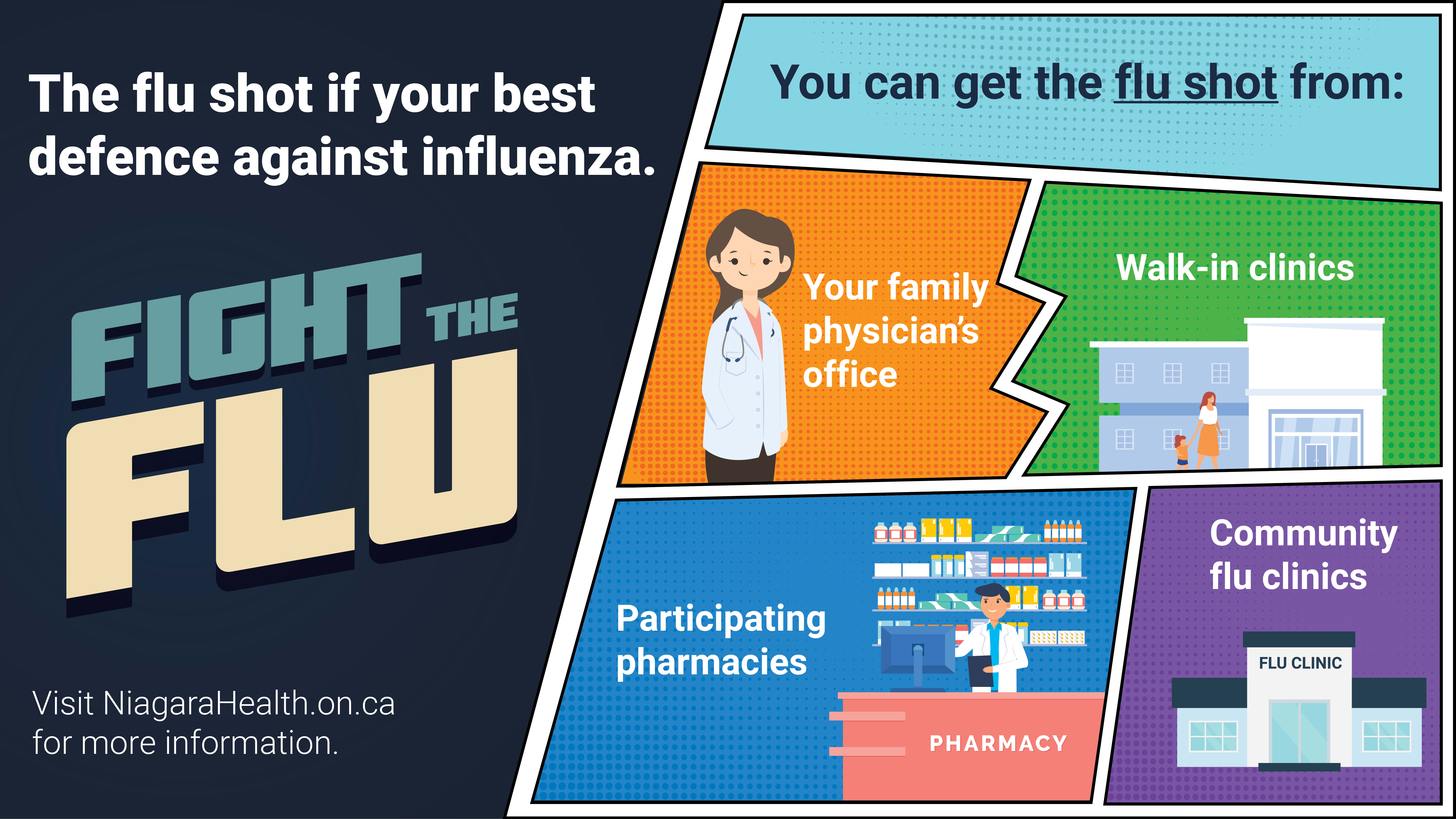 1. Get your flu shot
The flu shot is your best defence against the flu. It's available at many locations, including from your doctor or nurse practitioner, at participating pharmacies and local public health units across the province. The flu shot is recommended for everyone aged 6 months or older.
Learn where you can find a flu shot location here. 
2. Wash your hands often and continue to practice public health measures
Even after getting the flu shot, washing with soap and water for at least 15 seconds or using hand sanitizer helps keep the virus from spreading.
Additionally, public health measures such as physical distancing (staying 6 feet or 2 metres apart from others whenever possible) and wearing a mask help limit the spread of the virus.
3. Cover your mouth when you cough or sneeze
Use a tissue and throw it out rather than putting it in your pocket, on a desk or table. Wash or sanitize your hands immediately after.
If you don't have a tissue, cough into your upper sleeve.
4. Don't touch your face
The flu virus spreads when people with the flu cough, sneeze or talk and droplets enter your body through your eyes, nose or mouth – or when you touch surfaces containing droplets.
5. Clean and disinfect surfaces and shared items
Viruses can live for hours on hard surfaces like counter-tops, door handles, computer keyboards and phones.
6. Stay at home when you're sick
Viruses spread more easily in group settings, such as businesses, schools and nursing homes. Stay home if you have symptoms and seek medical attention if:
You don't start to feel better after a few days.
Your symptoms get worse.
You are in a high-risk group* and develop flu symptoms.
*The high-risk group includes children under five years old, those aged 65 and older, people who are pregnant, and people with chronic medical conditions.
For medical emergencies, call 9-1-1 or go to the nearest Emergency Department.
Learn about your healthcare options in Niagara here. 
COVID-19 vaccine and the flu shot
If you are looking to get vaccinated against COVID-19 and influenza, the Public Health Agency of Canada (PHAC) has released a statement from the National Advisory Committee on Immunization (NACI) which recommends that COVID-19 vaccines may be given at the same time as, or any time before or after, other vaccines.
If you have questions about the flu shot, read Immunize Canada's frequently asked questions.