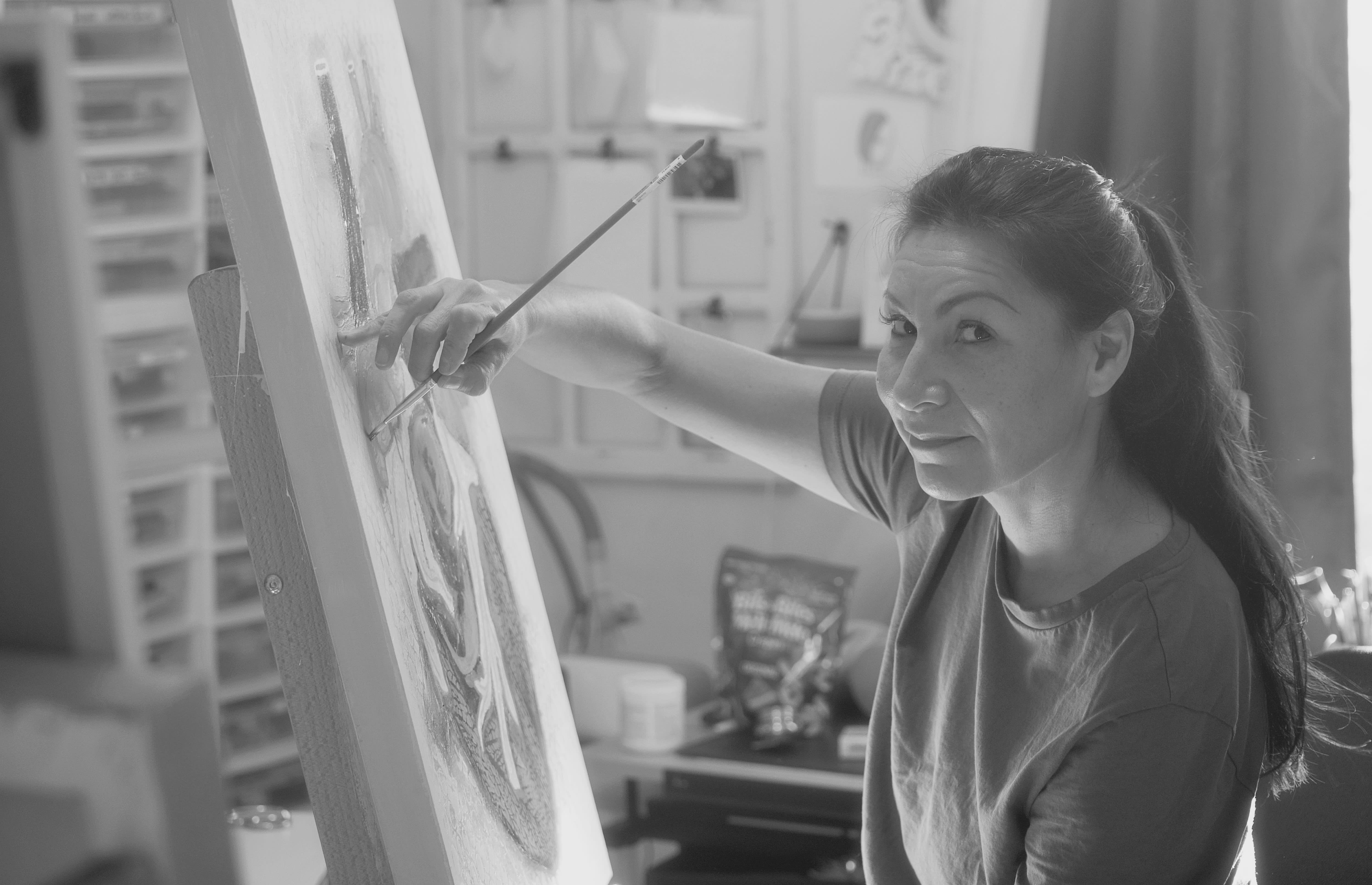 Jill Shimizu-Wilson (Lunn) is Niagara Health's Indigenous Advisor. Jill is an artist and photographer who has been involved in many community initiatives during her career.
For much of her life, Jill Shimizu-Wilson (Lunn) didn't feel like she fit in.
As a member of the Six Nations on the Grand River, Jill was adopted as a child by non-Indigenous parents, which left her feeling neither part of her Indigenous nor her non-Indigenous communities.
It wasn't until she began her healing journey later in life that elder Walter Cook at the De dwa da dehs nye>s Aboriginal Health Centre in Hamilton would convince her that straddling two worlds as an Indigenous adoptee was a gift to embrace and share.
As Jill embarks on her new role as Niagara Health's Indigenous Advisor, Cook's words carry more weight than ever.
"He said the Creator put us there because we can speak both languages and build bridges. I didn't believe it at the time," Jill recalls. "He said to not hang onto your hurt, to be patient and your time will come. These things stay with you. They remain in your heart and make sense to you as you move through life."
How to be that bridge between two worlds came into sharper focus following the death of her niece, Heather Winterstein, in hospital last December.
As Indigenous Advisor, Jill works directly with President and CEO Lynn Guerriero, along with the Executive Team. It's a collaborative role in which she'll advise on engagement with local Indigenous communities to help ensure their voices inform healthcare delivery and experiences across the hospital. She'll provide input and advice into Indigenous Health roles at the hospital and outreach strategies to recruit for those new roles, and strengthen partnerships and relationships with Indigenous peoples.
Jill is joining Niagara Health on a journey that will bring together the people, experiences and knowledge to find a path toward reconciliation in healthcare. That means fulfilling the needs of the people and the hospital, and finding common ground for both, she explains. Indigenous involvement in establishing culturally sensitive healthcare is critical as Canada moves toward reconciliation.
Niagara Health is learning and growing to ensure the hospital serves all patients by bringing together Indigenous health and wellness philosophies, which include maintaining a balance of physical, mental, emotional, and spiritual elements, with Western healthcare models.
Along with Jill as Indigenous Advisor, Niagara Health is creating new roles to directly support and advocate for Indigenous patients and their families. Recruitment will soon be underway for a Manager, Indigenous Programming, and two Indigenous Relations Specialists. These new members of the Niagara Health team will work collaboratively with the Aboriginal Patient Navigators who provide service to Niagara through the De dwa da dehs nye>s Aboriginal Health Centre program and other important community partners.
Indigenous partners, including those on the South Niagara Site Indigenous Committee, are helping to guide planning and provide feedback on the design and development of the new hospital. Additionally, staff and physicians are learning their role in providing culturally safe, high-quality care.
Jill, a photographer and painter who lives in Jordan, is no stranger to healthcare. As the daughter of prominent Niagara Health nephrologist Dr. Arthur Shimizu, "I was literally raised running around the hospital," she says. "My family dedicated their lives to Niagara Health."
She is actively involved with the local Indigenous community, having worked as a program co-ordinator at the Niagara Regional Native Centre, other agencies and consulting in the community for more than 20 years. In that time, she has also consulted with and sat on several advisory committees related to the arts, healthcare and community social services in Niagara and Hamilton. Jill was recently part of a team of 80 photographers documenting the Canada Games throughout Niagara. Her focus was on capturing the experience of Indigenous athletes at the Games.
As she starts her work with Niagara Health, Jill notes she's grateful for "the openness of ideas, the willingness to collect ideas, new thoughts, new ways of looking at things that staff have to offer."
"In order to better serve the people, we've got to work together," she says. "I'm excited to be here. Niagara Health is in a great position right now and everyone is open to change. I'm going to walk with you. I have no idea where it's going but I'm all in. That's all I can do to honour the memory of my niece."
September marks Indigenous Inclusion Month at Niagara Health with activities to educate, inspire and spark conversations about Indigenous communities, cultures and histories, as well as the importance of a respectful team environment and access to safe healthcare services.