We are Niagara Health is a series of stories that celebrates the incredible people working and volunteering in our organization and how they make a difference in the lives of patients and coworkers every day.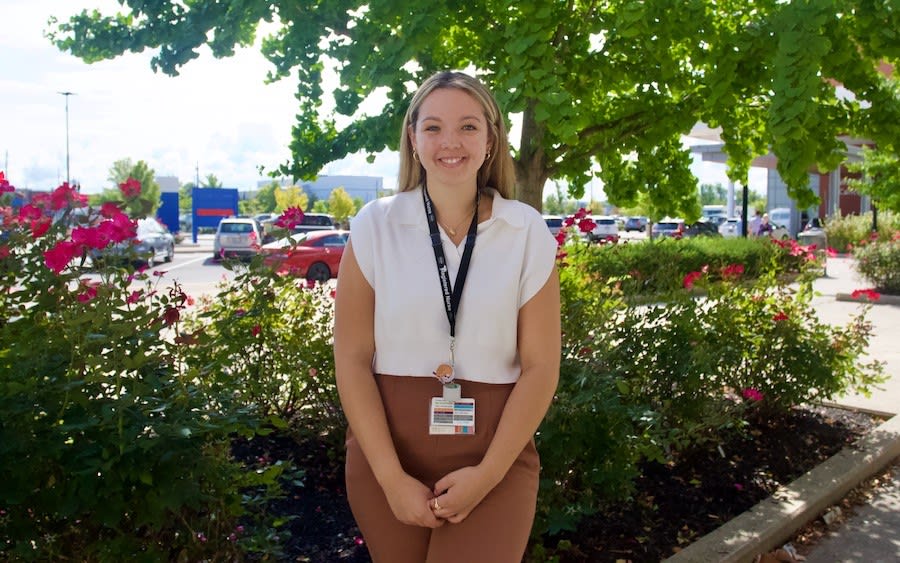 Registered Nurse Kassidy Bell is on a journey to get in touch with her Indigenous heritage after a generational loss of culture, traditions and language. She is also determined to provide culturally sensitive care to Indigenous patients. 
Kassidy Bell began carving more than her career path as a healthcare provider when she enrolled in nursing school in 2017.
Kassidy's studies at the University of Ottawa also started her journey of self-discovery about her Indigenous heritage after a generational loss of culture, traditions and language.
It's a journey she has felt encouraged to continue, while also advocating for culturally sensitive, equitable healthcare for Indigenous patients and others, since becoming a Registered Nurse (RN) at Niagara Health's St. Catharines Site last year.
"I didn't know a lot about my culture growing up. My goal is to learn about that and give back to equity-deserving communities," says Kassidy, who is Ojibwe. "It's important to have resources available and to find out what people need. When I'm providing this care, I want to be as knowledgeable as possible to provide the best care possible."
To help in that quest, Kassidy, who works in Oncology and Palliative Care, joined Niagara Health's Diversity, Equity and Inclusion (DEI) Committee, which works to promote a culture of inclusion and diversity to ensure fair and equitable policies, procedures and processes are in place to prevent racism and discrimination of anyone, including marginalized, stigmatized and underrepresented populations.
September marks Indigenous Inclusion Month at Niagara Health, a DEI Committee initiative with activities to educate, inspire and spark conversations about Indigenous communities, cultures and histories, as well as highlight the importance of a respectful team environment and access to safe healthcare services.   
"It's very welcoming," Kassidy says about Niagara Health and Indigenous Inclusion Month. "I'm happy the Indigenous community is finally being heard, not just within Niagara Health but everywhere. Niagara Health is trying hard to make these changes. It makes me proud to be a part of these changes and proud to be part of the DEI Committee."
Kassidy comes by her career as an RN naturally. As a child growing up in Niagara Falls, she was diagnosed with Type 1 diabetes, so her experiences as a patient are plentiful. But there was one healthcare provider who inspired her more than anyone else growing up: Her mother Kathy, who is also a nurse.
"She's a phenomenal nurse and someone I'd always looked up to," Kassidy says.
Her career path was determined, however, when her grandfather fell ill and spent his last few years in and out of hospital, including at the St. Catharines Site. Kassidy was struck by how attentive nursing staff were with him, keeping him comfortable, being close by and really caring for him.
When it came time to say good-bye, she recalls a nurse being the one to answer all her questions.
"It's hard when you're on the other side as a family member," Kassidy says. "Just having them explain everything and be there with us along the way was helpful, and knowing he was in good hands. It really solidified the type of care that I wanted to provide."
Niagara Health is currently recruiting for three new roles related to better supporting Indigenous patients and their families. They include a Manager of Indigenous Programming who will provide advice and recommendations on the planning, co-ordination and implementation of practices and processes of services for Indigenous peoples at Niagara Health.
Niagara Health is also recruiting two Indigenous Relations Specialists who will provide support and advocacy for Indigenous patients and their families by helping co-ordinate access to services provided at the hospital. Additionally, they will assist and support transitions from the hospital to the patients' next care destination and work collaboratively with community partners.
These are in addition to an existing new role of Indigenous Advisor, a collaborative role that provides input and advice into Indigenous Health roles at the hospital and outreach strategies to recruit for those new roles, and strengthen partnerships and relationships with Indigenous peoples.
Indigenous involvement in establishing culturally sensitive healthcare is critical as Canada moves toward reconciliation. These roles will be key partners in Niagara Health's collective efforts to build a culture of inclusion, equity, and compassion.
"I'm hopeful the new positions will advocate for persons accessing care and support connections to Indigenous community resources," Kassidy says. "I'm hopeful they will assist and support Indigenous people who need to navigate the complex healthcare system, including eligible health benefits, and be a voice for Indigenous people who are accessing healthcare, providing comfort and support."
Providing culturally sensitive healthcare became part of Kassidy's mission while in nursing school. During that time, she studied in Ottawa hospitals that care for Indigenous patients from Northern and remote communities.
Indigenous health programming is critical, she explains, and will support an increase in knowledge and understanding of the harm and trauma of residential schools and its generational impact on Indigenous people. It's also important to create policies that support Jordan's Principle, a federal initiative that aims to address the unique needs of First Nations children and ensure they can access the products, services and supports they need, when they need them.
Kassidy's hope is to one day work as a healthcare provider in a Northern community to offer healthcare closer to patients' homes.
"I want to give back to my community, seeing the struggles my family members went through," Kassidy says. "The more I educate myself, the more I think there has to be something I can do."