The research we conduct at Niagara Health has a profound impact on the health and well-being of our patients and communities, and contributes to better understanding some of the most significant healthcare challenges of our time and have the potential to benefit patients in Niagara and across Canada.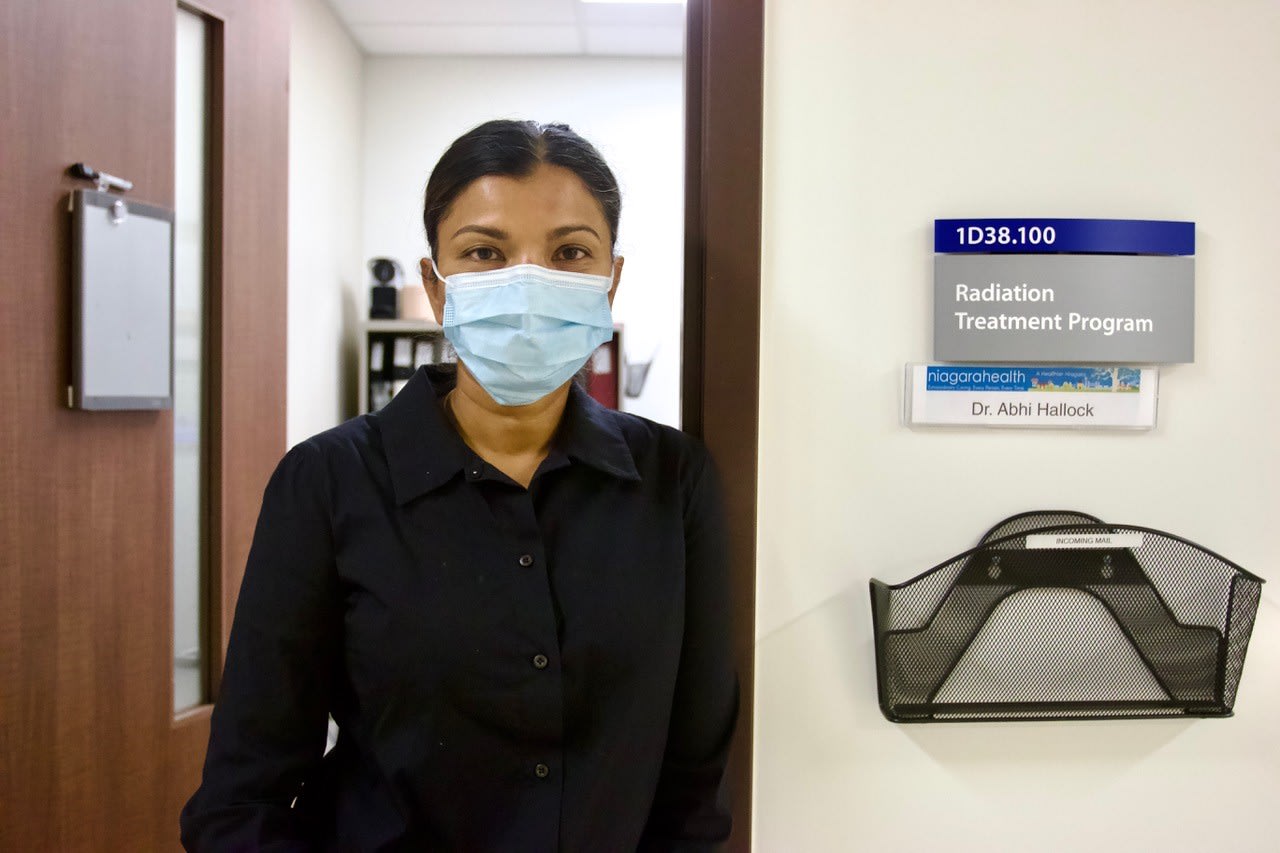 Dr. Abhirami Hallock was a part of a team of researchers whose findings will help cancer doctors better treat recurring prostate cancer in certain patients. 
The latest published research by a Radiation Oncologist from Niagara Health's Walker Family Cancer Centre provides greater insight into how to more effectively treat certain prostate cancer patients.
Dr. Abhirami Hallock found that people with prostate cancer who experience a recurrence of the disease after initially undergoing high-intensity focused ultrasound (HiFU) image-guided therapy to treat their cancer can safely sustain higher doses of radiation during salvage or second-line treatment.
The findings, part of a group effort with researchers from Hamilton hospitals, were recently published in the Journal of Medical Imaging and Radiation Oncology. Dr. Theo Tsakiridis, a clinical scientist affiliated with Niagara Health, was a co-author on the study.
"With this study, we hope to add to the pool of literature on safe dose amounts in patients who fail HiFU, especially in this era of contemporary technological advancements for cancer treatment like image-guided therapy," says Dr. Hallock, Head of Radiation Medicine at the Walker Family Cancer Centre. "It's important to note, however, that surgery or radiation remain established, first-line treatments for prostate cancers to date."
HiFU is more commonly used as secondary treatment when radiation or surgery haven't worked, Dr. Hallock adds. But in cases where it has failed as primary treatment, oncologists have been reluctant to recommend radiation for subsequent cancer care because little has been known about safe maximum doses and other associated risks, such as damage to rectal tissue.
Despite that, some men choose to pay out-of-pocket for HiFU as their primary treatment. It's less invasive than surgery. There's also presumed lower chance of toxicity, Dr. Hallock says.
The reason for the lack of data on radiation treatment following HiFU failure is because the pool of patients choosing HiFU as primary treatment is small to begin with, she notes. Take away those whose HiFU treatment has been successful and candidates for studies on how to treat prostate cancer that recurs after HiFU become an even rarer find.
That underscores the importance of community hospitals like Niagara Health tracking and publishing their experiences treating such patients because it can guide others in the field of prostate cancer care, explains Dr. Hallock, who is also involved in a national study related to prostate cancer.
"The literature is sparse," she says. "If they fail (with HiFU), these men are left in limbo.
"This paper provides guidance and evidence on tolerability (of radiation after HiFU), side effect profile and appropriate doses," Dr. Hallock adds. "Every time a new patient comes in, we do a PubMed (biomedical study database) search. This study says what's safe in terms of dose, what a patient experiences as both acute and late side effects, and adds to that body of literature."
Learn more about research at Niagara Health and its impact on some of the most significant challenges facing healthcare.