Research has a profound impact on the health and wellbeing of the people who live in our communities. 
Health research provides important information about disease trends and risk factors, outcomes of treatment, patterns of care, and health care costs and usage to name a few. This is what fuels us to do more. Our journey to become a community-based research and academic centre began several years ago. Niagara Health established a dedicated Research Office to strengthen our research and academic partnerships and set out to conduct research that would inform care, inspire innovation and create environments of collaborative learning.
Research Partnerships
Brock University and Niagara Health launched a new partnership in March 2019 that will increase opportunities to improve the overall health and wellbeing in our region and beyond. It will place a heightened focus on research that will help people stay healthy, improve both patient outcomes and the way healthcare is delivered, and create training and employment opportunities for Brock students and graduates.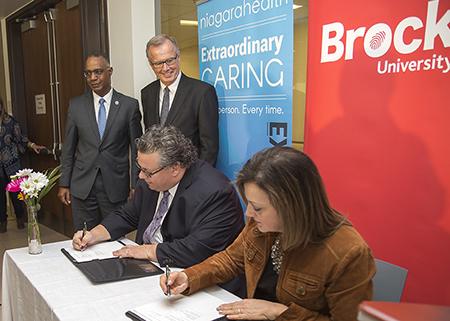 Research Day
Niagara Health hosted its inaugural Research Day at its St. Catharines Site in November 2018. More than 100 researchers, students, academics and healthcare workers attended the event to learn about medical research being conducted in the region.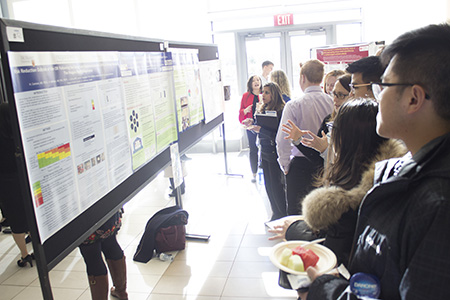 Research Office Goals:
To build healthcare learners' and professionals' skills and confidence in conducting health research
To promote interprofessional collaboration in research
To establish research networks with partners in the community to improve integration of primary and acute health services
To improve health through knowledge translation
Learn more
Contact Info
Niagara Health Research Office
Zuher "Zeau" Ismail, MBA, MSc, OT Reg (Ont), CRM, CHE
Maria Bailey, Administrative Assistant to:
Jennifer LY Tsang, MD, PhD, FRCPC
Lori Richardson, Administrative Assistant 
Our Partners 
The Research Office has built strong networks within our organization that include departments such as Quality, Patient Safety & Risk, Decision Support, Health Records and many clinical departments and units across Niagara Health.
We're also very proud to work closely with our community partners: