We are Niagara Health is a series of stories that celebrates the incredible people working and volunteering in our organization and how they make a difference in the lives of patients and coworkers every day.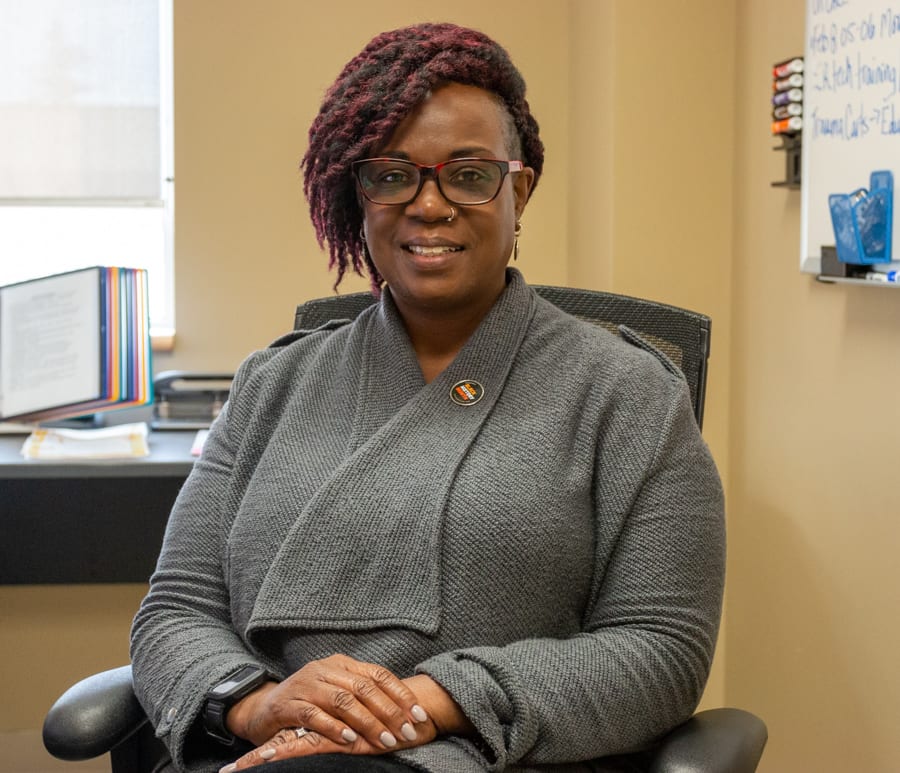 Karen Paschert, Clinical Manager for the Niagara Falls Site Emergency Department, was the committee chair for Niagara Health's first Black History Month recognition in 2021.
When Karen Paschert read the new Strategic Plan that Niagara Health released last month, she noticed something she hadn't seen much of during her 18 years working for the organization.
The plan focused on the people working here, emphasizing the importance of diversity, equity and inclusion (DEI).
"It's exciting to see change," says Paschert, a clinical manager in the Niagara Falls Site Emergency Department (ED). "With DEI part of the Strategic Plan, I'm very excited to see Niagara Health on the right path."
Paschert, who previously worked as a clinical manager in Mental Health and Addictions, clinical supervisor in the St. Catharines ED, an educator in the Intensive Care Unit, and as a registered nurse, can take credit for some of that change.
In 2021, she worked with the DEI committee to have Niagara Health recognize Black History Month each February and served as chair of the committee overseeing the organization's first edition of what's now an annual event.
"Black History Month is essential for highlighting the contributions and achievements made by people in our community every day," Paschert says. "Just raising the awareness – for People of Colour, it gives us a real sense of pride and inclusion, and it brings groups together by educating society at large. We're increasing the visibility of the many ways that Black people, historically and today, contribute to and help shape the healthcare profession.
"I've seen the difference it makes in the sense that colleagues within Niagara Health and beyond seem to have an awareness of issues of equity in ways that they didn't before," she adds. "For our staff and our patients, we need to keep doing this work."
Making a difference is ultimately what drew Paschert to a career in healthcare. Both her mother and aunt were nurses. Hearing them talk about their work while growing up in Beamsville convinced Paschert to follow in their footsteps.
"What appealed to me was helping people and caring for people. The way my mother talked about nursing and the importance of compassion really interested me," she says.
Paschert graduated from Niagara College's Mack School of Nursing in 1991. While many of her classmates took jobs in the U.S., family commitments kept her in Niagara, working first in home care and long-term care before coming to Niagara Health as a registered nurse in 2005.
She returned to school in 2008 to upgrade her nursing diploma to a Bachelor of Science degree at Brock University. Today, in addition to managing the operations in the Niagara Falls ED, Paschert teaches the next generation of nurses at Niagara College.
Representation is critical for Paschert, whether on the frontlines of healthcare or behind the scenes. It hasn't been easy having her voice heard throughout her career, she says, so her ongoing work with Niagara Health's DEI Committee is driven by her desire to be heard and support other equity-deserving groups, be they colleagues or patients.
Giving space to different perspectives makes the organization stronger, she notes. It also fills Paschert with hope.
"I feel I'm part of critical change for the organization. Medicine and organized healthcare in North America historically have not considered the varying needs of diverse groups. I, like many others, view things through a unique lens as an African Canadian of both Black Canadian and Caribbean descent. I have lived experiences as a Person of Colour that need to be considered in our approaches to healthcare, and so having my voice heard makes a big difference in the organization and patient experience," she says.
"I'm four years away from retirement so what difference can I make for People of Colour coming after me? Making DEI part of the strategic plan and operationalized through our hiring process among other facets of our work is critical. I'm excited to continue the work of our amazing DEI committee members, leadership and frontline staff—we are definitely moving in the right direction."
As a part of our commitment to building a safe, diverse and inclusive environment, our teams at Niagara Health are dedicating this month to learning more about the transformative work and achievements of Black individuals and how they continue to shape history. Learn More.