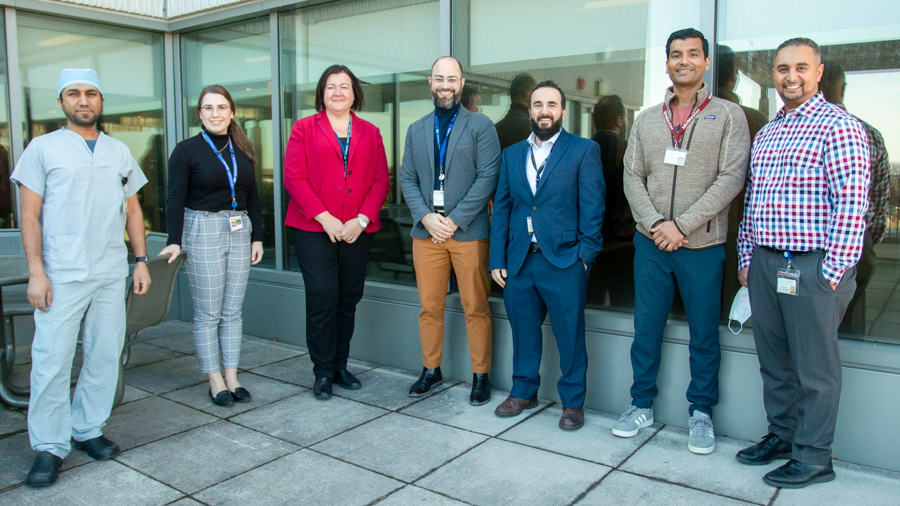 Niagara Health's Clinical Utilization Committee leads the quality improvement programs that have helped the organization achieve Choosing Wisely Canada's Leadership status. Seen here, from left, are committee members Dr. Mahmood Albahhar, Interventional Radiologist and Radiology Quality Improvement Champion; Megan Brown, Quality and Patient Safety Specialist; Susan Cubelic, Director of Pharmacy Services; Dr. Mohammad Refaei, Physician Lead and Chair of Niagara Health's Clinical Utilization Committee; Peter Dief, Supervisor, Funding Performance; Dr. Ankush Chander, Pathologist and Transfusion Medicine Quality Improvement Champion; and Zeau Ismail, Director, Interprofessional Practice, Ethics and Research Administration.
Niagara Health has earned the highest national recognition for providing safe, high-quality healthcare by reducing the overuse of low-value tests, treatments and procedures.
Choosing Wisely Canada has awarded Niagara Health Leadership Status for its commitment to continuous quality improvement programs that limit unnecessary use of resources in patient care. It's one of only two Canadian hospitals to receive the updated designation, joining William Osler Health System in demonstrating critical and sustainable change in habits and processes that don't benefit patients and may actually expose them to harm.
"Too much is not always good and overusing resources doesn't mean you get better outcomes. Sometimes it's to the detriment of the patient," says Dr. Mohammad Refaei, Physician Lead and Chair of Niagara Health's Clinical Utilization Committee. "This is patient-centred care that ensures we're running a system that's efficient, uses resources wisely and emphasizes the latest evidence in patient care."
That could mean not drawing blood daily from patients staying in hospital, reducing their risk of anemia and injury, for example, or using a smaller pediatric tube during the procedure because it's more comfortable for the patient than an adult tube.
As people live longer and develop multiple medical conditions, treatment becomes more complicated and requires a more thoughtful approach, which Choosing Wisely standards and achieving Leadership Status both encourage, Dr. Refaei explains.
"As a young organization and a smaller centre, this gives us the motivation to carry on with quality improvement projects and the confidence we can follow through on these projects," he says.
This latest recognition builds on Niagara Health's previous successes in quality improvement, mentoring other hospitals and making Choosing Wisely a key part of its ongoing organizational strategy. In December, the St. Catharines Site joined Welland and Niagara Falls when it was recognized as a Using Blood Wisely hospital by Choosing Wisely Canada and Canadian Blood Services for reducing unnecessary red blood cell transfusions. Using blood conservatively keeps supplies sustainable while lowering the risk of side effects to patients.
"We are incredibly impressed by the efforts of these hospitals to drive system improvements in practice," says Dr. Christine Soong, the Clinician Lead for Choosing Wisely Canada's Hospital Designation Program. "William Osler Health System and Niagara Health have demonstrated significant leadership mentoring other hospitals in implementing Choosing Wisely recommendations as well as a continued commitment to sustain improvements in the future."
Read Dr. Mohammad Refaei's interview with Choosing Wisely Canada about achieving Leadership status.