We are Niagara Health is a series of stories that celebrates the incredible people working and volunteering in our organization and how they make a difference in the lives of patients and coworkers every day.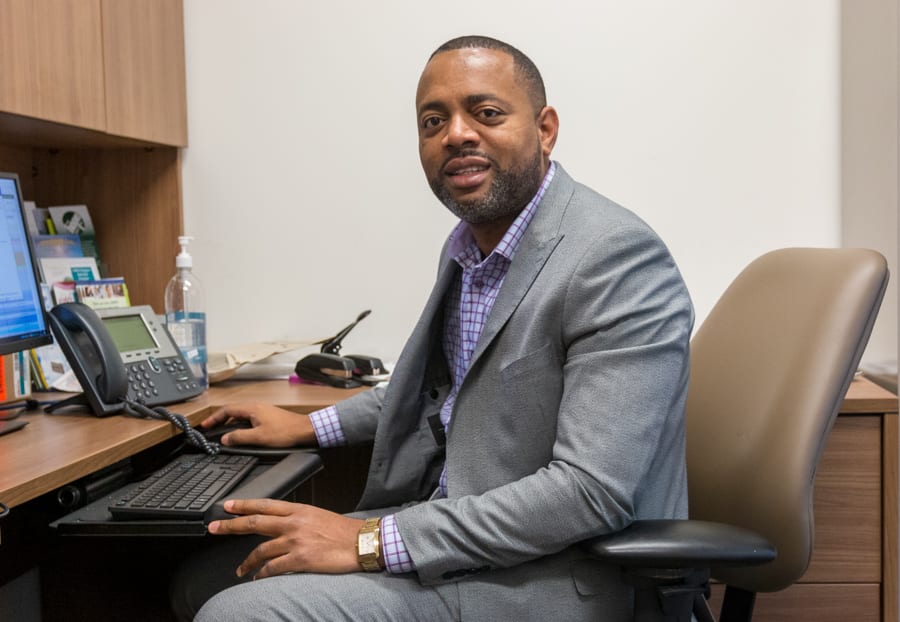 Dr. Victor Uwaifo, Interim Chief of Psychiatry at Niagara Health, takes opportunities to speak to Black youth about pursuing careers in healthcare. 
Dr. Victor Uwaifo counts Drs. Anderson Abbott and Charles Drew among his personal heroes in healthcare.
Like Dr. Abbott, the first Canadian-born Black person to graduate from medical school, and Dr. Drew, who established blood banks in the Second World War, Dr. Uwaifo may also inspire future generations' work in medicine.
The Interim Chief of Psychiatry for Niagara Health is among the two per cent of physicians in Canada who identified as Black in 2016 Census data collected by Statistics Canada. That number drops further when looking at healthcare leadership.
As a result, Dr. Uwaifo's career ambitions are as much to be a positive influence as a great doctor, with the hope of changing the disparity in representation that currently exists in healthcare.
"Someone like myself is lucky enough to be a physician, but to hold a leadership position – I'm hoping to be a role model for young people to pursue a career in medicine, to embrace it because it can be rewarding and it helps address the inequalities that exist," Dr. Uwaifo says.
"Having a diverse workforce is an advantage," he adds. "You can see things from a different perspective, it makes people more creative, and having a diverse workforce helps the population we serve."
Helping people is partly what drew Dr. Uwaifo to a career in healthcare while growing up in Nigeria. He was also passionate about science as a child. As a teen, he considered careers in medical laboratory science and as a pharmacist, and determined he would channel his love of science into studying to become a doctor.
Shaping the future of healthcare
Dr. Uwaifo appreciated the holistic nature of healthcare, which requires empathy, and the ability to listen and understand the psychosocial needs of patients, not just administering medicine. He focused on psychiatry because he's fascinated by the brain, especially how little is known about it, and how much opportunity there is for him to add to the body of knowledge.
"I'm someone who naturally likes to care for people," he says. "I'm also a strong advocate for people to take charge of their own health. It's an honour for me to see people through their most difficult times in their healthcare journeys to wellness."
He calls it an honour to help shape the futures of young people who could also one day advance healthcare. Dr. Uwaifo does that as an assistant clinical professor of psychiatry and behavioural neurosciences in the Faculty of Health Sciences at McMaster University. He also takes the opportunity to speak to youth at his church and elsewhere in his community about the impact they can have personally and professionally.
"It's important for people to know that despite the odds, as long as you dream and work hard, anything is possible."
Dr. Uwaifo says celebrating the impact and achievements of trailblazers like Drs. Abbott and Drew is critical anytime, but particularly during Black History Month.
"For me, I see Black History Month as a celebration of Black excellence and accomplishments. Black history tells stories of perseverance," he says. "You look at the contributions of Black people to modern society and it signifies resilience, beauty, talent, music, dance and stories.
"I also recognize the legacy of heroes who made sacrifices but also the untold stories of heroes who are not in any history books. I'm proud to be part of this history. I'm proud there are men and women who look like me, who left indelible footprints in the sands of time."
Black History Month is also an opportunity to look to the present – and the future – by sharing the contributions of Black people today, whether that's someone who shows kindness to those around them or empowers others to make their marks on a larger scale.
Either way, it's about creating something future generations can be proud of, he says.
And that's something in which everyone plays a role.
"I am lucky to work in a supportive environment and have great colleagues," Dr. Uwaifo says. "As a Person of Colour, I have experienced biases myself, but we should remember the responsibility to address biases lies with the person who holds them. The responsibility is not on Black people to manage people's biases and expectations."       
As a part of our commitment to building a safe, diverse and inclusive environment, our teams at Niagara Health are dedicating this month to learning more about the transformative work and achievements of Black individuals and how they continue to shape history. Learn More.