We are Niagara Health is a series of stories that celebrates the incredible people working and volunteering in our organization and how they make a difference in the lives of patients and coworkers every day.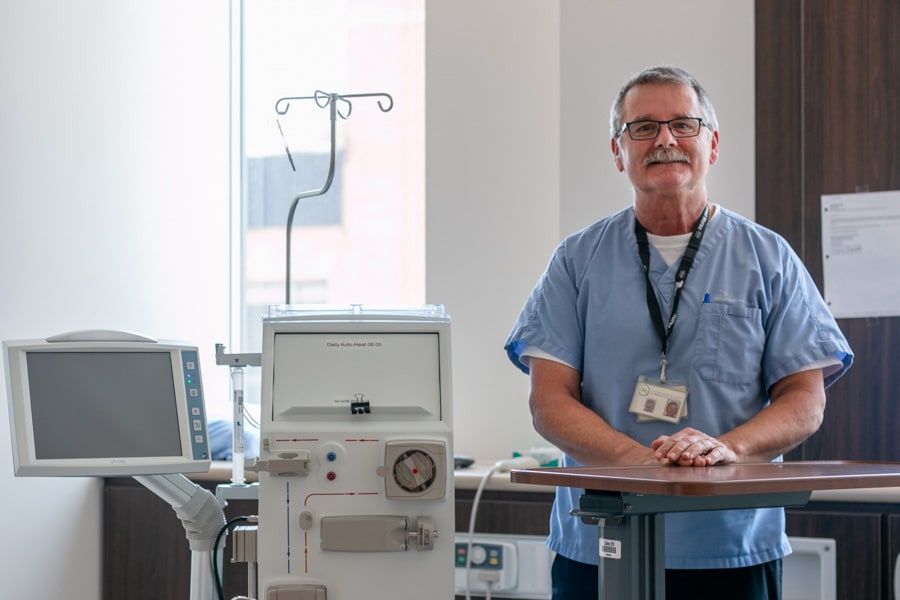 Registered Nurse Bob Kubushesky was presented an Excellence in Nursing Lifetime Achievement Award in May for the impact he's had on patients and coworkers during his career. 
There's a common refrain among Niagara Health dialysis staff when issues come up.
It's 'What would Bob do?'
Bob is Registered Nurse Bob Kubushesky. With 35 years of nursing experience, 28 of which are in hemodialysis, it's no surprise Kubushesky is the go-to guy for answers to anything related to patient care and treating the kidneys.
Before he answers, however, Kubushesky is likely to ask a question of his own.
"Why?" Kubushesky says. "It's all about understanding why something is happening. Why did a patient's blood pressure go down? If we can explain it, we can fix it."
That knack for being able to explain and fix things earned Kubushesky an Excellence in Nursing Lifetime Achievement Award earlier this year at Niagara Health's annual Nursing Excellence Awards. In his nomination, Kubushesky is called a legend in hemodialysis.
"One colleague frequently asks themselves, 'What would Bob do?' the nomination reads.
Kubushesky is also credited with taking others under his wing, never growing tired of questions or helping others. Proof of that is the nearly 30 nurses he's trained in hemodialysis during his career, including Laura Morrison, Kidney Care Director, who presented him with his award during National Nursing Week in May.
"The nicest part of the award was hearing Laura Morrison saying I trained her," Kubushesky says. "It left me speechless. Normally, I'm not speechless. Having heard that, it meant a whole lot more."
It wouldn't have happened, though, if Kubushesky followed through on his original career plans.
Kubushesky enrolled in microbiology at the University of Guelph after high school but the thought of spending his career in a lab wore on him. A friend suggested nursing as an alternative and Kubushesky, unaware he was a natural caregiver, obliged.
Becoming "a really good nurse"
He was drawn to the amount of knowledge required to do the job – no surprise for someone keen to know the whys of the world – and nursing quickly became a passion.
He started his career at St. Michael's Hospital in Toronto before landing in medicine at Hotel Dieu in Niagara. It was at Hotel Dieu, lugging around huge binders of reference materials to do his job before switching to hemodialysis there, that Kubushesky says he learned to be "a really good nurse."
"It was the toughest job in the world. People had (medication administration records) 10 pages long," he recalls. "It was a lot of cancer patients and unfortunately, a lot died at that time, but you learned to give them good care."
In 2005, Kubushesky took a job in hemodialysis at the Welland hospital. He stayed until 2021 when he transferred to the Kidney Care Centre in Niagara Falls, doing a mix of on-site and at-home patient care in the home hemodialysis program.
He can talk a blue streak about kidney care, the idiosyncrasies of dialysis machines and the nuances of cannulation, which is inserting tubes into patients. All of it underscores his years of experience, the love he has for what he does, and how 'What would Bob do?' has become a bit of a meme.
He won't call himself an expert, though.
"The emphasis here is on education. It's the understanding," Kubushesky explains. "I'm of the belief that 90 per cent of everything is preventable and 10 per cent is unpredictable. If we're not at 90 per cent, we need more education. You'll never get to 100 per cent because you can't know everything, but if we can get to 90 per cent preventable, we can handle the 10 per cent unpredictable."
The other secret to his success? Nurturing mutual respect among his colleagues and with his patients. The thank-you letter he still carries around from family of a patient in his care years ago or that he named his cat Olive after another former patient are clues to what Bob would do.
"I just do my job to the best of my ability," Kubushesky says. "There are lots of rewards to that. The satisfaction I get, the thank-yous, the subtle things, that's what I live for."