We are Niagara Health is a series of stories that celebrates the incredible people working and volunteering in our organization and how they make a difference in the lives of patients and coworkers every day.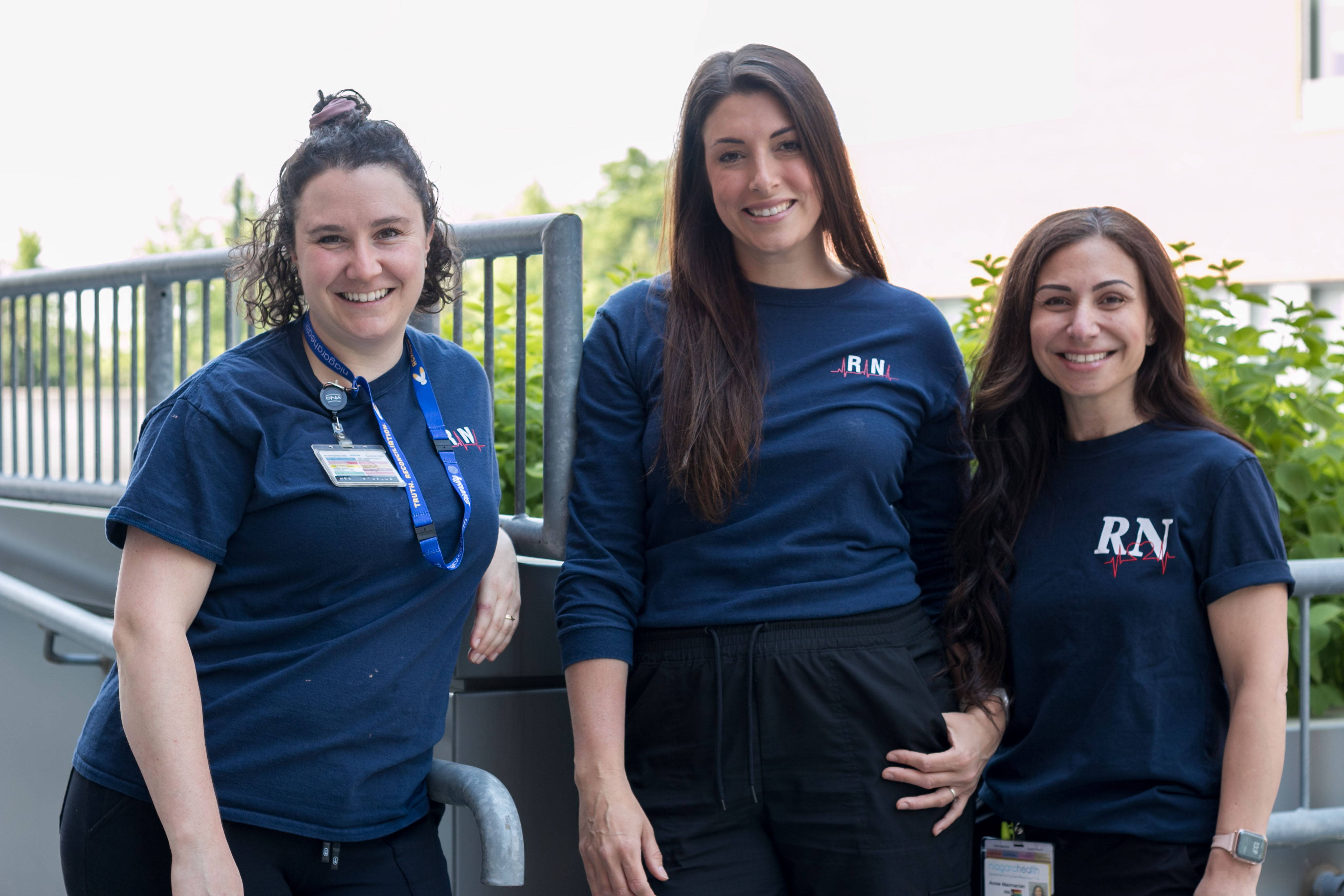 Registered Nurses Erica Plante (from left), Brigitte Alcide and Annie Mazmanian started a peer-to-peer support group for nurses during the pandemic that's now being considered as a Leading Practice. 
Registered nurses Brigitte Alcide, Erica Plante and Annie Mazmanian realized early in the pandemic there were certain people who better understood what they were feeling on the frontlines than others.
There was the isolation and fear of the unknown that was universal. But with Alcide and Mazmanian working in the St. Catharines hospital's Intensive Care Unit (ICU) and Plante in the Emergency Department, there were other issues to contend with, including exhaustion, frustration with an ever-changing situation, and the potential for burnout and compassion fatigue when providing critical care in areas that were the epicentres of COVID-19 diagnosis and treatment.
Those were issues that even the people closest to them, including family, couldn't comprehend, leaving them without many outlets to help process their experiences.
"There was a different kind of struggle going through the pandemic that none of us knew how to navigate," Plante recalls.
So they turned to each other. The three friends and colleagues found talking about their experiences with one another to be incredibly helpful.
"We just decided to sit in the mud together. We didn't need to fix each other's problems but it was knowing we had each other's backs."
Building community with shared experiences
They knew they were better together – and their colleagues would be, too. They recognized the need for more support for frontline staff as the pandemic wore on, and proposed starting a nurse-to-nurse peer support group. Now their idea for caring for one another is being considered as a leading practice.
The purpose wasn't to provide therapy or advice but a forum to share experiences, offer empathy and build community.
"There was an understanding we need to be doing something for our coworkers. We were wondering if we're going through this, who else is feeling it?" Mazmanian says. "That prompted us to take it to a bigger level."
They started by reaching out to ICU Manager Toni Rogers with their idea of nurses meeting to listen to and support each other through whatever they were feeling. Rogers helped them take their proposal to hospital leadership where there was support to trial a peer support group in collaboration with Niagara Health's Be Well team and Wellness Specialist Cara Kirkham, in particular.
"By bringing this idea forward Annie, Brigitte and Erica truly demonstrate the Niagara Health value of putting people first," Rogers says. "They took their lived experience and, together, we were able to create something that supports the well-being of others. They really did all the work and I'm so happy I was able to work with them, in a very small way, to develop and grow the peer support group. Niagara Health is very lucky to have Annie, Brigitte and Erica on our team."
The group launched in Summer 2022 with a four-week pilot of weekly drop-ins at lunch and before shifts started to help with any pre-work anxiety. The trio, who donated dozens of hours of their own time to host the sessions, gleaned feedback from those who participated and met regularly to analyze their own well-being through the project.
It turned out to be a welcome venture for all involved.
"We just decided to sit in the mud together," Plante says. "We didn't need to fix each other's problems but it was knowing we had each other's backs."
"It's peer support, so as much as we were facilitators, we were also contributors," Mazmanian adds. "As much as our peers could speak to us, we spoke to them. As much we did it for our colleagues, we also did it for us."
Excellence in interdepartmental collaboration
That led to a second instalment of drop-in sessions held in the evening after shifts ended and on weekends, which started earlier this year and wrapped up in May. The trio started to see staff trickle in from other departments.
They also saw Niagara Health community grow closer together as connections were made between colleagues who had never met before but had shared experiences.
The sessions ended with the intention of launching another block this fall, and some serious recognition for the trio's efforts. Alcide, Plante and Mazmanian received an Award of Excellence for Extraordinary Interdepartmental Collaboration earlier this summer. 
The nurse-to-nurse peer support group is now being considered as a leading practice for accreditation at Niagara Health.
The hope is the attention the group has received will help it grow, Alcide says. The recognition, be it the award, having people come out to the sessions, and receiving support from hospital leaders from the get-go, has only validated what the three originally felt when they first came together in search of a positive outlet.
"It was a great feeling just to be supporting others and knowing they're going through exactly what we were going through," Alcide says. "Even if it was just one person we got to come out, you know you made a difference to them by listening to them and hearing what's on their mind.
"I can't wait to do it again."