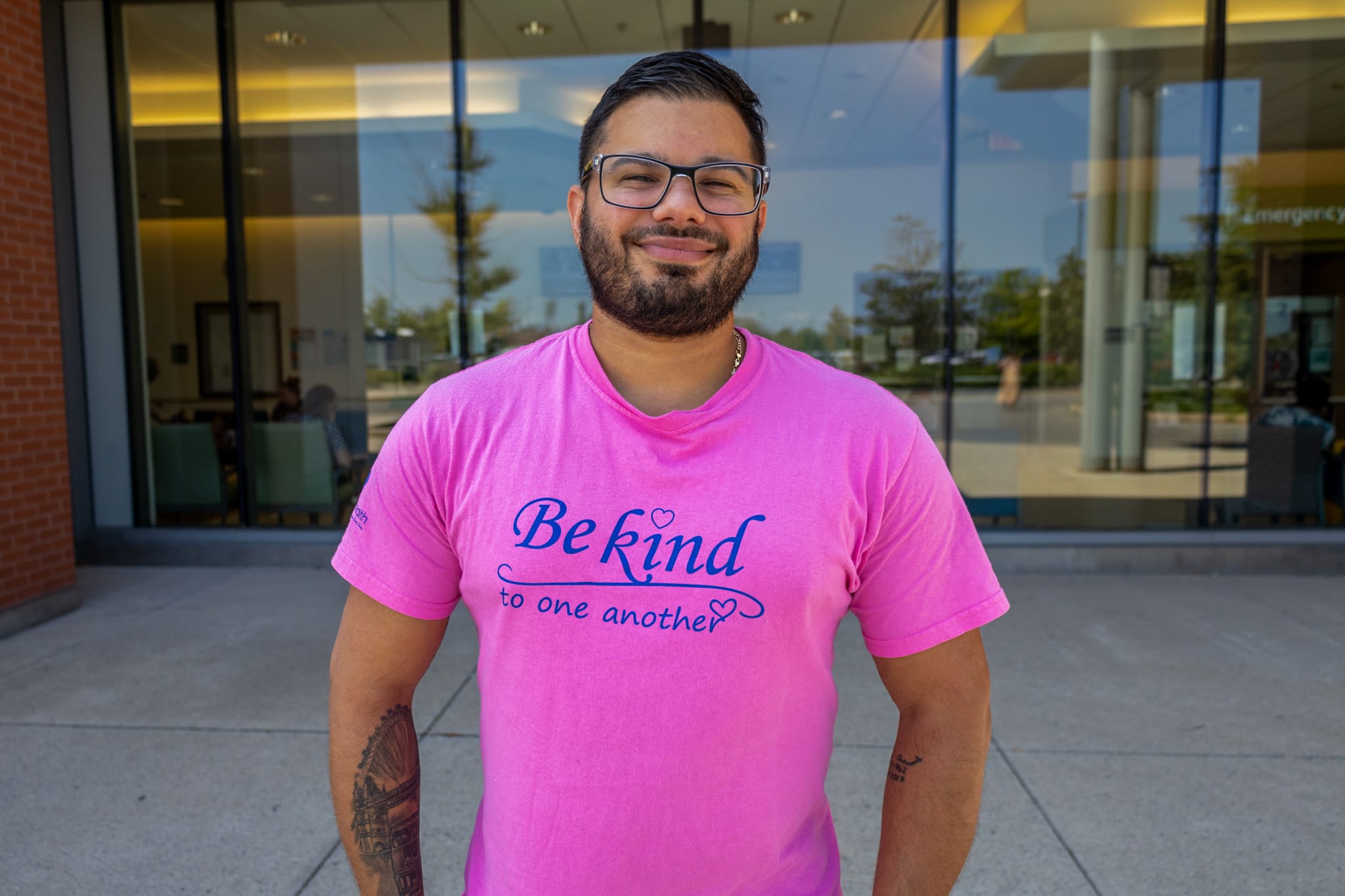 Personal Support Worker Jesse ONeil was inspired by the care he witnessed in the Emergency Department while working as an EVS Aide. 
Jesse ONeil's work ethic has often been described as "next-level."
In the six years he worked as an Environmental Services (EVS) aide at Niagara Health's St. Catharines hospital, ONeil took every opportunity to advance his skills. This meant taking on additional shifts outside his regular schedule to cross-train in other departments, which allowed him to work across the hospital.
"I always loved cleaning, so to be able to do something I enjoyed was great," says ONeil. "What I really enjoyed most about my job was the ability to make a difference. Whether it was providing someone with a clean space, or just being kind to them, those small gestures would mean so much."
As an EVS aide, he maintained cleanliness and proper sanitization throughout the hospital, working alongside healthcare teams in Mental Health and Addictions, Women and Babies, and the Emergency Department (ED). 
"When Jesse joined our St. Catharines EVS team, we could see right away the amount of potential he would bring," says Stephanie Lyall, Environmental Services and Patient Transport Manager. "Everyone who had the pleasure of working with Jesse certainly saw the compassion and care he demonstrated in every interaction."
ONeil had always been inspired by the incredible work done by healthcare professionals, but it was while he was working in the ED that he found himself drawn to this fast-paced and dynamic part of the hospital.
It was here that ONeil was first introduced to the compassionate and holistic care provided by Personal Support Workers (PSWs).  
He witnessed these dedicated individuals go above and beyond to ensure patients' physical comfort, emotional support and overall well-being. Their unwavering dedication left him with a lasting impression.
"Seeing how the PSWs made a difference for patients and what they were going through, it made me want to do more," ONeil recalls. "I was always told by my peers I was good with people, so I thought this could be a good fit for me."
The idea of pursuing a career as a PSW felt natural to ONeil. Still, there was hesitation in the unknown.
"Going back to school at any age can be scary. I had two young children at home and a full-time job to maintain."
Luckily, transitioning roles was not a new concept for him. It was something that his wife Amanda Lee Leblanc was familiar with. She worked in EVS for three years before taking on an Addiction Peer Worker role in Niagara Health's Rapid Access Addiction Medicine (RAAM) clinic.
"I believe that anyone can change their life," she says. "This is why I pushed Jesse to believe in himself. Because anything is possible if you work at it."
ONeil realized that this new career path would allow him to positively impact the lives of patients and their families. The thought of providing comfort, compassion and support during times of vulnerability motivated him to embark on this new and rewarding journey.
Transitioning from his role as an EVS Aide to a PSW required dedication, hard work and perseverance. ONeil enrolled in District School Board of Niagara LifeTime Learning Centre's PSW Program. The 10-month program allowed him to attend classes from 9 a.m. to 12:45 p.m., while still maintaining full-time work during the afternoons and evenings.
"My experience working in EVS at Niagara Health helped me during my studies," Jesse recalls. "I was already aware of IPAC (Infection Prevention and Control) standards, ED processes and what it takes to work in a fast-paced healthcare environment."
ONeil completed his program placement in the St. Catharines ED. His peers and managers were quick to notice his compassion and ability to form therapeutic relationships with patients very easily.
After successfully completing his program in June 2023, ONeil was hired as a PSW in the ED.
"Jesse always has a smile on his face," says Tara Coffin-Simpson, Clinical Manager, Emergency Services. "He is eager to help and is always hard at work. We are very lucky to have him on our team."
When asked 'what's next?' for the emergency department PSW, ONeil says, "the sky's the limit."
"It's never too late to learn. With so many opportunities at Niagara Health, I look forward to continuing my education and growing professionally and personally in my role."