Niagara Health is being recognized by Ontario Health (Trillium Gift of Life Network) for its outstanding organ and tissue donation efforts in 2022/23.
For the fourth time, Niagara Health has received the Hospital Achievement Award - Provincial Conversion Rate for reaching a conversion rate exceeding the target of 63 per-cent set by Ontario Health (TGLN). The conversion rate is the percentage of potential organ donors who went on to become actual donors.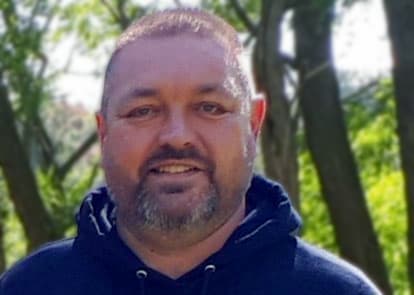 "The gift of a transplant is life-altering," says Scott Skrubbeltrang, who received a kidney donation from his sister. "I can live a normal life now. The simple things mean a lot, and they're the things most people take for granted."
"My sister worked as a police officer having donated a kidney," says Skrubbeltrang. "You can live and function with one kidney. It's not a small thing to do, but you can go on living your life like it didn't happen while altering someone else's. It's the ultimate act of giving."
Organ donation is a complex process, and the conversion rate reflects how well Niagara Health and Ontario Health (TGLN) work together to save and enhance lives.
Dr. Hari Vasan, Niagara Health's Hospital Donation Physician and Medical Director of the Critical Care Response Team, knows firsthand the impact that registering to be a donor can make. His father received a kidney transplant, which inspired him to help those in need of transplants as part of his life's work.
"I still remember when we got the call that a suitable organ donor had been found. My dad was able to be a more productive member of society and didn't have to spend hours a week in the hospital for dialysis."
In 2022/2023, Niagara Health supported 16 organ donors, which led to 41 organs donated for transplant, saving 37 lives. Additionally, there were 97 tissue donors, enhancing the lives of many others.
"Niagara Health has made an outstanding contribution to organ and tissue donation in Ontario and we are proud to partner with their exemplary team of healthcare professionals throughout the year to continue this vital work," said Rebecca Cooper, Vice President, Ontario Renal Network and Trillium Gift of Life Network, Ontario Health.
Today, there are nearly 1,400 Ontarians in need of a life-saving organ transplant and thousands more who are in need of life-restoring tissue transplants. Tragically, every three days someone will die waiting for an organ, while those awaiting valuable tissue will continue to experience a lower quality of life.
The success of organ and tissue donation and transplantation in Ontario hinges on the unwavering efforts of hospitals and healthcare professionals who work tirelessly to ensure that Ontarians have the opportunity to help others through the gift of life. The Hospital Achievement Awards recognize this crucial work and the profound impact it can have on those waiting for an organ or tissue donation.
"By ensuring that the wishes of donors are realized, we honour their selflessness and the legacy they intend to leave behind," says Cooper. "Every Ontarian has the potential to save or significantly enhance a life one day by registering at BeADonor.ca and speaking to their family about their donation decision."
One organ donor can save up to eight lives and enhance the lives of up to 75 others through tissue donation. For example, eyes can restore sight; skin can help patients heal from burns; bones can be used for joint replacements; heart valves can help with congenital heart disease; and tendons and ligaments can help recipients walk and run. Live organ donors, such as for kidneys, do not need to know the person they are donating to.
Regardless of age or medical condition, everyone is a potential donor. However, while 90 per cent of Ontarians support organ donation, only 35 per cent register, which takes two minutes at BeaDonor.ca. Join the four million other Ontarians who have registered to donate and speak with your family about your wishes.